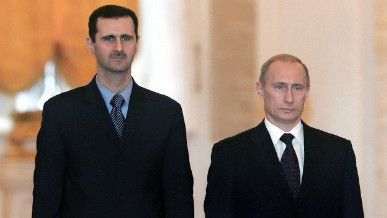 Russia has presented a brokered deal to the U.S. in which Syria would agree to turn over its chemical weapons to international control. Is this proposal legit or is it a cynical stalling tactic by Syria and Russia? It is a balance between fear and manipulation for Syria and Russia so it it difficult to know just how earnest either of them are on this.
Syrian President Bashar Assad has been panicking since Pres. Obama announced his desire to take military action in retaliation for Assad's use of chemical weapons on his own citizens. This week, Assad appeared in an interview with Charlie Rose where he cloaked his desperation with a calm demeanor but the very fact that he stampeded to do an interview on U.S. tv undercut that veneer of cool. He rattled off many reasons Americans should trust him and not trust their government ("Just because I'm a mass murderer, it doesn't mean I'm a liar.") and followed the Middle East Tyrant tradition of blathering inflated threats ("If the U.S. attacks us, it will be the Mother of all Wars…huh? Did someone else already copyright that?").
Assad is scared, he knows that a U.S. bombing campaign could destroy his most important military sites, not to mention an "accidental" stray bomb killing him. However, he also is maniacally bent on crushing his opposition and re-taking full dictatorial control of Syria. So what's a terrified, power-mad tyrant to do?
He needs to avoid being attacked but he also needs to beat the rebels. One can only imagine the intense discussions between Assad and Russian President Vladimir Putin as to how to touch both bases. That is why Pres. Obama's skepticism about this alleged deal is well placed.
WHY THIS DEAL MIGHT BE A FRAUD
Assad needs to stop the U.S. military threat immediately so agreeing to this deal could accomplish that but he is well aware that agreeing to do something and doing it are two very different things. There is no time frame whatsoever in this agreement so it isn't enforceable. Assad could know right now that he will never fully comply, he could just drag his feet with a series of excuses for delaying or he could only hand over some of his chemical weapons while stashing others. Then, if another chemical attack occurs, he could claim innocence, saying that they were all given up and he had no more to use. By the time the U.S. gets fed up with Assad's non-compliance on the agreement, Assad could hope to have already defeated the bulk of the rebels and would be in a better position to weather a limited U.S. strike…using that for propaganda purposes that could aid Iran in subsequent hostilities.
WHY THIS DEAL MIGHT COME TO FRUITION
The U.S. Senate is already discussing a bill requiring Syria to turn over its chemical weapons within a specified period of time and if it doesn't do so, military strikes would occur. Whether or not such a bill passes, Assad and Putin have to know that if Syria doesn't comply, the U.S. would turn back to launching military strikes which could cripple Assad and if he goes and the rebels take over, Russia loses an ally and instead has an adversary in Syria. Russia makes a "killing" in selling weapons to Syria which is its greatest ally in the region. Russia has been a staunch protector of Syria, sabotaging the U.N. and any and all efforts at peacefully ending the bloody civil war there. Russia could see this as the better of two evils (though it could be argued that Assad and Putin are the two evils). Also, Putin and Assad both know that Assad has overwhelming military equipment that could fill in for any chemical weapons he lost, the mass murder could continue just as successfully without chemical weapons being used. If signing onto this agreement stops a U.S. attack AND allows Assad to continue his  mass murdering, it's a win-win for him.
It's a bit disgusting to see Republicans fawning all over Putin for presenting this deal while dissing Obama as a failure. First of all, Putin is an evil, murdering tyrant as Assad is…oh…that's why Republicans like him…that and he's white. Rand Paul is on record praising Assad because his mass murders are against the rebels, some of whom might do something horrible like commit mass murders against Christians.
Second, does anyone think that if Obama had reacted to the chemical attack by saying, "It's a tragedy but there's nothing we can do," that Assad would voluntarily offer to get rid of his chemical weapons.
If there is a deal, it is happening solely because of Obama's threat of a military attack. This is how you play the game of chess, seeing the whole board and thinking many moves ahead. Obama's insistence on an attack, refusing to say he would give up the possibility even if Congress voted it down, was all part of this strategy to put great pressure on Assad to crack. And to a degree at least, it seems to have worked. While the MSM pudnuts did their concern-troll act, worrying about how a rejection of Obama's resolution or Obama going it alone on an attack would cripple his Presidency or even lead to impeachment, the grown ups were playing a much more serious game with the Syrians.
The down side though is that threats are no good unless you're willing to follow through on them so this could all turn around on Obama if he does use military force in Syria.
Time will tell on this, if the Syrians sign on to a formal agreement, if the U.S. Congress puts some teeth behind a resolution authorizing an attack if Syria reneges on the agreement or refuses to sign on to it or if the countries around the world step up to act against Syria for using chemical weapons.
In any case, at this point, it appears that Pres. Obama may once again have arrived at a rare and desireable outcome in a dangerous and complicated crisis…and once again, he will be given no credit for it by the tyrant-lovers on the Right.