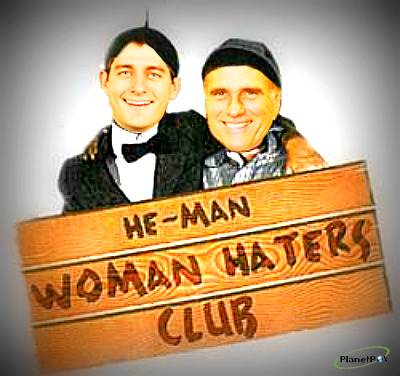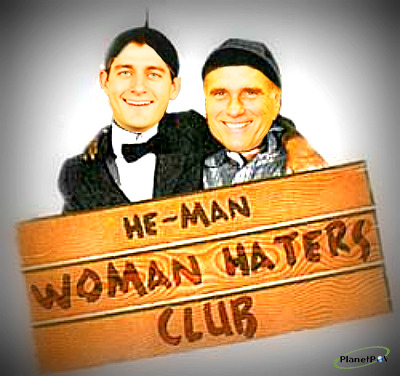 Needing to win more of the women's vote in November than they currently have, the GOP is apparently courting women using reverse psychology. They tell women that the biggest problem with some of them who are raped is that they complain too much about it, that women prove they wanted to be raped by getting pregnant from it and not using their mystical anti-pregnancy powers instead and that when it comes to making decisions over a woman's body, old white men in Congress know best.
The Republicans' simultaneous War On Women and campaigning for their vote is a bit like going on a date, being insulted and demeaned throughout it then being asked, "So, you want to get married?"
In this way, Republicans come off like gorillas at a buffet, everyone else understands how to properly conduct themselves but the Republicans just do what comes naturally with no awareness of the mess they make and the disgust that others feel towards them.
What Todd Akin highlighted is not some fringe sensibility of Republicans, it is the mainstream GOP thinking. His sin in the eyes of the GOP that has come out to squash him is that he said aloud what they keep to themselves. The GOP base and elite share the same trait, a need to feel superior to others because they are white males. There is the same kind of nurtured, in-a-bubble bigotry against minorities as there is against women by Republicans, both represent a threat to their entitlement to superiority that they feel they should have because they were born white and male.
The core Republicans hold tightly to the chauvinism in The Bible to justify their support for oppressing women…conveniently flipping past the pages referring to some guy named Jesus and his philosophies about treating others with respect and kindness. The GOP Elite, many of who merely feign religiousness for ulterior motives, simply want the status quo of white males having most of the money and power to continue.
So when it comes to their collective view of women, as they are surrounded with each other, their bigotry comes off as conventional wisdom since everyone around them feels the same way. There is no guilt or shame for a racist who is surrounded by racists saying and thinking the same things, just a sense that these things aren't an expression of prejudice, just a recognition of the way things are.
And Republicans have many hatreds, fears and prejudices that they see instead as "the way things are".
It's been announced that the official Republican platform for 2012 includes a ban on abortion in all cases. How does this conflict with the beliefs of Todd Akin? It doesn't. As is quite obvious, Republicans only want Akin to drop out because he's damaged himself with voters and they want to have a better shot at winning control of The Senate…but their stands on women's rights, rape and birth control are identical to his.
The Republican House has voted to kill funding for Planned Parenthood (bringing the country to the brink of shutting down to force this through), restrict abortion, re-classify some rapes as not being legitimate unless they were accompanied by physical force, etc. Republicans opposed the Lilly Ledbetter Fair Pay Act that insured women deserve to be paid equally to men, held a hearing on birth control with only males allowed to give testimony and in the process, attacked Sandra Fluke, a college student, as a slut and a whore for daring to speak her mind on the valuable non-pregnancy-related medical applications of birth control pills.
Paul Ryan, the Republican choice to be the next Vice President of the United States, voted with Todd Akin and/or co-sponsored the extremist anti-woman legislation listed above including a Personhood law that would declare an egg "a person" the moment it was fertilized, outlawing all abortions and many forms of contraception as murder as well as making in vitro fertilization illegal. This is who the Republicans want women to vote for as being one heartbeat away from the Presidency.
The GOP is at low tide, all that's left in it are the dregs of our society, the greedy, sociopathic elitists and the hateful and insecure bigots. The problem this presents in national and some statewide elections is that to keep those in their party on board, they have to either be one of these types or cater to these types while somehow trying to appeal to independent voters.
That is a difficult proposition. When your base needs to have their racist and misogynist views validated but indie voters are turned off by that, you don't have many paths to choose from…other than to field a pandering, dishonest candidate who won't discuss any legit details of his plans.
Mitt Romney is the personification of the dance the GOP must do now in each election. He lies constantly to demonize Obama to indie voters, panders to his base with extremist views and hides his tax returns and true agenda because he knows that no majority in their right mind would vote for him if they knew what he truly supported.
Though Republicans would vehemently disagree, there is no doubt in the minds of those who view that party at least a little objectively, that Republicans see women as lesser human beings, deserving of less rights and autonomy than men and that they view white men as entitled upon birth to be financially and politically dominant over women, the poor and minorities.
It is disappointing that a party which is so clearly the enemy of the majority of Americans is not relegated to cult status, controls The House and is capable of winning The Senate and the Presidency. The Republicans' efforts at brainwashing people to vote against their own interests, coupled with their strangling of state and federal education budgets to limit the education of Americans has paid off.
Still, there is always a bridge too far. Extremism can't expand infinitely, eventually, it devolves into something so repulsive that no amount of propaganda can make it palatable for a vast majority.
As much as one would hope that such a boundary has already been reached, it seems that we still have a bit farther to go. About 40% of Americans seem to be firmly conned into supporting the GOP no matter how intolerant and offensive they become but a majority of Americans reject this kind of thinking. Polls consistently show movement towards Obama when such misogyny or racism is displayed by yet another Republican which bodes well for November.
Until then, we can expect the Republican campaign for the oppression and control of women to continue as an undercurrent in their campaigns as they pander to their base while putting on a facade for women that they "care about you".
Unfortunately for them, most women have experience at hearing flattering things from an insincere jerk who only wants to get them to put out for them so they better be prepared to go home from the party in November all by themselves.