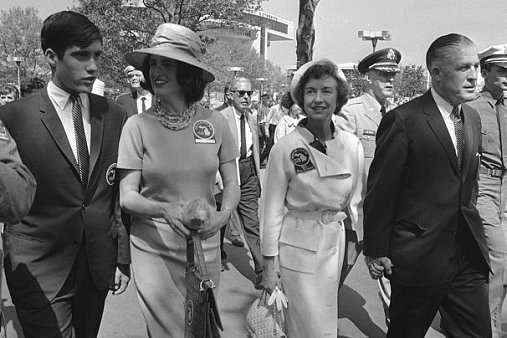 Sonny Romney VS. Daddy Romney: A stark comparison
We saw it in George W. Bush- that desire to surpass his father. Daddy Bush was not conservative enough, not aligned with Big Money enough, not bellicose enough. So W became a champion for the right, made an alliance with the corporatocrcy, and went to war, twice. He was not going to be a one term President like his dad was.
Mitt Romney seems to be cut from the same cloth. His dad, George, three term Governor of Michigan and Nixon's Secretary of Housing and Urban Development, was open, direct, honest and self effacing. I suspect that Mitt believes that honesty cost George the nomination of his party for the Presidency because he admitted he had been fooled by the Pentagon regarding the likely outcome of the Vietnam War.
So Mitt has chosen to play his cards very close to the vest. Secrecy is one watchword. Another is that he does not admit error. And the third is that he will reconstruct any value, any position, if it gets him closer to his goal.
Look a little closer and you see that the son who calls his father "my inspiration, my guide, and my model" bears very little resemblance to the man who raised him.
Dad was committed to the Civil Rights movement.
Dad started off life as a person of very modest means working his way up a very tall ladder.

Dad believed in the obligation of the wealthy to support the common good and declined a series of deductions to lower his tax bill.
Dad set the pace for financial disclosure- 12 tax returns- and a standing offer to produce any others as requested.

Dad had a set of principles governing his policy positions and he held faithfully and publicly to them no matter what the impact on his popularity.
Dad was willing to admit error, most famously when he said he had been "brainwashed" by the Generals who misrepresented the Vietnam War.
Dad believed that the essence of business was to produce something, to manufacture, and in the process to provide good paying jobs and benefits. He did this as chief executive of American Motors (later Chrysler) which Obama saved and Sonny would have let fail.
Dad sponsored a series of governors' conferences emphasizing community organizing as crucial to reviving American cities.
Dad, as governor, made it clear that his priorities were education, services to the needy, medical care, and infrastructure maintenance/improvement; and that taxes made all of this possible- including the state income tax which he introduced in Michigan.

Dad believed that before seeking higher office a politician needed to prove he had done well enough in his current office to earn reelection. He did in three terms as Michigan's governor.
Dad called himself an Eisenhower Republican and was, as such, a supporter of unions, concerned about the impact of corporate power on industrial and defense policy especially in the military-industrial complex.
Dad referred to himself as a moderate and never changed that label.
Dad believed in the need to provide support services for the poor which he demonstrated as Nixon's Secretary for Housing and Urban Development.
AND HIS SON……well……we know a lot about him now and Mitt has fallen far from his father's tree.
Isn't it odd how such a fine public servant, known for his solid honesty and straightforward speech who embraced the principles of Republican Moderation as a manufacturing, pro-union executive and then as a public service oriented governor could have produced a son like Mitt?
BUT HE DID AND THAT SON WANTS TO BE PRESIDENT.
I WONDER IF HIS DAD WOULD HAVE VOTED FOR HIM?