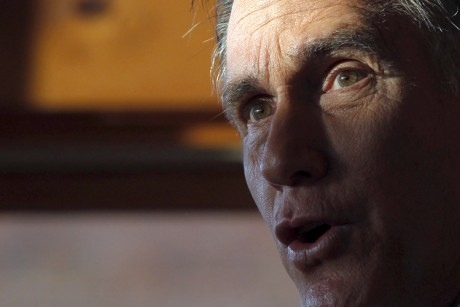 This isn't a case of overheated partisan rhetoric, it's not an ad hominem attack, it's a genuine philosophical inquiry. Is the pattern of unsympathetic behavior exhibited by Romney simply the result of selfishness or is it reflective of a deeper anti-social psychological condition?
Let's begin with defining the traits of sociopathy:
Glibness and Superficial Charm
Manipulative and Conning
They never recognize the rights of others and see their self-serving behaviors as permissible. They appear to be charming, yet are covertly hostile and domineering, seeing their victim as merely an instrument to be used. They may dominate and humiliate their victims.
Grandiose Sense of Self
Feels entitled to certain things as "their right."
Pathological Lying
Has no problem lying coolly and easily and it is almost impossible for them to be truthful on a consistent basis. Can create, and get caught up in, a complex belief about their own powers and abilities. Extremely convincing and even able to pass lie detector tests.
Lack of Remorse, Shame or Guilt
A deep seated rage, which is split off and repressed, is at their core. Does not see others around them as people, but only as targets and opportunities. Instead of friends, they have victims and accomplices who end up as victims. The end always justifies the means and they let nothing stand in their way.
Shallow Emotions
When they show what seems to be warmth, joy, love and compassion it is more feigned than experienced and serves an ulterior motive. Outraged by insignificant matters, yet remaining unmoved and cold by what would upset a normal person. Since they are not genuine, neither are their promises.
Incapacity for Love
Need for Stimulation
Living on the edge. Verbal outbursts and physical punishments are normal. Promiscuity and gambling are common.
Callousness/Lack of Empathy
Unable to empathize with the pain of their victims, having only contempt for others' feelings of distress and readily taking advantage of them.
Poor Behavioral Controls/Impulsive Nature
Rage and abuse, alternating with small expressions of love and approval produce an addictive cycle for abuser and abused, as well as creating hopelessness in the victim. Believe they are all-powerful, all-knowing, entitled to every wish, no sense of personal boundaries, no concern for their impact on others.
Early Behavior Problems/Juvenile Delinquency
Usually has a history of behavioral and academic difficulties, yet "gets by" by conning others. Problems in making and keeping friends; aberrant behaviors such as cruelty to people or animals, stealing, etc.
Irresponsibility/Unreliability
Not concerned about wrecking others' lives and dreams. Oblivious or indifferent to the devastation they cause. Does not accept blame themselves, but blames others, even for acts they obviously committed.
Promiscuous Sexual Behavior/Infidelity
Promiscuity, child sexual abuse, rape and sexual acting out of all sorts.
Lack of Realistic Life Plan/Parasitic Lifestyle
Tends to move around a lot or makes all encompassing promises for the future, poor work ethic but exploits others effectively.
Criminal or Entrepreneurial Versatility
Changes their image as needed to avoid prosecution. Changes life story readily.
http://www.mcafee.cc/Bin/sb.html
There are some literal aspects of sociopathy listed above that Mitt Romney doesn't exhibit such as those connected with living on the edge and promiscuous behaviorr…but one could argue that his constant lying at the risk of his campaign and reputation and his jumping into bed with whatever opinion or right wing extremists he thinks could get him elected is pretty promiscuous.
With some of the key qualities missing from his repetoire, it would not seem wholly justified to refer to Romney in a clinical way as a sociopath. However, being that he has displayed the majority of behaviors listed above with few exeptions, it would seem logical to refer to him as one with a majority of sociopathic tendancies.
Has America ever voted for a man with sociopathic tendancies to be their president? Could such a candidate actually win?
There have been fringe candidates including some libertarians who certainly have appeared to have sociopathic leanings (though true liberrtarians are not by definition, sociopaths). Once in office, we have seen Presidents act sociopathically and get re-elected (George Bush anyone?) but I can't recall any competitive candidate that exhibited as many aspects of sociopathy as Romney does.
By the time people enter the voting booths in November, I think that this less explicit factor in the Presidential race will become a meaningful element. The plain fact is that the more people see of Romney, the more discomforrt they feel about them.
This doesn't necessarily show up in polls, it can be a vague feeling that people may not even be able to put their finger on but after the next five months of nonstop national exposure and sociopathic-type behavior by Romney. that sense of him, that he's not a genuine and normally adjusted human being will be established.
Whatever the avalanche of lies and mudslinging being used to try and bury Obama, in the end, people will have to vote for the man they want making decisions over their lives and it seems to me that for all the reasonable reservations they may have about Obama, the majority of indie voters who will decide this election, will not feel comfortable handing their future over to someone who feels so close to a sociopath as Mitt Romney does.