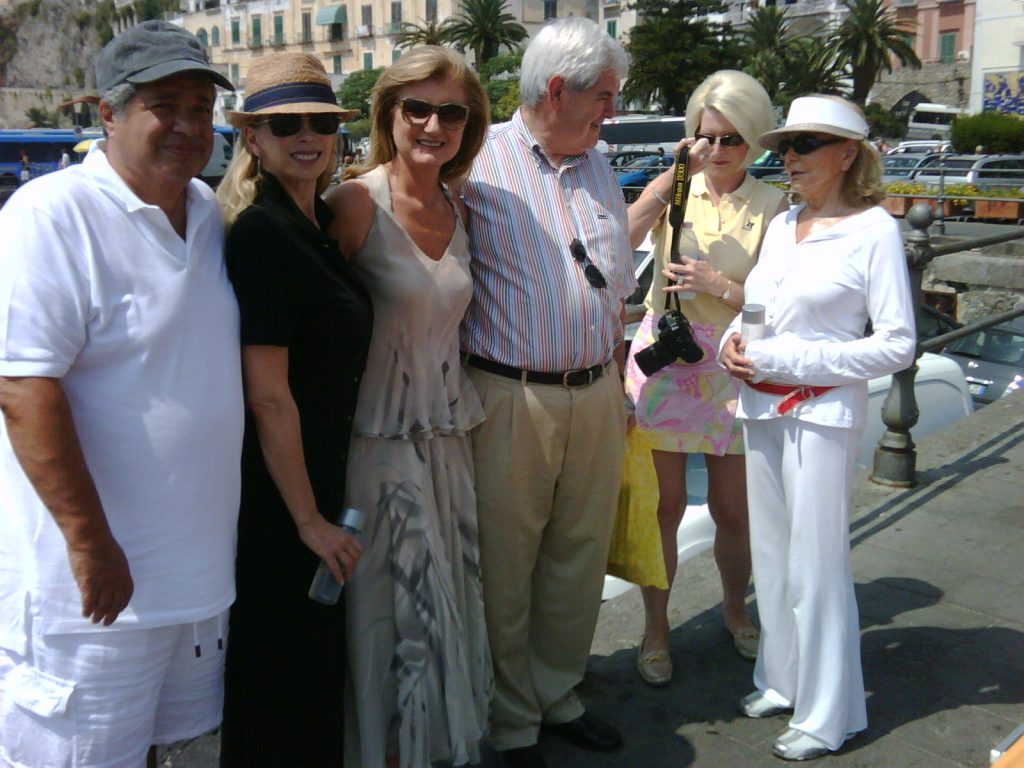 What's worse, someone who stabs you in the back with a smile or someone who gives you warning and says, "Don't look now but I'm about to stab you in the back!"?
That bastion of consistency and unswerving principle, Arianna  ("I'm a Right Wing Republican-I'm a Progressive Democrat-I'm Neither!") Huffington, wrote a column at Huffington Post last week which proudly proclaimed that since the GOP has been falling down in it's role of attacking Obama's character and campaign, she and HP are taking up that noble cause.
I could summarize her pretzel logic of trying to justify her upcoming campaign against Obama as good being for him but will instead allow the intellectually flexible Ms. Huffington to do so with sections of her own words from that article with some translations from me in parentheses (as I happen to speak Huffingtonese):
As the seemingly endless GOP nomination fight grinds on, it's becoming clearer who President Obama's most formidable opponent is likely to be: himself.

(TRANSLATION: "Trust me, this election is not about the economy, jobs, social issues, the War on Women, the Tea Party extremists in the GOP, the 99% or Kochs/Roves/Wall Streets hundreds of millions of SuperPac money that will be spent to destroy Obama's campaign as has succeeded so well when on behalf of Romney.

Obama's biggest threat to his re-election, purely coincidentally, is the purist resentment that I and Huffington Post are trying to get the public to focus on. Thank goodness that's the case, otherwise we might come off as narrow-minded egotists…what a relief!")

 So for me this election now has two tracks: 1) Obama vs. the GOP nominee; and 2) Obama vs. Obama.

(TRANSLATION: "So for me this election now has one track: 1) It's all about me not being invited to Obama's 2008 Inauguration.")

Of course, many things can happen between now and November, and I want to be clear that I think it's crucial for the country — and the world — that the president defeat any of his likely opponents.

(TRANSLATION: "Okay, before I attack Obama in the following paragraphs as being dishonest, spineless and a traitor to the people who voted for him in 2008, let me just say that I fully support him. Students, this is how you cover your ass first with a thin veneer of "Hey, I'm on your side!" so you feel free to unload your actual intent of fully attacking someone you pretend to like when you don't want to be called a hypocrite.)

 …Obama who in a speech will dream of things that never were and ask, "Why not?" and then back at the White House, will look at things the way they are and ask, "Why ruffle too many feathers?"

As David Bromwich wrote after the 2010 midterms, "His eloquence finds its natural key not in explanations but in statements of purpose. Obama wants credit for the highest intentions even when conceding that he lacks the will to fulfill them."

(TRANSLATION: "As I mentioned above, I support Obama but he is too much of a wimp for me to support. Not only that, I go to all the trouble of building a stable on my estate because he's supposed to give me a pony and where the hell is it? As for the quote, I like the smell of quotes in the morning that insult Obama. It smells like…victory…for the GOP.")

 So I guess we weren't actually the ones we were waiting for. Indeed, the one we're waiting for apparently won't even be running until 2016.

(TRANSLATION: "Ain't I snarky? See, I can have it both ways just because I want to. I can say that I support Obama and also say that he's not the one who should be representing us as President…in the same article! I'd give myself a kiss me on the lips for that one if I could but until the cloning experiment is complete, the mirror will have to do for now. SMACK!")

 But then there's the Obama who gave this explanation about his failure to keep his promise to close Guantanamo: "It's not for lack of trying. It's because the politics of it are difficult."

(TRANSLATION: "If Obama really respected our democracy, he would ignore the separation of powers as laid out in the Constitution and usurp Congress' powers to make laws. I mean, if he wanted to close Guantanamo, after the Congress passed a law preventing him from doing so, he should have just done it anyway. That's what George Bush would've done.")

At HuffPost, our plan for 2012 is to vigorously cover both tracks of the election. Which is to say that while we are exhaustively covering the race between President Obama and the Republican nominee, we're also going to be covering that second track: Obama vs. Obama. And we'll be covering it in a variety of ways: by comparing the reality of President Obama with the rhetoric of Candidate Obama; by focusing on real underlying problems in the country that are being temporarily masked by a slight improvement in the unemployment numbers; and by using satire.

(TRANSLATION: "At HuffPost, our plan for 2012 is to convince Democratic voters that no matter how bad the GOP candidate is, Obama also sucks. Which is to say, we will cover the actual race between President Obama and the Republican nominee AND we'll create our own manufactured race between the team of Obama and Hitler vs. Obama and Stalin. Either way, Obama loses, if you get my drift. By attacking President Obama under the excuse that by not delivering everything that he promised in a campaign…as every other President has always done throughout our history…President Obama is unworthy of support, we will address the real underlying problems in the country that are unfortunately getting better in a recovery I'd rather not admit is taking place because it spoils my whole premise.


Oh, and like Rush Limbaugh, we are calling our attacks "satire" so we can escape responsibility for them…you have to admit, it's funny when you attack the President in a way that could damage his re-election and bring a Right Wing obedient Republican into the White House. If you don't have a sense of humor or a portion of a $300 million buyout of your company that you don't want to pay taxes on, that's your problem.")

To that effect, today we're launching a series of videos that will try to call attention to the contradictions of that second track of the election. This first one takes on the idea, often put forth by various members of the Obama camp, that every compromise, capitulation, and seeming surrender to the "worn-out dogmas" of Washington are, in fact, just a brilliant strategy that we don't yet understand.

(TRANSLATION: "So, in the pursuit of even handed, fair minded journalism, we will create videos that only focus on trying to portray President Obama and his camp always surrendering and never accomplishing anything worthwhile. And don't forget, it's just satire!  But we really do want him to be re-elected, you know it's the truth because I said it somewhere above, don't remember where but it's up there somewhere.")
I don't know what is worse, Arianna Huffington having the hubris to so blatantly BS the members and readers at Huffington Post about her campaign to attack Obama and injure his re-election or those who actually believe in her ludicrous justifications and anti-Obama campaign?
Just to recap, Arianna Huffington prefaces and justifies Huffington Post's launching a campaign to attack President Obama for not achieving all of his campaign promises in 2008 and/or not governing as she wanted him to, with the untrue proposition that Obama pretty much has a lock on winning. The plainly suspect facade being presented is that since there is little doubt that Obama's going to win re-election, attacking him between now and November will have no affect on him…but will simultaneously have a meaningful impact on him.
As the saying goes, if it doesn't make sense, it's not true. This self-invalidating logic collapses in on itself because it isn't genuine.
Anyone who knows anything about politics knows that this year's election will be close with possibly razor thin majorities turning states to or from Obama. So, we have to consider, are Arianna (I use her first name not out of familiarity but to differentiate between the website and her) and HP so poorly informed about politics that they are unaware how likely it is for this to be a close election and that portraying Obama as a wimp and a failure could impact it?
Or do they know full well what the score is and are intending their attacks to have a negative impact on Obama's chances for re-election?
The cheap painting over of their announced campaign to attack Obama has the same poisonous lead content as Fox News, which claims, "We report, you decide." In her article, Arianna claims that the purpose of this campaign is:
…it's also crucial that we start to focus on the possible outcomes of the second track — that is, which Obama will be reelected.
Now, aside from a number of provably false propositions in this article, can someone out there explain to me how many Americans have expressed in polls that this is a crucial issue and how such a crusade is in itself wholly unrelated to opposing Obama's re-election? What if we buy into her BS and decide, "I don't want THAT Obama as President!" What conclusion does she expect to inspire?
And Arianna's presenting as a given that Obama is duplicitous and that Americans need to be concerned that we may elect Dr. Jekyll but when he takes office again, he could become Mr. Hide-In-Fear, that's advancing her alleged position that she's fully supporting his re-election?
I don't think Arianna Huffington is a fool or an idiot. She conceived of this campaign of attacks on Obama because she knows full well that it could be detrimental to the enthusiasm and support for President Obama's re-election. She knows that the election is considered to end up being very close and that Obama could win or lose states and electoral votes by very narrow margins. She is far too smart not to know that in the end, this year's election will not have "Obama vs. Obama" on the ballot, it will likely be "Obama vs. Romney" and a Republican could indeed take over the White House if Democratic votership is depressed from lack of enthusiasm.
People do things for reasons. When they lie and deceive as to the motivation and purpose of their actions, they are often undertaking such actions for self-serving reasons that would reflect poorly on them if the truth was known.
Arianna Huffington throws stones at President Obama from the spectacular glass house she lives in. Perhaps the question should be turned around, which Arianna Huffington is using HP to advance her agenda? Is it:
a. A plagiarist who was sued and paid a six figure settlement to avoid trial?
b. An avowed hard right conservative hired by Newt Gingrich to work for his affiliated think tank, The Center for Effective Compassion and who championed the Gingrich take over of the House of Representatives.
c. The unrelenting, campaigning wife of a Republican House member who sought to defeat Democrat Dianne Feinstein in a CA Senate race.
d. An avowed liberal Democrat who endorsed John Kerry's campaign for President.
e. A collaborator with Andrew Breitbart to start up a political website.
f. A supporter of candidate Barack Obama for the Presidency in 2008.
g. A constant and continuous critic of Barack Obama and his cabinet since 2009.
h. A business owner who created and protects a system to use unpaid labor to profit off of.
i. A multimillionaire and internet media mogul and one of the top 1% who received a share of a $315 buyout of HP.
j. An avowed independent who is neither a Republican or Democrat and claims she never was.
Isn't it crucial that we know which Arianna is behind this anti-Obama campaign? Actually, for my money, it's all of the above which is fully encapsulated in the term, "mercenary opportunist".
Perhaps it's her newer multimillionaire status, perhaps it's the profits HP reaps from stirring Obama resentment at HP, perhaps it's her gadfly aspect and she needs to turn on whoever she supported once they are the ones in power but in any case, her history has never veered off the path of opportunism. If she has seen a path for greater attention, celebrity, power and money, she has been willing to turn a full 180 politically to follow that path.
What's good for the goose is good for the gander. If Arianna Huffington and Huffington Post intend to attack President Obama and his Administration for not being consistent in their campaign and presidency, then the one self-righteously claiming a higher cause for making such attacks should be held to the same standard of consistency.
And I see no case to be made by Ms. Huffington that would support any claim of consistency. In fact, she has exhibited far more extreme reversals on issues and policies than any claim she has made against Obama, even switching to diametrically opposed parties and positions over a brief period of time.
The emoprogs/purists/opportunists who received a lot of attention in the past two years are being left behind and good riddance to them. Progressives and Democrats know what are really the issues in the elections this year and the stakes are very high. It is no longer of interest to debate the small minded, "Why hasn't Obama been everything we wanted?". The real and pressing issue at hand is, "Do we reverse all of the progress we've made since the dark days of deceit and destruction under George W. Bush and cement the nation's path on one of plutocracy or do we keep moving forward with a focus on returning jobs, economic fairness and security and hope for the future?".
There is absolutely nothing anti-Progressive or anti-Democrat about criticizing President Obama, I've done so on many occasions over his approach to health care reform, his support of the Patriot Act and a number of other issues. Dissent can be very constructive as can lobbying your President or representatives to do the things you want them to do…especially during election years.
If Arianna was pure in her pursuits, instead of just trying to tear President Obama down, she would be rallying people to lobby President Obama for the things they want accomplished that they feel haven't been. Instead, my conclusion is that Arianna and HP are in the wrecking ball business, both on Repubs and Dems including Obama…and business is booming. They seek conflict and destruction because the more upset people are, the more time they spend at HP blogging…and the more money HP can charge for advertising exposure.
IMO, this is all about money, one way or another.
There is no cause to suspect any concrete political convictions residing in Arianna Huffington when she has constantly swapped one set of "principles" for another as easily as other people change their socks. What has been the one consistent thread in this inconsistent string of events in Arianna Huffington's life is personal gain and this latest of contradictions would seem likely have the same motivation behind it.
And Arianna, if you're reading this, don't be upset, it's just satire.