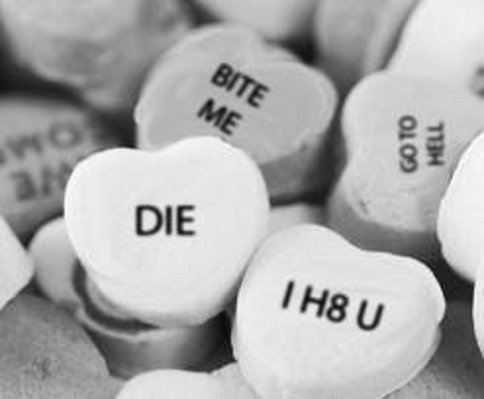 Professional spatula, Mitt Romney has attacked President Obama on defense claiming that his proposed cuts will prevent us from conducting two wars at once. Put aside for a moment that Mitt Romney knows as much about defense as he does about caring for your dog on a road trip, the idea of wars arouse the GOP base in a way that only the thought of a naked Ronald Reagan could.
Republicans love to hate, in fact, for Valentine's Day today, the GOP website will send a dozen hateful pejoratives in a gift box to that special Muslim or gay person on your enemies list.
And as Mitt Romney voices for them, they like to have as many wars as they can eat (they love the "all you can hate" lunch buffets). They are at war with 99% of Americans who want economic fairness, Hispanics, gays, climate change, Kermit and Miss Piggy, clean air and water, protecting consumers and their savings and homes, green energy, peace, Muslims and all others who don't profess Christianity, efficient light bulbs…and on top of all this, they are at war with over half of the U.S. population…women.
Republicans have been at war with women for a very long time (for an explanation, see: Larry Craig v. MN Airport Bathroom), recognition of this might have faded over a number of years because of how caught up they became in hating blacks, Latinos and gays…too much hate, so little time! But like a dung beetle chasing his dung ball downhill, the Republicans have finally caught up with their hate of women and are now positioning themselves to make it a major issue of their 2012 election campaign.
Last week, President Obama deftly diffused the controversy over the ACA's rule that all employers provide free contraceptive care to women. The Republicans were gleefully gearing up for a battle with him, casting him as attacking religion for preventing religion from attacking the rights of 99% of women but they were out maneuvered when Obama transferred the obligation from church owned businesses to insurance companies.
Republicans were frustrated, they were all dressed up in all this hate with nowhere to go…unless…instead of giving up when the door was closed on them, they decided to kick down the door and invade everyone's bedroom…of course! That would surely rally a majority of people to the GOP and against that baby hating, woman loving Obama!
We've seen the Right Wingers passing laws in states to block or make difficult women's ability to have an abortion (even when her life is endangered), ongoing attacks on Planned Parenthood both from politicians and RW execs at The Susan G. Komen Foundation, statements by GOP Presidential candidates that women are incapable of combat missions in the military or have been brainwashed into thinking they should have careers by "liberals"…to hear these Right Wing men spew their spite towards women, you'd think they believed they gave birth to themselves.
Let's consider some simple demographic facts. Women are a majority of citizens in the U.S.. Women are a majority of voters in elections. 99% of women have used or do use contraception.
So how does the GOP plan to win elections when they are at war with the majority of voters and citizens?
There is only one explanation for it…delusion. These types live in a political and social bubble, they listen to Rush Limbaugh, they watch Fox News, they associate or blog only with fellow extremists. So naturally, in the bubble they live in, everyone thinks as they do, everyone is an insecure, underachieving white male who's intimidated by women, minorities and people who are different from them ("Paging Mr. Santorum! Paging Mr. Rick Santorum!").
Everyone thinks black people need to be put in their place and women should be subservient to men. Men who fight for the right to decide what women should be allowed to do, even with their own bodies, are real and righteous men that are following what God (the male God that is, who also gave birth to himself) wants.
Of course, the real minority in modern day America are these troglodytes who somehow think that if they wish hard enough, it will become 1950 again and minorities and women will once again cower before the superiority of the Great White Male.
As this mentality pervades the GOP base, even those candidates who might not genuinely believe in this crap, have to gobble it down by the spoonful to prove to the anti-women core of the GOP that they hate seeing women empowered just as much as the Republican Rabble does…if they want to win their votes and the primary.
It is playing out like a self-parody, seeing all the old whte males in the Catholic hierarchy and the pundit class,  making declarations about what should or shouldn't be a woman's right, to birth control, abortion, etc.
This oblivious patronization and straight up diss of the entire female population by old white men who believe it's up to them to decide what's best for women, brings to mind a cartoon where Yosemite Sam bursts into a ship's Powder Room with a match and says "Uh oh." just before it blows up sky high.
The misguided GOP claimed that Obama's rule on contraceptives has "awakened a sleeping giant", referring to religious voters. To be fair, it did energize some of the evangelical base on the Right as well as news channels who have been drooling to find some way of hammering Obama to make the race for the Presidency closer and more profitable to them by attracting higher viewership.
Obama's resolution of the matter and the fact that most Catholics (including men) supported even the original rule that required churches to cover contraception, undercuts the proposition of a sleeping giant being awakened on the Religious Right…more like a sleeping troll has turned over in its sleep.
Meanwhile, there may indeed be a sleeping giant awakened due to all of this but it's not going to please the Religious Right in the GOP.
Though there have been women's rights groups at work consistently, many women have not been focused on the fact that an entire political party has been at war with them (though many have been well aware of it). When specific anti-women incidents arise, they may attract the attention and energy of women but there hasn't been an overall concentration of a majority of women in the nation on engaging their declared enemy in the overall conflict.
That may be changing now. As women's rights have been usurped in state after state, there has been a building awareness that a coordinated attack on them is under way. The actions of the Susan G. Komen Foundation in trying to de-fund Planned Parenthood as part of this campaign seems to have been the last straw for many women (and men) who have been watching this war on women unfold.
This time, they got mad. They stepped up to SGK in huge numbers and said, "Oh no you don't!" and SGK said, "Er…you're right, oh no we don't."
That fire has only been stoked by this latest attack on women by the GOP,  who, like the cowards they are, hide behind the robes of the Catholic bishops to attack women (to the delight of the Catholic bishops). And because they get self-validation from the Right Wing echo chamber that what they're doing is good for the GOP's cause and chances in November, they have been redoubling their efforts and attacks.
Rep. Roy Blunt of Missouri is introducing a bill in The House that would allow any employer the right to refuse contraception coverage if they claimed moral reasons. House Leader John "Cries Like a Man" Boehner and Senate Majority leader and Yertle the Turtle model, Mitch McConnell have both come out in support of such a bill.
Someone should mention three words to them…Little Big Horn.
Deluded into thinking that this is a winning hand, they are pushing in all their chips on making contraception and reducing women's rights a defining issue. By doing so, they seem to be awakening and an actual sleeping giant and just in time for the elections in November.
They may eventually see this situation as David and Goliath but it's not.
It's Bambi vs. Godzilla…someone is definitely going to get squashed and it ain't gonna be the giant.