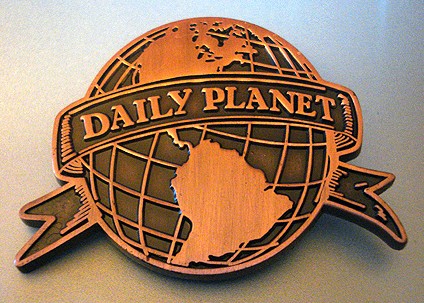 Sorry for the late post! I'm still having problems with my wireless. You can access all the past editions of The Daily Planet on the green Category bar on the top of each page under the heading PlanetPOV.
________________________________________
BUDGET
Time:
The Republican Party, after converting huge surpluses into huge deficits during the Bush era, after opposing deficit-reducing health reforms, student loan reforms and big-bank taxes during the Obama era, after continuing to clamor for trillions of dollars in deficit-expanding tax cuts while gutting House pay-as-you-go rules to make it easier to expand the deficit, has somehow managed to re-brand itself as the party of fiscal responsibility. It's a remarkable political achievement.
It's also useful context to discuss the increasingly urgent warnings by watchdogs like Congressional Budget Office director Doug Elmendorf and Federal Reserve chairman Ben Bernanke that a U.S. debt default would have catastrophic fiscal as well as economic consequences. It would increase our borrowing costs. It would decrease our revenues. How to put this diplomatically? Uh…THE GOP DOESN'T CARE! As long as it doesn't get blamed for those consequences. […]

It's not Obama's fault that Republicans are irresponsible. But he's not powerless. He's not voiceless. It was no coincidence that when he laid out a strong case against GOP fiscal insanity in his George Washington speech in April, Republicans hated it, screeching that he was the meanest, nastiest, most partisan President in the history of Kenyan sharia socialism. Apparently, he touched a nerve. But he hasn't touched it again. Ultimately, if he can't create a political atmosphere where irresponsibility is punished, the irresponsibility will continue. And he'll be held accountable for the consequences.
Ten Republican senators have pledged their opposition to increasing the national debt limit unless Congresses passes a constitutional amendment to balance the budget.
It's a high hurdle because two-thirds of both chambers must approve constitutional amendments. The pledge will split the Senate Republican conference and put pressure on other lawmakers to oppose legislation to increase national borrowing authority.
The 10 GOP senators have signed a document similar to the Taxpayer Protection Pledge, which anti-tax activists have used to block tax increase.
The document states the signatories will oppose the debt increase unless three conditions are met: substantial cuts in spending that will reduce the deficit, the implementation of enforceable spending caps and passage of a balanced budget amendment.
The pledge specifies that the amendment must include spending limits and a supermajority requirement for raising taxes.
The signatories include Sens. Jim DeMint (S.C.), Lindsey Graham (S.C.), Rand Paul (Ky.), Mike Lee (Utah), Marco Rubio (Fla.), James Inhofe (Okla.), Jerry Moran (Kan.), Pat Toomey (Pa.), David Vitter (La.), and Orrin Hatch (Utah), ranking Republican on the Finance Committee.
The lawmakers announced their support for the pledge Wednesday and see it as the beginning of an intense campaign to get a balanced budget amendment enacted. They argue an amendment is the only sure safeguard against the nation racking up huge deficits in the future.
A coalition of conservative groups such as Citizens United, Club for Growth, FreedomWorks and Let Freedom Ring support the proposal.
Eleven Republicans in the House have also signed it.
The financially troubled Postal Service is suspending its contributions to its employees' pension fund.
The agency said Wednesday it is acting to conserve cash as it continues to lose money. The post office was $8 billion in the red last year because of the combined effects of the recession and the switch of much mail business to the Internet. It faces the possibility of running short of money by the end of this fiscal year in September.
Sen. Tom Carper, D-Del., called the announcement "the canary in the coal mine moment for the Postal Service."
"If we don't heed this warning and act quickly, the Postal Service as we know it will cease to exist in the very near future," said Carper, chairman of the Senate subcommittee with jurisdiction over the agency.
The mailing industry echoed his comments.
Vermont Sen. Bernie Sanders told POLITICO, "I think they're dead wrong on this issue, and I think many of the other senior groups feel the same way."
AARP CEO A. Barry Rand released a statement following The Wall Street Journal report saying the organization had not changed its position, and that the report was "inaccurate."
"Let me be clear – AARP is as committed as we've ever been to fighting to protect Social Security for today's seniors and strengthening it for future generations," he said. "Contrary to the misleading characterization in a recent media story, AARP has not changed its position on Social Security.
The Wall Street Journal sparked the addition of Social Security to the ongoing deficit reduction talks, which, the organization said today, it never intended.
Though Social Security ran a $49 billion deficit last year, the program's trust fund is solvent for at least another 25 years, according to the Social Security Administration.
The U.S. Agency for International Development is paying a charter airline in Afghanistan $14 million a year for flights that its employees never took, a new audit reveals.
The no-show passengers increased costs to the U.S. government even as the development agency spends billions of dollars to rebuild Afghanistan's roads, schools and other infrastructure after decades of war and neglect, the USAID's inspector general found.
"No-show passengers obligate the contractor to operate aircraft with empty seats and impede the efficiency of the [agency's] portion of the Embassy Air program," David Thomanek, the acting Afghanistan Director of the Inspector General's office wrote in the report released last week.
The $14 million sum represents 20 percent of the agency's annual contract with Aircraft Charter Solutions, Inc. to fly USAID workers and cargo to remote locations in Afghanistan, where provincial reconstruction teams and other U.S. government development programs are buildings roads and other infrastructure.
The audit drew a strong rebuke from Sen. Susan Collins (R-Maine) ranking member of the Homeland Security and Governmental Affairs Committee.
"While USAID is wasting $14 million annually to fly empty seats to Afghanistan, critical programs to train police, build schools and promote maternal and child health are left without proper support and oversight," Collins said in a statement.
The audit said the charter company is paid the same, whether all seats on a plane are occupied or the plane is half full. The seats reserved for no-show passengers could have been made available to other passengers, smaller aircraft could have been used if no-shows had canceled their reservations, and in a few cases flights could have been canceled entirely, auditors found.
The inspector general recommends that the development agency implement a small penalty fee of $50 to $100 for every no-show, to be reimbursed by the employee.
Investors and ratings agencies would balk at another temporary raising of the U.S. government's debt ceiling to buy lawmakers more time to resolve their deep conflicts over how to lower the U.S. budget deficit.
It would weaken the U.S. dollar and push up Treasury yields, money managers said. For ratings agency Moody's, it would also raise further questions about the ability of lawmakers to come up with a comprehensive plan to tackle the debt problem.
Market strategists increasingly fear that weeks of budget talks, led by U.S. Vice President Joe Biden, are making too little progress, heightening chances that politicians will head down a potentially dangerous route for markets.
"Frankly, we are on the path of just muddling through. We will probably promise some solution, but the details will be missing," said Adnan Akant, head of foreign exchange at Fischer Francis Trees & Watt, a New York unit of BNP Paribas with about $48 billion under management.
OK, maybe Ben Bernanke isn't willing to do much more to help out our anemic economy, but at least he did say this today:
I don't think that sharp, immediate cuts in the deficit would create more jobs. I think in the short run that we're seeing already a certain amount of fiscal drag coming from state and local governments from the withdrawal of previous federal stimulus, so I think in the short run, you know, the fiscal tightening is at best neutral and probably somewhat negative for job creation.
Am I wrong, or is this the bluntest he's been yet about the idiocy of his fellow Republicans and their austerity agenda?
Here's a good place to bring back the Center on Budget and Policy Priorities' chart and ask: Is it true for 2011 that the economy is at any greater risk for serious damage over the next decade by not "tackling" the debt? That's an assumption that has to be questioned by the real serious people, not the Very Serious People deficit-peacocking their way through this debate. David Dayen does a good job asserting just the opposite: Do nothing.
BUSINESS
You remember we wrote about the University of New Mexico football player who was arrested at a San Francisco airport for his sagging pants, right?
Well, a reader of the San Francisco Chronicle, which first reported the story of Deshon Marman, sent the paper a picture of a scantily clad passenger who was allowed to fly six days earlier. The picture, taken June 9 before a flight from Fort Lauderdale, Fla., to Phoenix, shows a man wearing blue, women's underwear and thigh-high stockings. The man is wearing a spaghetti-strap top, baring his midriff. The panties are just as revealing.
According to police, the day Marman was arrested, he was wearing pants, "below his butt and his boxer shorts were showing."
So the new revelation brings up lots of questions about the airline's dress code and whether there is a double standard at play. It also brings up questions about race, which we wrote about earlier, too. The man allowed to fly is white and Marman is black. The Chronicle spoke to Marman's attorney:
… Joe O'Sullivan, said that his client had been stereotyped by US Airways as a thug and that the airline was guilty of racial discrimination for asking Marman to adjust his clothes. Marman is African American.
"It just shows the hypocrisy involved," O'Sullivan said after he viewed the photo of the cross-dressing passenger. "They let a drag queen board a flight and welcomed him with open arms. Employees didn't ask him to cover up. He didn't have to talk to the pilot. They didn't try to remove him from the plane – and many people would find his attire repugnant."
O'Sullivan added, "A white man is allowed to fly in underwear without question, but my client was asked to pull up his pajama pants because they hung below his waist."
Goggle on Wednesday refused a request by the Senate Judiciary antitrust subcommittee that CEO Larry Page or Executive Chairman Eric Schmidt appear to testify at an upcoming hearing on the tech giant's competitive conduct, sources told POLITICO.
The answer came despite a veiled threat by the panel's leading members, Chairman Herb Kohl (D-Wis.) and ranking member Mike Lee (R-Utah), to issue a subpoena to force one or the other Google executives to testify.
Read more
ECONOMY
As Steve Benen points out, this represents the mainstreaming of an argument that had previously been made mostly by liberal bloggers and a few pundits: That Republicans are trying to hurt the economy on purpose. "At a minimum, it hardly seems unreasonable to call for some national discussion on this," Benen notes.
So does this mean a shift in messaging strategy? No, not yet. The Dem message right now still remains this: Dems are proposing measures to create jobs; Republicans are blocking them. The questioning of GOP motives is not official Dem messaging — yet.
The economic sabotage argument is best understood as a shot across the bow — if Republicans continue to block Dem job creation initiatives, Dems will begin making this case in a more concerted way.
"For the time being, we are pressing the case that more needs to be done to spur job creation," the senior Dem aide tells me. "If Republicans contnue to put up a brick wall of opposition to anything related on jobs, the only conclusion one could draw is that they're deliberately blocking ways to encourage the economic recovery for political reasons.
"We will not shy away from making that case," the aide concludes.
Nine out of 10 Americans who currently have a job don't expect to get a pay raise this year even as they struggle with higher gasoline and food prices, according to the latest American Pulse survey.
To make up for the lost pay, Americans are cutting back in other areas with the most — 70.5% — saying they would only stick to necessities. Only 6.6% say they aren't making any financial adjustments.
ENERGY
Taking a lesson from coal, the natural gas industry, under increasing scrutiny for its boom of unregulated fracking across the United States, is now bringing its own propaganda to children. Talisman Energy, a Canadian driller with extensive operations in Pennsylvania, has developed the coloring book "Talisman Terry's Energy Adventure," starring the "friendly fracosaurus," a smiling dinosaur wearing drilling garb named Talisman Terry. The Pittsburgh Post-Gazette explains that the coloring book is part of the company's outreach strategy to Pennsylvania locals:
The coloring book's overt message — drilling is smart, safe and American — is delivered in kid-friendly fashion, glossing over the environmental and economic controversies that have surrounded drillers tapping the Marcellus Shale rock formation for lucrative pockets of gas. […] Talisman Terry was developed at Talisman Energy's Calgary headquarters and has been distributed at community picnics in northeastern Pennsylvania counties. It's available free as a PDF on the company's website.
The content of "Talisman Terry" is beyond parody, with smiling rocks, flowers, balloons, fish, and puppies, as well as American flags, the Statue of Liberty, and bald eagles. According to the coloring book's before-and-after pages, the impacts of natural gas drilling evidently include the creation of rainbows.
ENVIRONMENT
"No, we're not going to allow any legislation that impedes the need to improve our health and safety," Obama's chief of staff Bill Daley told Politico Thursday when "asked whether the White House would consider legislation to block or delay EPA climate regulations." The administration's resolve will be tested by a slew of House Republican efforts to dismantle clean air and water protections.
Al Gore Asks How Many Climate Disasters Will It Take For Us To Act

Look what's happened in the last twelve months:
– The twenty million people displaced in Pakistan, a nuclear-armed country, one of the biggest flood events in their history.
– An area of Australia the size of France and Germany combined, flooded.
– The nation of Colombia, they've had five to six times the normal rainfall. Two million people are still homeless. Most of the country was underwater for a portion of last year.
– My hometown, my home city of Nashville, a thousand-year flood. Thousands of my neighbors lost their homes and businesses. They had no flood insurance because there had never been a flood in areas that were flooded.
– Drought. Russia, biggest drought in their history, biggest fires in their history, over 50,000 people killed, and then all of their wheat and other food crops, along with that of Ukraine and Kazakhstan, taken off the world markets, leading to an all-time record spike in food prices.
– Texas, right now. The drought raised from "extreme" to "exceptional." 254 counties in Texas, 252 of them were filed in the major disaster.
– Today, biggest fire in the history of Arizona, spreading to New Mexico.
– Today, biggest flood in the history of the Mississippi River valley underway right now.

At what point is there a moment where we say, 'Oh, we ought to do something about this?'
HEALTH CARE
IMMIGRATION
On Friday, the Obama administration issued a memo announcing that federal immigration officials do not have to deport illegal aliens if they are enrolled in any type of education program, if their family members have volunteered for U.S. military service, or even if they are pregnant or nursing.
This new policy of "prosecutorial discretion" was quietly announced on Friday afternoon, and completely ignored by the mainstream press.
Author of Arizona's SB1070 and Kansas' secretary of state, Kris Kobach, told the Daily Caller: "They're pushing the [immigration] agents to be even more lax, to go further in not enforcing the law. At a time when millions of Americans are unemployed and looking for work, this is more bad news coming from the Obama administration… [if the administration] really cared about putting Americans back to work, it would be vigorously enforcing the law."
MEDIA
Anderson Cooper called out President Obama on his Tuesday show for flip-flopping on gay marriage.
Obama is under increased scrutiny about his "evolving" views on gay rights in the wake of the battle for gay marriage in New York. Obama will be in the state on Thursday to attend a high-priced fundraiser with gay donors.
In his "Keeping Them Honest" segment, Cooper said, "New questions are being raised about what the president actually believes about gay marriage and whether his public opposition to it is real or just political posturing."
The administration's record is lengthy and and it all points to just one thing: President Obama is responsible for major landmark achievements on the issue of gay rights.
Strange that the more important issue, then, is what he's said instead of what's he's done. Usually when the president gives a speech about gay rights, the gay community and various firebaggers reply with, "BAH! Just words!" Now, when his actions show a stellar pro-gay record, everyone appears to be focused on wanting more words while ignoring his actions.
Matt Bai:
Jon M. Huntsman Jr. is actually running for president? And saying he respects President Obama, no less?
Is he mocking us? Does he think we're a bunch of idiots?
That's pretty much been the tone of the commentary since Mr. Huntsman made his candidacy official on Tuesday, and I have to say I've found it rather jolting.
Having written an article on Mr. Huntsman for this Sunday's New York Times Magazine, I'm under no illusions that he has, as the TV talking heads insist on putting it, a likely "path to the nomination." (Why do they all use this exact same imagery? Is there some map of the presidential contest I was supposed to get back at the entrance?)
But much of the coverage here carries an unmistakable undercurrent of anger. The assembled news media wasn't nearly this dismissive of, say, Newt Gingrich when he announced several weeks and a few credit lines at Tiffany's ago. In Mr. Huntsman's case, the prevailing attitude seems to be that he is wasting our time.
Here's how Dana Milbank at The Washington Post summarized the situation this morning, in a column that seemed to channel much of the chatter in Washington:
"I wish Huntsman luck in this noble pursuit, but the high road almost always leads to political oblivion. For Huntsman to maintain his course all the way to the Republican presidential nomination would turn politics on its head. More likely, he will join other decent men — Richard Lugar, Orrin Hatch — whose presidential campaigns were quickly forgotten."[…]
This is not the résumé of a quixotic candidate.
It's true that Mr. Huntsman doesn't seem to have much to say that's very compelling at this point, and it's true that "civility" isn't much of a message — points my colleague Michael Shear made in his column this morning. […]
So why is Mr. Huntsman being mocked by a lot of influential analysts? I think it's because, going back to 2009 and culminating in the 2010 elections, there is now an accepted news media narrative about the Republican Party. It's ideologically kooky. It's furiously partisan. It's full of hate.
Mitt Romney seems essentially to buy into this narrative. So does Tim Pawlenty. For all I know, they're right.
But Mr. Huntsman is advancing the notion that there is a more nuanced, less reactionary strain in the party that feels underrepresented. And this seems to unduly irritate a lot of analysts. The feeling seems to be: We've already got this all figured out, and we know he's wrong. So why is he still up there talking?
Many politicians have qualities that can annoy those who cover them: self-importance, hypocrisy, elusiveness. But for whatever reason, none more offends the capital's pundits and insiders than naïveté. We know the Republican Party won't even entertain a conciliator as its nominee, just like we knew that Republicans after 2008 had been relegated to the minority for decades. We tend to ridicule anyone whose version of reality isn't what we know it to be — until suddenly it is, and then you can bet that we saw it coming all along.
Just to be clear: I'm not suggesting that Mr. Huntsman is likely to win. (Read my piece and you'll see that I have my own reasons for skepticism.) But that doesn't mean we should shower contempt on anyone who advances a competing theory of the moment. It costs us nothing to wait and find out.
Adam Serwer:
The past few days, I've been writing at Greg's place about the validity of Jon Stewart's criticisms of Fox News. The fact-checking website Politfact weighed in yesterday, citing a series of public-knowledge surveys showing that on questions of basic knowledge, Fox News viewers scored well within the average.
Politfact thus ruled Stewart's contention that Fox News viewers are "the most misinformed" false:
So we have three Pew studies that superficially rank Fox viewers low on the well-informed list, but in several of the surveys, Fox isn't the lowest, and other general-interest media outlets — such as network news shows, network morning shows and even the other cable news networks — often score similarly low. Meanwhile, particular Fox shows — such as The O'Reilly Factor and Sean Hannity's show — actually score consistently well, occasionally even outpacing Stewart's own audience.
The problem with Politfact's work on this is that they're really comparing apples and oranges. The Pew studies measured viewers' knowledge of certain basic matters that no one is actually suggesting Fox News misinforms its viewers on. No one is arguing that Fox News misleads its audience about which party controls Congress, what volcano erupted last week, or whether John Bolton's mustache is secretary of state. Jane Hamsher had a good response to this, pointing out that being "misinformed" and "ill-informed" are not the same thing. An avid watcher of Fox News would likely be able to identify the speaker of the House or the attorney general, but they're also far more likely to think the president was born in Kenya. Put another way, someone who erroneously believes that the Civil War was fought over "states' rights" and not slavery would still likely know which side of the war Robert E. Lee fought on.
Rather, the issues on which Fox misinforms its viewers are on matters of fact that conservatives would like not to be true. For instance, one recent study that Politfact shied away from because conservatives "criticized its methodology" is the only one that actually measures public knowledge on the issues in question. That survey found that Fox News viewers were far more likely to believe, falsely, that most scientists don't believe climate change is happening, that there were no tax cuts in the stimulus, that income taxes have gone up, and that Obama wasn't born in the United States. It's fair to question whether or not respondents should be asked questions about what "economists" thought of the stimulus, but that problem isn't present with many of the other survey questions, which measure easily verifiable facts not subject to interpretation.
In other words, Politfact's fact check evaluates a claim Stewart wasn't actually trying to make. At best, they can say that Stewart's view that "every poll" shows Fox News viewers to be misinformed is an exaggeration, since to my knowledge we're talking about at most two surveys that tested respondents' knowledge on issues of public debate, as opposed to who the Chief Justice of the Supreme Court happens to be. Another response might be that, as Julian Sanchez pointed out, the surveys measured questions that a misinformed liberal might get right just on partisan grounds. But the Pew public knowledge surveys bear no relationship to the argument Stewart was making.
UPDATE: Steve Benen and Chris Mooney point out that several other surveys on specific issues like climate change and health care support Stewart's argument.
Grab your remotes, and get ready to change the channels; there's a new struggle against increased media consolidation, and chances are it's coming to your town. In fact, it's quite possible that TV stations in your own backyard have already consolidated, and you may not even know it's happened. That's because media companies have circumvented the Federal Communications Commission's ownership rules in over 80 markets, quietly shuttering newsrooms at the expense of independent, local journalism.
Today, Free Press is launching a new campaign to demand an end to this covert consolidation. We've been studying these backroom deals for over a year, and today we are ready to unveil an exclusive interactive map detailing which media companies and stations are engaging in covert consolidation. We're also releasing a new white paper, "Outsourcing the News", which lays out our research and provides in-depth case studies of three covert consolidation deals.
Visit our new site, ChangetheChannels.org, to find out whether covert consolidation is impacting your community, and to learn what you can do about it.
What Exactly is Covert Consolidation?
Media consolidation is a dangerous problem, reducing the number of independent sources of news—that's why there are rules to control it. But media companies have devised a way around those rules. Instead of one station buying the other, media companies are outsourcing their news and programming and handing over control of their newsrooms to their competitors. . In many cases, one news team produces a single newscast for multiple stations. The result: less news about your community and fewer journalists holding our leaders accountable.
Covert consolidation is already widespread. In its recent report, Information Needs of Communities, the FCC states that, "nearly one-third of TV stations say they are running news produced by another station."But the scope of this problem is far greater than the FCC report acknowledges. The FCC cites data that identifies "at least 25 television markets" where these deals are in place, but this only accounts for one kind of legal agreement that companies use. By broadening the scope of inquiry to include other similar agreements that also result in less competition, diversity and localism, the numbers increase significantly.
Free Press has identified almost 80 television markets where these deals are in place. In total, these deals involve more than 200 stations.
Report after report confirms that local TV is still the primary source for news in America. If local TV news doesn't provide in-depth reporting from several independent sources, our communities won't be informed, and our leaders can't be held accountable. Perhaps worst of all, we'll never know what we're missing: Without journalists digging up stories, political scandals or corporate corruption can go completely undetected.
The FCC is currently reconsidering its media ownership rules, and the time is right to ask the FCC to get tough with stations that have circumvented FCC rules and abandoned local news. Click here to sign our letter urging the FCC to put an end to covert consolidation.
When you see a headline like "Public Unions Take On Boss to Win Big Pensions,"  you know what you're going to get– more scaremongering about runaway public employee pensions. The New York Times delivers, with a lengthy front-page piece by Charles Duhigg that mostly takes the side of the Republican lawmakers trying to cut benefits in the name of fiscal discipline.
The article is largely based around Jim Righeimer, a conservative activist turned city council member in Costa Mesa, California, whose become something of a national star on the right. He can rattle off the anecdotes about sky-high pensions:
The city was on the road to insolvency, he warned, because public employee unions had pressured politicians into handing over generous salaries and pensions. The police chief received $298,000 a year in total compensation, Mr. Righeimer noted. The deputy fire chief had retired with a pension of more than $182,000 a year.
How typical is a $182K pension? The Times doesn't really explain, but they do suggest that this particular town's situation is typical for the state– which is in terrible shape:
Costa Mesa, population 110,000, is California in miniature. For years, public employee unions across the state have often used their influence — sometimes behind the scenes but occasionally with public, hardball campaigns — to push for improved worker pay and benefits.
The Times could have mentioned that not everyone agrees with Righeimer's alarmist view. According to one report (Bloomberg, 4/8/11)  the city's budget officer says the pension estimates being used do not include union givebacks or changes in the state pension contribution rates. And it's worth pointing out that at one point the city stopped making pension fund contributions ten years ago, when the system was overfunded.
You have to go a ways in the Times before getting a dissenting view:
Public employee unions, in their defense, say politicians have unfairly made them into simplistic bogeymen, responsible for problems that have myriad causes. Not all government workers receive generous pensions, they note. A public worker enrolled in the state's largest pension fund who retired in 2008 with more than 30 years of service received a pension of $66,828 a year, on average, and a retiree with 20 to 25 years of service received around $34,872. Public workers who retire with fewer years on the job receive even less.
So you lead with anecdotes about six-figure pensions– and then give readers some sense of a more typical retirement later on.
As we've pointed out before, there are serious debates about the scale of the pension problems across the country; many see the shortfall estimates as overly pessimistic.  But The Times seems to have picked its side
MILITARY
When President Obama announced his Afghanistan troop "surge" strategy at West Point 18 months ago, he seemed to be keeping the reality of the war at arm's length, even as he sent more soldiers into battle.
A sign of that ambivalence was the president's announcement, in ordering 30,000 more troops into the fight, that he would begin pulling them out in July 2011. To many observers, especially in the region, it seemed that the president was undermining his own strategy from the outset. But this conditionality was apparently the only way Obama — a president who grew up in the shadow of the Vietnam war — felt comfortable with the decision.
The talk in Kabul and Islamabad 18 moths ago was that Obama would bail out in July 2011. But that hasn't happened.
With tonight's speech, the inflection point finally arrived. Obama announced a measured withdrawal of 10,000 of those surge troops this year — more than military commanders might have wanted but far less than war critics have been demanding. In taking this course, he took ownership of the policy more decisively.
You could argue that, in choosing his own option, Obama fully became commander in chief of this war. He opted for what he thinks has worked: an aggressive counter-terrorism assault on al-Qaeda and its Afghan allies. And he implicitly rejected the more ambitious counter-insurgency goals of some of his commanders, who had hoped that by protecting the Afghan population, the United States could "take away the oxygen" from the Taliban. For all the gains in security in Helmand and Kandahar provinces, that COIN precept hasn't proven out.
The most persuasive argument for the approach the president embraced tonight is that it will keep enough military pressure on Taliban forces to make them consider the wisdom of a negotiated settlement of the war. That's the crucial strategic benefit of the president's approach — that it confounds the Taliban expectation that the United States would be gone by the end of this year. And to that extent, it makes the prospect of a negotiated settlement a little more plausible.
Download the full report (pdf)
Download the executive summary (pdf)
The task for the Obama administration through the remainder of its first term in office is redirecting its diplomatic, financial, and military resources toward a sustainable settlement in Afghanistan.
Current U.S. efforts in Afghanistan are fundamentally out of balance, and they are not advancing U.S. interests and stability in Afghanistan, Pakistan, and the region. Military operations drive our strategy while the political and diplomatic framework essential for long-term stability in Afghanistan remains undeveloped.
Further, this overinvestment of resources and attention in Afghanistan is out of alignment with core U.S. security interests in the region. Those interests center on reducing the risk of terrorist attacks by Al Qaeda and its affiliated networks against the United States and its allies. They also include increasing the political stability of the Pakistani state, a country of 170 million people with nuclear weapons.
Preventing state collapse in Afghanistan and managing a stable and enduring transition of responsibility to Afghan leaders would enable the United States to best meet these core security objectives in the region and over the long term support a peaceful, economically integrated region. A smaller U.S. and NATO-ISAF military footprint with a more robust political and diplomatic effort has a greater chance of reaching this desirable end state of stability than a full-blown counterinsurgency effort to extend the government of Kabul throughout the country and defeat the Taliban insurgency.
The Obama administration should use its upcoming year-end policy review to refocus on the political and diplomatic components of its strategy while it transitions out of Afghanistan. This will entail building an inclusive settlement to the country's conflict, developing an Afghan state that is increasingly less dependent on external support, and facilitating an international diplomatic agreement among Afghanistan's neighbors and regional partners.
The administration must commit to transferring responsibility to Afghan leaders in the near future, as agreed to by the Afghan government, the United States, and the NATO-led International Security Assistance Force, or ISAF. We should reduce our military footprint at a steady pace beginning now with full transfer to Afghan control by 2014 at the latest. A reduction in troop levels and assistance should occur more rapidly, however, if Afghanistan's government does not begin a serious process of political reform and dialogue with its armed and unarmed opponents.
To be sure, an accelerated withdrawal would have costs—many of which the Afghan people would have to bear. It is not an ideal approach by far. But the United States can protect its core security interests with a reduced military presence in Afghanistan. And without shifts in the current political structure in Afghanistan it will be simply futile for the United States and its NATO allies to wage continued war on behalf of a government that cannot consolidate domestic political support without indefinite massive international assistance.
Transitioning to a viable end state in Afghanistan
The United States, with its NATO-ISAF partners, must prioritize measures that can induce political and economic reforms on the part of the Afghan government in order to manage a measured drawdown in Afghanistan over the next three years. Beyond 2014, the United States may offer Afghanistan financial support and maintain a small military force to undertake targeted attacks against terrorist groups, conduct intelligence gathering, and provide training of Afghan National Security Forces.
The task for the Obama administration through the remainder of its first term in office is redirecting its diplomatic, financial, and military resources toward a sustainable settlement in Afghanistan.
The task for the Obama administration through the remainder of its first term in office is redirecting its diplomatic, financial, and military resources toward a sustainable settlement in Afghanistan in which the United States can transition responsibility to Afghan leaders without sparking an expanded round of conflict. But a self-sustaining state in Afghanistan capable of surviving a drawdown in largescale international assistance requires a political system that offers the diverse factions in Afghanistan's society—including those backing the current government, those taking part in armed insurgency, and those sitting on the fence—an opportunity to participate in their country's future.
When President Obama expanded the Afghanistan war a year after taking office, Republicans fiercely criticized his deadline to bring troops home. But his decision on Wednesday to accelerate their withdrawal came with few reprisals, a sign of a remarkable shift in the politics of war. […]
A debate inside the Republican Party over Afghanistan, along with larger questions about American military engagement, has changed the political dynamic facing Mr. Obama as he prepares for re-election. He made clear that he would not be haunted, like many Democrats before him, by being cast as weak on national security. But he pledged to "chart a more centered course," a phrase that could well serve as a metaphor for how he has sought to reset his presidency after Democrats were soundly defeated last fall.
Mr. Obama is benefiting from a confluence of factors — a rising strain of Republican isolationism, the killing of Osama bin Laden and deep concerns about spending and the deficit — which provide unexpected flexibility for dealing with Congress and selling his decision to the nation. He will test whether the post-Sept. 11 politics have changed enough to allow a Democratic president to wind down a war with little or no political peril.
"These long wars will come to a responsible end," Mr. Obama said. "As they do, we must learn their lessons. Already this decade of war has caused many to question the nature of America's engagement around the world."
As the nation has grown weary over the cost and toll of war, fault lines have emerged among Republicans, with the longstanding isolationist strain regaining its footing after the Sept. 11 terrorist attacks and the adventurism of the George W. Bush era.
The aggressive posture adopted by the president, particularly in pulling out troops faster than Pentagon advisers recommended, could open a discussion in Congress and on the presidential campaign trail. Republicans now hold an array of positions, from the budget-minded focus of the Tea Party movement to the stay-the-course view of the party's 2008 nominee, Senator John McCain of Arizona, to other internationalist Republicans who fear the party has lost its way.
For the first time in generations, neither the president nor any candidates for the office have worn the military uniform. The familiar chords of patriotism may have given way to increased concerns about priorities at home.
Get-out-now foes of the Afghanistan war will hardly be satisfied by President Barack Obama's announcement on Wednesday night that he is withdrawing 33,000 troops from that war-torn country on a gradual slope: 10,000 by the end of this year, the rest by the end of summer 2012. This glide path seems designed to thread the needle and allow Obama to credibly claim he is moving toward ending the war and to avoid sparking any rebellion in the Pentagon (or right-wing charges he is a soft-on-national-security wimp). But could he have adopted a steeper draw-down? Sen. Carl Levin, who chairs the Senate armed services committee, quickly sent out a statement saying that Obama should be calling back more troops on a faster pace. And Center for American Progress, a liberal think tank run by the Obama-friendly John Podesta, issued a statement that might well represent the position of Democrats who desire quicker-but-not-immediate war-ending from the president. It essentially calls for a twice-as-fast withdrawal:
President Obama took a step in the right direction this evening by announcing the start of U.S. troop reductions in Afghanistan. This follows ten years of U.S. and NATO investment, which has severely degraded Al Qaeda capabilities in the region, and led to the successful tracking and killing of Osama bin Laden. Yet many important questions about Afghanistan, including our core objectives, future costs, how military operations will support the political and military transition between now and 2014, and our relations with Pakistan, remain unanswered.
The Obama administration made an important move to shift resources from Iraq to Afghanistan in 2009. As a result, the United States military has achieved security gains in parts of Afghanistan, and the intelligence community has been relentless in its disruption of the Al Qaeda terror network. The resources were a key part of the successful mission to bring Osama bin Laden to justice.
It is from this position of strength that we can now rebalance our investment in Afghanistan. American military, intelligence and diplomatic personnel serving in the region have shouldered the burden for the past ten years. The United States still spends $10 billion a month in Afghanistan, at a time when it cannot invest in its own infrastructure at home. This expenditure – six times Afghanistan's own GDP – has fostered a dysfunctional culture of dependency.
Completing the mission in Afghanistan must now shift to Afghan leadership. At this time, U.S. strategy must focus on balancing internal Afghan reconciliation, obtaining support from regional powers, and setting critical benchmarks that measure the civil and military transitions to Afghanistan and its government. If these benchmarks are not met, U.S. officials must prepare for a more accelerated drawdown. Fighting the insurgency on behalf of a government that is unwilling to reform will not work, and will not advance the security interests of the United States or of our allies.
The Center has argued that a significant drawdown of at least 15,000 troops this year is necessary to balance our priorities and send the message to Afghanistan's leaders that they must take on greater responsibility for their country. This would allow us to withdraw 60,000 troops over the next 18 months, leaving 40,000 remaining in the country by the end of 2012. We believe that while the administration could be more aggressive in terms of troop reductions, the president's announcement to move 33,000 troops out by September 2012 is wholly justified by America's national security interests.
Serious challenges and significant questions remain on the transition of responsibility to the Afghan government. To honor the service and sacrifices of those serving in Afghanistan, the Obama administration needs to fill in these gaps in the current strategy.
With CAP adopting this stance, Democrats and others who want a more dramatic draw-down have plenty of cover, if they need it.
POLITICS
Around here, Republican obstructionism and backpedaling on the economy has been rightfully called what it is — sabotage. And up until today, Democratic members of congress have avoided describing the Republican's strategy in such explicit terms.
Today, Senator Chuck Schumer and Senator Dick Durbin took to the podium to reverse that discrepancy and call things as they see them.
In a Capitol press conference Wednesday, the Senate's top Democrats argued that Republicans don't want to pass measures like a temporary payroll tax holiday for employers because they'll improve President Obama's re-election chances.
"Our Republican colleagues in the House and Senate are driven by putting one man out of work: President Obama," said Senate Majority Whip Dick Durbin (D-IL).
The harshest denunciation came from Sen. Chuck Schumer (D-NY), the man who crafted the Dems' new "jobs first" message.
"We are also open to hiring incentives, perhaps in the form of a payroll tax cut for employers that was floated by the administration…. That might not be our first choice, that shows how willing we are to work with the Republicans to create jobs. It's pro-business, it's a tax cut, and many Republicans have been for it in the past. But now all of a sudden they're coming out against it," Schumer said.
Republican efforts to obstruct and sabotage do not stop at the borders of the economy, and it's a salient point to make that the pro-tax-cut Republican party is all of a sudden opposed to a tax cut, because they're also the pro-war-party and they're all of a sudden opposed to war. Not because of some tectonic movement of ideological boundaries, but because there is a Democrat currently occupying the Whitehouse.
I don't have to stretch my imagination to reach that conclusion. Just take a look at what Mitch McConnell had to say today.
McConnell admitted that his party is divided over President Obama's military action in Libya, but that you're only hearing about it because Obama's a Democrat. Many of these same divisions, he said, existed under President Bush, but party loyalty "muted" the dissent.
"I'm not sure that these kinds of differences might not have been there in a more latent form when you had a Republican president," McConnell admitted. "But I do think there's more of a tendency to pull together when the guy in the White House is on your side."
And if a Republican were in the Whitehouse right now, they may very well be all-in for a second stimulus, all-in for another war possibly in Iran or Pakistan, and certainly all-in on privatizing the whole of government.
Massie asks whether Huntsman is "running for the Vice-Presidency or as a marker for 2016":
Huntsman will continue to get a good press (hiring John Weaver, John McCain's image-guy/strategist was a smart move) and that press won't be enough. Nor will many people vote for Huntsman because of his foreign policy credentials: as Spencer Ackerman says, being a diplomat don't give you much suction or juice these days. Anyway, when the C-word comes up we know that Huntsman is going to say something sensible about how America shouldn't be too worried too soon by too much of anything that China might do. Most of the other "leading" contenders will advise Americans to press the panic button and this, I am afraid, will be more effective than anything Huntsman can say.
Chait is more blunt:
The posture of maximal opposition to Obama is the one single thing upon which the entire party agrees. The notion that a dissenter against that consensus might win the presidential nomination is not merely a longshot but totally absurd.
On Tuesday, Citizens for Responsibility and Ethics in Washington (CREW) submitted a complaint to the Senate Select Committee on Ethics [PDF] alleging that Sen. David Vitter (R-LA) violated a federal bribery statute when he submitted a May 23, 2011 letter to Department of Interior Secretary Ken Salazar threatening to block legislation that would provide Salazar "a nearly $20,000 salary increase" until the Interior Secretary began to issue permits for deepwater exploratory wells in the Gulf at the same pace that permits were being issued before Salazar's moratorium issued in the wake of the BP Deepwater Horizon disaster last year.
The statute, 18 U.S.C. § 201 (b) "Bribery of Public Officials and Witnesses" makes it a crime to offer or promise "anything of value to any public official" in order "to influence any official act" and CREW alleges that "Vitter's conduct is exactly the type of quid pro quo the bribery statute was intended to prevent."
While a scant reference to the bribery allegation can be found in the Wall Street Journal, and more extended coverage was provided by The Hill and by Politico, the same corporate-owned media outfits which hounded Rep. Anthony Weiner (D-NY) from office for sexually inappropriate Twitter messages that did not amount to a crime, has remained largely mum about Vitter, the Senate's serial hooker chaser's alleged criminal activities and his role in a taxpayer-funded "Con-Air."
Underwhelmed by Tuesday's formal announcement of candidacy by Utah Gov. Jon Huntsman Jr., some may ask why he's running for president.
Those asking might include people who had not heard of Huntsman heretofore, or who read a glowing magazine profile of him and expected more from his Statue of Liberty speech on Tuesday. Note to future candidates: If you kick off your campaign from a spot famously used by Ronald Reagan, be prepared to be compared – and not favorably.
It takes imagination to discern a path to the nomination for Huntsman, especially given his refusal to seek one in Iowa. The curtain-raiser caucuses in that state have elevated other hopefuls with personal charm and helped them break from the pack. It's not clear where else Huntsman hopes to make that kind of move in 2012, which makes many wonder if he's really got his eye on 2016.
But why ask why of Huntsman alone? It's a fair question for the rest of the field as well.
Why is Herman Cain running? Does the Godfathers Pizza magnate expect to be on the ticket or does he expect to enhance the marketability of his motivational speaking and talk show career?
The same question seems increasingly apropos for former House Speaker Newt Gingrich, who bid goodbye to a brace of key fundraisers this week after parting ways with 16 key staffers last week.
Former Sen. Rick Santorum of Pennsylvania was once thought a plausible candidate for higher office, before losing his Senate seat by 17 points in 2006. Now he seems to be auditioning for a job in a future Republican administration. The same might be said of Gary Johnson, the former governor of New Mexico, whose libertarian credentials are in good order but who has yet to make much of a splash among Republicans.
That other libertarian fellow, Rep. Ron Paul of Texas, won yet another straw poll last weekend at the Republican Leadership Conference in New Orleans. But his larger, realistic goal remains the dissemination and legitimizing of his views.
In the earliest months of the campaign, many believed former Minnesota Gov. Tim Pawlenty was a fully serious contender for the nomination. But at the first New Hampshire debate he suddenly switched focus to making friends with the frontrunner, Mitt Romney, who might choose him as a running mate. Pawlenty refused to press a prior charge that Romney's health care plan was the same as President Obama's, and looked very vice-presidential doing it.
At this moment, "TPaw" and his bid for attention from the Tea Party are being eclipsed by a home-state rival, Rep. Michele Bachmann. Once thought a placeholder for former Alaska Gov. Sarah Palin, Bachmann is now established as the woman in the field and the favorite of the insurgents.
She may well beat Pawlenty in the "Minnesota primary" shaping up for the straw poll and caucuses across the stateline in Iowa, where she was born and his deep roots.
Bachmann stands to gain more from this process than anyone other than Romney. And Romney could make that happen by choosing her as his Number Two at the convention in Tampa 14 months from now.
The overarching reality of 2012 right now is that the economy makes President Obama vulnerable to a Republican. But it remains difficult to see him being vulnerable to any of these Republicans in particular.
The one exception is Romney. He is the one candidate in the field whose only goal or agenda is to claim the nomination. There was never any real doubt he would run. He leads in the polls and in fundraising.
A previous tour of the track four years ago gives him a seasoned look, a smile of amused confidence familiar on the faces of upperclassmen watching the freshmen arrive.
Of course, Romney also remains at risk of embarrassment. He is stuck defending a health care law he enacted in Massachusetts that President Obama himself embraced. He inhabits a relatively moderate space on climate change and even abortion. He is a Mormon, which may cost him the votes of some in the primaries. He often appears stiff and contrived in public interactions.
Still, with Romney as with no other Republican in this field, the answer to the why question is obvious.
Bob Cesca:
From the department of You Can't Make This Shit Up…
Former half-term governor and fake presidential contender Sarah Palin has quit her nationwide bus-tour half-way through and has returned to her home state of Alaska.
WASHINGTON – Amid diminishing media interest, Sarah Palin has quit her high-profile bus tour halfway through and returned to Alaska with her family, according to RealClearPolitics.
The move puts a damper on widespread speculations that Palin's "One Nation" bus tour, which launched on Memorial Day, was a precursor to a potential White House bid for 2012. Palin never made it to her scheduled stops in the key primary states of Iowa and New Hampshire.
RealClearPolitics, which originally broke the story about the bus tour, reported Wednesday on Palin's "extended hiatus." The remaining legs of her trip, according to Scott Conroy, are "in limbo" as "Palin and her family have reverted to the friendly confines of summertime Alaska."
Yet much of the beltway press fell for her fake candidacy, just like they did Trump's. Will they fall for it again when she reignites her fake-candidacy in a few months?
POLLS
A new Bloomberg Poll finds 49% of respondents said they're worried about Republicans gaining control of the White House and Congress and following through on pledges to slash funding for Medicare and Medicaid, outnumbering the 40% who said they are concerned about another term for Obama and a continuation of current spending policies.
Among independents, 47% said they are worried about a Republican takeover compared with 37% who are concerned about maintaining the status quo.
SCOTUS
This week, the Supreme Court dealt a blow to 1.5 million women by throwing out their charges of comprehensive gender discrimination by retail behemoth Walmart in a 5-4 decision. In response to the ruling, Rep. Carolyn Maloney (D-NY) and Sen. Robert Menendez (D-NJ) re-introduced the Equal Rights Amendment, a bill that affirms the equal application of the U.S. Constitution to both women and men by declaring "equality of rights under the law shall not be denied or abridged by the United States or by any state on account of sex." Although the ERA applies to government action and not discrimination by Walmart, ratifying the ERA would serve an important reminder that gender discrimination has no place in American society. Maloney said, "The Equal Rights Amendment is still needed because the only way for women to achieve permanent equality in the U.S. is to write it into the Constitution," albeit "more than 200 years late."
There were no winners in the Supreme Court's decision yesterday in Turner v. Rogers. The Court decided that the appointment of an attorney is not required when parents, who are typically fathers, face jail time for not paying child support. This decision means more fathers will likely end up in jail. The Court required some lesser protections that could help fathers avoid jail time, but more action is needed from outside the courts to help these families.
Fathers obviously lose since their freedom is on the line when they're unable to launch the best possible defense. For many, there is a legitimate defense that they are simply too poor to pay. Half of all child support debtors are the poorest men in society, and 70 percent of past due payments are owed by those making $10,000 or less. Some men are more at risk than others because they have the highest unemployment rates, including those who are black (17.5 percent), Latino (10.1 percent), and/or have limited education and skills (13.7 percent).
But mothers lose, too. The Court says men can't be guaranteed attorneys because women may not have them. This is certainly fair—unless you focus on the fact that women may not have attorneys. Equalizing this disadvantage is better than some other options. But what if both parents had the help they needed?
Self-representation is becoming commonplace. It is not always easy, however. Providers still have much to learn about how to develop the most useful nonlawyer supports (courthouse advisers, pamphlets, information sessions) and more work is ahead in replicating best practices. And some will still need a lawyer due to their own personal challenges or the complications of their cases. With the latter, the Court left room for the possibility that lower courts, and eventually the Supreme Court, could require the appointment of counsel in complicated cases involving potential jail time.
Children lose as well. Court and child support systems that are meant to serve their best interests will continue to fail far too many, reaching some issues beyond those that were before the Court. When their dads refuse to pay, punishing them with jail time is helpful. But what about the children with fathers who can't afford to pay, have difficulty representing themselves, and end up in jail? For them there's now zero chance that their dad will work and pay support, and it's much harder to see him behind bars. Importantly, an opportunity is lost to help the child through more family-friendly child support policies that increase the ability to collect via help with employment and fostering father-child connections.
To be fair, the Supreme Court decision did include some important protections the Obama administration suggested in its brief to the Court. The Court required safeguards that are alternatives to an appointed attorney such as telling men that they can avoid jail if they can't afford to pay and providing them with an opportunity to demonstrate that they can't pay.
Certainly these suggestions will be helpful to many. But more is needed from outside the courts. Reforming federal child support policy to include more positive supports aimed at employment and family connection would help increase child support payments. Such activity has been stalled in Congress. Proper investments in legal services for the poor also would allow more mothers and fathers who need attorneys to get help. A recent $15.75 million cut to legal services is of no help. Finally, the Court's decision does not prevent states and jurisdictions from passing their own laws requiring legal help for parents in cases like these. Hopefully more will do so.
In short, the issues raised in yesterday's decision demand continued attention from outside the Supreme Court. The well-being of children and families—and at the times the interests of justice—demand it.
UNIONS
AND IN OTHER NEWS…
QUOTE OF THE DAY:
"Those who say religion has nothing to do with politics do not know what religion is."
Mahatma Gandhi