I could tell my parents hated me. My bath toys were a toaster and a radio.
~Rodney Dangerfield
I wanna talk a little nostalgia in this post. Specifically, the toys we loved as children. I'm sure almost all of us have at least one favorite. I loved my toys. It was an outlet for my imagination and  a great way to kill an afternoon.  I'll go over some of my favorite toys growing up  and look forward to hearing about yours in the comment section below.  So let's begin with my favorite toy(s) of all time.
Tonka Trucks(original)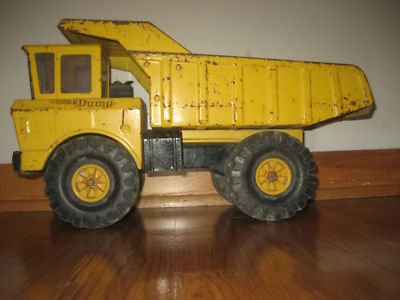 I was 6 or 7 years old when my brother and I received our first Tonka trucks. GOD how we loved them. A small plot in the backyard was immediately turned into a "work site". We had two dump trucks, a bulldozer, and a crane truck. And these were the original Tonka trucks. A hunk of solid metal with real rubber tires. Within a month the edges of the truck beds were sharpened to a fine point. Rust spots popped up all over. But it only made us love them more. They were always there waiting after school. I think I put more time into them than any toy I've ever had. We dug around in the dirt anyways. This made it super fun! And talk about indestructible. We put those trucks through Hell and they never failed. They just don't build toys like that anymore. Literally.  I don't really know what happened to my Tonkas. Wish I had held on to them. They're worth quite  a bit now a days. But I was soon enthralled with my new toy of choice.
G.
I
.

JOE

(80's edition)
There were a ton of action figures vying for your attention when I was a kid. Transformers, Star Wars, Ninja Turtles, and many more. My action figure of choice was G.I. Joe. Mostly because it was my favorite TV program at the time. 🙂 It started small. A few figures here, a vehicle there. Pretty soon I had a decent collection. But not complete. I had all the vehicles but two. And I was still missing about 12 individual figures. That all changed one Christmas Eve when we opened a package containing the figures we were missing and one of the vehicles, a bridge layer.  The worst G.I. Joe figure an vehicle ever made. But I still wanted it. All that was missing was the giant battleship  to rest my jet on.  Well, the next morning my brother and I awoke to find the battleship sitting in the middle of the living room with a big bow on it. I almost cried. At that point in time we had every single G.I. Joe action figure and vehicle produced up til then. My collection was complete. And these are more toys I wish I hadn't lost. I had some pretty rare items that go for hundreds of dollars apiece right now.
Teddy Ruxpin
Helped me conquer my fears of robotic bears
I received Teddy for my 6th birthday I believe(could have been 7th). He was awesome and something I credit with spurring my interest in reading. Reading is what Teddy did. You got a book and a cassette tape to go with it. You put the tape in and Teddy reads the book with you or to you.  I liked reading the books first then reading them with Teddy. My biggest regret is that I was a little too rough with him and broke him long before I was done with him. But I kept reading. Teddy was pretty popular in the late 80's. I remember his TV show and tons of commercials for things he had nothing to do with. I missed Teddy when I lost him but I thank him so much for instilling a love of reading in me.
Choose Your Own Adventure Books
Loved these. I had quite a collection at one point, which I later gave away. A lot of the stories were sci-fi or fantasy related and that was what I was into at the time. I spent a lot of time sitting on the porch reading each book over and over again to get all the possible endings. They would have copies for sell at the school Book Fair and it was always a crowded table. I remember "rage quitting" on one issue though cause I kept getting killed by the same damn werewolf over and over again. Mostly it was just something fun to read, and I loved reading.
L

E

G

O

Blocks
Well over 50 years old, many generations grew up with Lego blocks. Immediately popular right out of the gate, Lego builder sets have only become larger and more complex as time has gone on. Impressive models of everything from the Death Star to downtown London have been recreated with Lego blocks. I built a castle once.  🙁   They are really some of the simplest toys in the world but are capable of  creating things that could really be called works of art or entertain children for hours on end as they see what they can build.  And the design is truly timeless. Pieces your grandfather played with can attach to any piece made today. Even complex build sets with specialized pieces can be filled in with any number of regular Lego blocks. If you want to foster creativity in your child this is definitely a toy to pick up in my opinion.
Well, I will end the list there though I could go on much, much longer. Honorable mentions go to: My Pet Monster, Lite Brite, and Laser Tag. Some fond memories from those as well. I wonder if my Lite Brite "Eat at Joe's"  sign is still under that tree. I wonder if that tree is still there. Now I'd like to hear about some of your favorite toys. Any little thing that brought some joy to you. If you happen to be a reader who was born before toys were invented, 'Hoop and Stick" still counts.