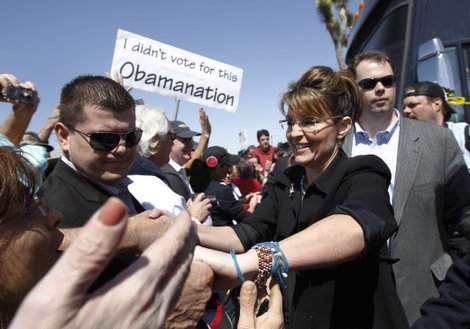 In the 1970's and 1980's there were a series of specials titled, "Battle of the Network Stars" which in fact was neither a battle nor by the end of its run had many stars (John Davidson, Lorenzo Lamas, Deidre Hall and Tina Yothers…keep those shades on to shield your eyes from all that star power!)
It wouldn't be surprising if the creators of that show sue the GOP Presidential Primary for copyright infringement.
Yes, the GOP will eventually choose a candidate which will have the power of billion dollar corporations and obscenely wealthy plutocrats behind him along with the mainstream media, whoever it is will be formidable for these reasons.
However, no matter how much perfume you pour on a pig, it's still a pig. That's not to say that any of the GOP field are literally pigs but it does seem like the GOP Establishment is holding its nose over nominating any of them.
This lack of confidence and enthusiasm has led to the amusing series of wealthy opportunists acting like low rent strippers, flirting with the GOP base but always insisting the Repub faithful buy them another bottle of ridiculously overpriced champagne before they put out. First Trump then Palin and even Rick Perry is rushing in, "Hey, I want me a piece of free popularity too, I can bullshit about running for President just the same as you folks!"
And the gullible rank and file drink in the phony hype from the MSM which couldn't really care less if they're being used by these opportunists to promote that such people "may be running" because it's good for business.
So, the GOP field is making GOP bigwigs so unhappy, they're taking Chris Christie to lunch (which will greatly deplete their campaign warchest) and pleading with Paul Ryan to run (I suppose The Black Plague turned them down).
Is this a good thing or will it lead to Democrats becoming overconfident and set up for a big surprise in 2012?
Maybe a little of both.
It is a good indicator that there is no likely GOP candidate that seems likely to generate enormous enthusiasm among the GOP core of Tea Partiers. Yes, Michele Bachmann will tease them if she gets in and all candidates will fall over each other trying to pander to them but in the end, the GOP candidate will be someone who is a panderer to them, not an original or true believer.
Though there will be enthusiasm by the TPs in 2012 because they salivate at the idea of getting rid of our first African American president, they won't have an earnest leader to rally them. They'll still march to the polls eagerly but the level of enthusiasm won't be what it could be.
The GOP has found itself in this position before, when they pandered to the Moral Majority/Christian Evangelicals and instead of taking advantage of those "rubes" as planned, the GOP was taken over by them. Now, with this latest incarnation of that group (many of those in the Tea Party were also in the Moral Majority/Evangelical groups), the GOP has been shanghaied by the very extremists they thought they could "use". The result, as we've all seen, is an irrational confidence that their radical views are mainstream and will be accepted by the majority of Americans who oppose them…once they're forced to live under them.
To win a GOP primary in the age of Tea Party domination, one must necessarily position oneself to be unpalatable to all but that minority of voters. The question then becomes, can such a candidate convince a majority of the nation to vote against their best interests (that is, become Tea Partiers) or can he retain his base's support as he shifts back towards the middle in a General Election?
The GOP is an object lesson in party crashing, in both senses of the term. The Tea Party jumped on the GOP Party's bus and crashed their party, grabbing the wheel and steering it hard to the right into a brick wall…which coincidentally is the Tea Party symbol for "reasoning".
As for the election itself, I think saving Medicare from the clutches of the GOP, led by the President who took down Bin Laden, will give the Dems and edge in enthusiasm and cohesiveness over the GOP.
At the same time, as flawed as the GOP candidate will be, the enormous sums of money that will be put behind him to brainwash America into seeing him as a savior of our nation and economy…and portray Obama as the enemy of both…will be formidable.
Even though the GOP Party has crashed, even the best drivers can be the victims of a chain reaction and hurt even worse than the one who originally caused the pile up. Overconfidence can be a killer.
Instead of being a cakewalk, the 2012 campaign may be like those old mummy movies where the hero is chased by a slow, moaning creature that's wrapped up in very old material and can't run well because he's a bit lame…yet he always seems to be right behind the hero.
For a happy ending instead of a real horror show, the Dems and their supporters will have to run as hard as they can to stay one step ahead of The Living Dead…or as it's also referred to, the Republican Braintrust.