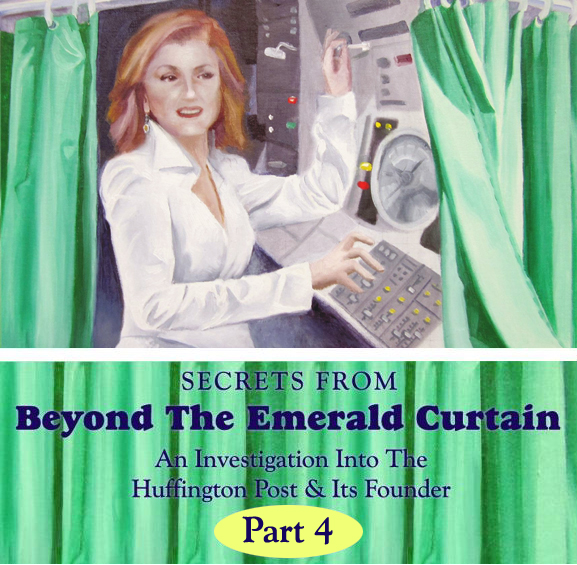 – Text: escribacat;  Illustration: B.McCue –
I started commenting on the Huffington Post in January of 2009. Over the months, I got to "know"many of the other commenters and soon felt like part of a community. We shared several important things in common: we were political junkies, we leaned left to varying degrees, and we all believed we had found a website that represented our progressive values. Most of us were giddy over the miraculous election of Barack Obama and just about all of us wanted to see him succeed.
The "Resignation" of Joe Biden
Unfortunately, the atmosphere at the website soon began to change. Other posters who had been around longer have said the changes came even before the time when I started there. I soon learned that Huffington's politics had made a wild swing from right wing to "progressive." It quickly became apparent that she had created the site, not as a progressive sounding board as so many of us naively believed, but in order to promote herself, establish a power base from which she could sway the political discussion in this country, and simply to make a killing.
After months of growing skepticism about the so-called "progressive website," my eyes were opened on October 14, 2009. On that day, Huffington made a pompous call for Vice President Joe Biden to resign over the war in Afghanistan. There was no good reason for this resignation, other than the fact that she wanted him to. She landed herself a couple of TV spots and plastered her "campaign" all over the Huffington Post.
Arianna Explains Why Joe Biden Should Resign On CNN's The Situation Room (VIDEO)
Arianna Discusses Health Reform, Why Biden Should Resign On Larry King (VIDEO)
That was the first time I witnessed what would become a recurring phenomenon at the Huffington Post – The Obama-bashing thread. Irate readers, worked up over the headlines and dramatic call for the Vice President's resignation, were wailing and gnashing their teeth over the war in Afghanistan – a war that Candidate Obama said over and over that he intended to finish. Fortunately for me, among the wailing and gnashing posts, I spotted one, I believe from KevenSeven, inviting folks over to Planet POV.
Rashomon Series: Comparing HP Headlines to Other News Outlets
During subsequent months, I noticed at HP an increasing number of incendiary headlines, many of them obviously designed to portray President Obama or the democrats in general in a negative light. I started a series of Planet POV articles I called Rashomon (a classic Japanese film that tells the same story from four different perspectives). The simple headline comparisons show how Huffington Post headlines were often even worse than those of Fox News and Drudge. Some of these I've reproduced below.
February 13, 2010: Afghanistan Push
ABC News: Bombs Slow Big Afghanistan Advance
CNN: Coalition troops find 'minimal interference' in assault on Taliban
Drudge: NATO LAUNCHES LARGE AFGHANISTAN OFFENSIVE…
MSNBC: Marines' taste of Afghan war
LATimes: Marines take key positions in Taliban stronghold of Marja
Associated Press/CBS News: Bombs, booby-traps slow US advance in Afghan town
BBC News: Nato hails major Afghan operation
Fox News: Afghan Push Hits Roadblocks
NY Times: Afghan Offensive Is New War Model
Huffington Post: 'Mowing The Grass': Marine Slams Insurgents Clearing Strategy
(Note: The Huffpo headline links to the NY Times story above)
February 9, 2010: Ben Nelson's Opposition to Obama's Labor Board Nominee
NY Times: Senate's Vote on Labor Nominee
MSNBC: Labor nominee vote tests GOP's new power
CBS News: Ben Nelson Opposes Labor Board Nominee
Drudge: [not mentioned]
Fox News: Dem to Oppose Obama Nominee for NLRB
AP/LA Times/ABC News/Miami Herald: With Nelson, GOP blocks Obama labor board nominee
Huffington Post: Nelson Complicates Obama's Plans To Demonize GOP As Obstructionists
January 25, 2010: Obama's budget freeze
NY Times: Obama Seeks Freeze on Many Domestic Programs
LA Times: Obama to seek spending freeze, more aid to middle class
MSNBC: Obama seeks to freeze some spending
CNN: Obama: Freeze non-security, discretionary spending
Chicago Tribune: AP sources: Obama will ask to freeze a part of govt spending for 3 years beginning in 2011
ABC News: OBAMA: Freeze on Non-Security Spending
Washington Post: Obama to put limits on government spending
Fox News: So Long, Spending
Drudge: Not mentioned
Huffington Post: MR. FREEZE
December 27, 2009: Christmas Day airplane terror
ABC News: Christmas Day Terror Suspect Moved to Prison; Air Security Measures Questioned
BBC News: Obama orders air security review
NY Times: More Questions on Why Terror Suspect Was Not Stopped; U.S. Widens Terror War to Yemen, a Qaeda Bastion
LA Times: No sign of wider terror plot, Napolitano says
salon.com: New Detroit plane security scare; Napolitano: No indication of larger terror plot
CBS News: U.S. Reviewing Security, Red Flag Tactics
Fox News: Al Qaeda's New Playground; Suspect Spent Time in Yemen Prior to Alleged Attack
Drudge: MISERY!
Politico: Obama low-profile after terror attempt
Huffington Post: U.S Keeps Chasing Al Qaeda In Afghanistan While Latest Action Moves Through Nigeria, Yemen, London, Amsterdam
December 11, 2009: Bank reform passed by the House
abcnews.com: House Passes Broad Wall Street Regulatory Overhaul
CNN: House passes bank reform
NY Times: House Passes Far-Reaching Bill Tightening Financial Rules
Foxnews: House Passes Wall Street Regulatory Overhaul
Drudge: (Not mentioned)
The Daily Beast: The Party is Over
Talking Points Memo: House Passes Historic Financial Reform Bill
Slate.com: House Approves Sweeping Financial Reforms
MSNBC: House passes revamp of financial rules
Huffington Post: House Passes Financial Reform Bill Riddled With Loopholes
Generating Outrage with the Non-Story
One tactic the Huffington Post has mastered is generating outrage. The more outrage they can incite, the more clicks they get. They have become so adept at this, they can even generate outrage using a non-story. One example is this story posted in November of 2009 (although the date on the article says June 17, 2010, all the comments are from late November 2009), by Sam Stein and Arthur Delaney: "White House Visitor Logs Show Obama Turned to Business Leaders."
This article is one of many that covered the controversial and highly suspect issue of the White House visitor logs. The first paragraph says it all:
Through its first nine months in office, the Obama administration frequently consulted with leaders of the business and financial communities they were saving from the brink of collapse, according to a review of White House visitor log records released on Wednesday.
The story goes on to name a number of business leaders who went to the White House. Unlike the implication in the headline, the visitor with the highest number of visits was not "business leaders," but SEIU president Andy Stern, who visited 22 times (his visit was mentioned way down in paragraph 8). This was far more than the ten visits by Chamber of Commerce CEO Tom Donohue, who leads off the second paragraph of the story.  For the most part, this post was a list of names, who they represented, how many times they went to the White House during the period in question, and in some cases, whom they visited (very few visits were with the president himself).
This story generated 4,990 comments.  Some of them were rational, such as "I don't see anything wrong with Obama meeting business leaders."
However, as the obvious intention was, a huge number of the comments went along the lines of these :
"They probably all share a bed with BO, too."

"Even in the campaign, he seemed to want to protect Wall St, and big banks more than the other Dem canidates…" [sic]

"The most important of those meetings? The four with George Soros! Obama is a Soros puppet, folks…"
This thread eventually turned into the nightly music thread, wherein many of the posts were folks complaining that HP had started blocking youtube links.
Wherefore "Obamacare?"
Once the democrats had won the monumental year and a half battle over the Affordable Care Act, Republicans and their mouthpiece, Fox News, soon began demeaning the legislation and the president by dubbing it "Obamacare." In February of 2011, Rep. Debbie Wasserman-Schultz, D-Fla, made a statement on the floor of the House asking the Republicans to stop using the term:
The debate over President Obama's health care reforms has been raging for years now, but on Capitol Hill today the debate shifted from the merits of the new law to simply how lawmakers should refer to it.

House Democrats say it should be called the Affordable Care Act [ACA], it's technically named. Most Republicans prefer to call it ObamaCare.

On the House floor this morning Rep. Debbie Wasserman-Schultz, D-Fla., argued that GOP lawmakers should be forbidden from calling it "ObamaCare" because that term is disparaging to the president.

"We have rules on the House floor that prohibit members from making disparaging remarks about the President of the United States and the Republicans mean ObamaCare as a disparaging term," Wasserman-Schultz told ABC News in an interview. "The law is called the Affordable Care Act. It is a law that makes sure that people cannot be dropped or denied coverage for pre-existing conditions. It is a law that makes sure that seniors don't have astronomically high prescription drug costs. It makes sure that children can get the kind of insurance coverage that they desperately need."

– ABC News, Feb 18, 2011
Link:
http://blogs.abcnews.com/thenote/2011/02/whats-in-a-word-the-debate-over-obamacare-the-name-the-law.html
Unfortunately, the Huffington Post also routinely uses the term "Obamacare" in its headlines and articles. A few examples:
Vermont Lawmakers Lay Groundwork For Single Payer System In Place Of Obamacare
Did the Heritage Foundation Invent ObamaCare?
Health Care Reform Repeal Debate: Will Obamacare Really Kill Jobs?
The Obamacare Problem Is Not the Individual Mandate
Despite Bashing 'Obamacare' As Unconstitutional, Joe Miller Admits He Got Government Health Care
Sarah Palin Targets 'Obamacare,' Democrats Who Voted For Reform
Obamacare: The President's Wooden-Headed Interpretation of Our Constitution
Obamacare: A Health Insurance Subsidy, Not Health Care Reform
Will Obamacare Make the U.S. More Like Europe?
As a comparison, I did the same search for "Obamacare" on other news websites. CNN regularly calls it the "Health Care Law" or "health care reform act" in their headlines. I found only a couple instances where they used the term in a headline. The NY Times does not use the term.  Fox News, ABCnews, and MSNBC regularly use "Obamacare" in headlines. CBSnews used it a couple times in headlines. DAILY KOS and salon.com each used it once.
Huffy's Not-so-Tweet Undertone
While I was searching for "Obamacare" at the Huffington Post, I discovered that the site now routinely publishes hundreds of thousands of anti-ACA "Featured" tweets.  At the time of this writing, if you do a search on "Obamacare" at HP, you will get 228,000 results. The overwhelming number of these are anti-"Obamacare" tweets.
In April of 2010, Arianna Huffington announced their new "Twitter Editions."

Tweet, Tweet: Announcing HuffPost's Twitter Editions

by Arianna Huffington, April 8, 2010

We are launching Twitter editions for each of our 19 sections — with a front page version slated to go live soon. In every section, our editors have hand-selected the most interesting Twitter accounts for that subject — Comedy, Politics, Entertainment, Sports, etc, etc — so you can be sure to get breaking news and on-target analysis as it comes in.
What is this "breaking news and on-target analysis? Who are these "hand-selected…most interesting Twitter accounts for the subject?" Here is a quick run-down of some of the most common tweeters streaming negative messages across the Huffy landscape about "Obamacare:"
Amanda Carpenter, a former columnist for the Washington Times (rightwing, owned by the Moonies), and is the author of "The Vast Right-Wing Conspiracy's Dossier on Hillary Rodham Clinton." Occupation U.S. Senatorial communications advisor; Employer Senator Jim DeMint. Sample tweet: "You know what DOESN'T shutdown in a shutdown? Implementation of ObamaCare. It's "mandatory"
Michelle Bachman. Well, we've all seen her on episodes of the Twilight Zone…or news programs, whichever one that was.
Justin Hart, frequent guest speaker at CPAC. He "provides political campaign staff training on how to use Internet technologies, advertising engines, e-mail marketing, online fundraising and social networking to win elections."
Ander Crenshaw (R), a Florida congressman who has his own health care reform bill he wants to replace the "Pelosi plan."
NRSC (National Republican Senatorial Committee).
RepublicanStudy:  The Conservative caucus in the House of Representatives.
Saul Anuzis, "Conservative, MI Republican, RNC, Newt Fan, NRA, Harley Road King, CPAC, RTL, dad of 4 boys!"
Other common tweeters being streamed on HP on the subject of "Obamacare:" Orrin Hatch,,John Boehner, Rep. Cliff Stearns (R-FL), John Cornyn
Related articles