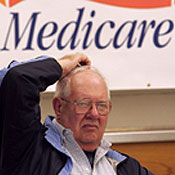 Our congress has made known one path to a balanced budget and what they refer to as "prosperity" for the American people.  It is a path that is wrought with pain and sacrifice for the vast majority of Americans and extreme wealth and comfort for the rest.  The proposal calls for tax cuts for the top brackets and a near annihilation of social services that the poor, sick, elderly and disabled rely on.  Their lives literally depend on these services.
The first major change is to replace Medicare with a voucher system that would provide seniors with a fixed amount of money to purchase insurance from private insurance companies.   The second is changing Medicaid to block grants to states for them to offer a fixed amount of services to the poorest and most vulnerable people in the nation.  Neither of these options are as robust as the current programs.  There will not be sufficient support for our most vulnerable people and their quality of life will be severely reduced by it.
So what does this amount to?  I believe it amounts to the wealthiest among us along with their wholly owned congressmen making a determination that the vast majority of Americans are nothing more than capital for the wealthiest among us.
Is this what we want for America?  I sincerely hope not.  The American people who believe that they are individuals and that they are valuable to society must unite under a common banner or risk becoming Disposable Americans.