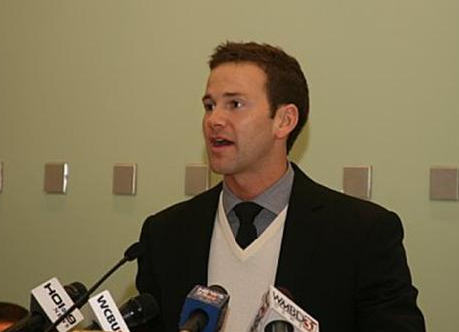 As they say things happen in threes, here's proof. First we saw her on holiday with Newt, then we saw her cuddled up and huddling with Issa in Las Vegas … now she goes for some new (and young) Republican blood. Ladies and gents, I give you …
Whoreanna Fuckington and toyboy Aaron Schock, the youngest (at 26) member of  Congress. You remember him from the bitchslapping he received when he appeared on Meet the Press with Rachel Maddow. He looked as though he wanted to cry.
And so, in brilliant courtesan fashion, it looks as though Arianna's taken him under her wing. And I don't think she's grooming him for either Isabella or Christina (her sprogs), but maybe she is. Maybe what's good enough for the mother might be good enough for the daughters, if he happens to be rich. After all, rumour in and around Capitol Hill says he's a bit of a Mehlman (pun intended).
Related articles