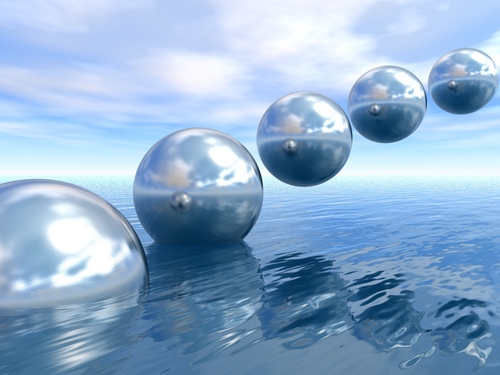 1.
On seeing the blindness and misery of man, on seeing all the universe dumb, and man without light, left to himself, as it were astray in this corner of the universe, knowing not who set him there, what he is here for, or will become of him when he dies, incapable of all knowledge, I begin to be afraid, as a man who has been carried while asleep to a fearful desert island, and who will awake not knowing where he is and without any means of quitting the island.

Blaise Pascal, Pensees.
This is what we want to know: What will save us? And if we can't be saved, what will comfort us? Finally, what is inherent in our human nature that will allow for saving and comforting? It will do us no good to proclaim that God will save us, or that the idea that God will comfort us, unless we can be assured that we are capable if having either of these answers reach us. There must be a fit between the subject (us) and the object (help). If it is not possible for us to be without sin, then purity will not save us; if we are incapable of non-attachment, detachment is no prescription. To discover what will sustain us, we must first know how we work. We have several methods to help us with both our self understanding and in our search: psychology, philosophy, and even art. These are the tools available to us. With these we seek understanding; with understanding, we try to find hope in the face of our death.
Death, along with existence, is, of course, the core mystery. They have found flowers in Neanderthal (or maybe it was Cro Magnon?) graves, but whichever iteration of proto-humans lived on the cusp of awareness, what was death to them? Did they wonder, as they looked into the vacant eyes of the dead, "Where did she go?" There is such an obvious difference between alive and dead, between here and gone, that you cannot help but be drenched by it. Once you've seen it, you know it irrevocably. It changes everything. Seeing a person reduced to a body is a transformation not only of the dead, but also a transformational experience for the living. In the Western world, the metaphor for this knowledge is the expulsion from Eden; in the East, is Siddhartha's leaving the Palace. From Gilgamesh weeping over Enkidu to Orpheus seeking Eurydice, the seed of every cosmogony was the crisis of knowing. Mine too. And how odd, it strikes me now, to realize that even as we are immersed in life, and while death is around us at every moment, still we do not understand those most fundamental states. We live and don't know what it means, and we will die and can't know what it means.
This essay will focus on three 20th Century American thinkers who used the tools of philosophy, psychology, and theology in search of salvation: William James, Paul Tillich, and Rollo May. When faced with the dilemma of how best to organize the works of such prolific and wide-ranging thinkers, I relied upon a method I was given by a dear teacher: What is the question to which this text is the answer? So, I return to my question at the beginning of this essay. When I ask, "What will save us?" I look to theology, in this case Paul Tillich. But again, it is not enough to ask "what" without asking "how." I am seeking that which will speak to us in the way we can hear. In other words, "What is our essential nature?" For that I turn to psychology, in this case Rollo May. Finally, in order to see how our psychology processes theology, I will look to philosophy, to William James. James, Tillich and May can each, individually and legitimately, be considered a combination of philosopher, theologian and psychologist. In turning to these three disciplines and to the ideas of these three men, I will try to refine their concepts into key themes: Courage, Will, and Faith.
2.
Life is not a series of gig lamps symmetrically arranged; life is a luminous halo, a semi-transparent envelope surrounding us from the beginning of consciousness to the end.

Virginia Woolf
William James was born in 1842 New York City into a family of rare talents, intellects and drama. His father, Henry James, Sr., a prolific (if unsuccessful) theological writer and disciple of the Swedish mystic Emanuel Swedenborg, provided his family a cosmopolitan atmosphere, wide travel, and schooling in France and Switzerland. William acquired his openness to unfamiliar ideas at the dinner table, along with his philosophical sister Alice, and his brother, Henry Junior, who would become the leading American novelist. (It has been said that William wrote psychology like a novelist, and Henry wrote novels like a psychologist.) Returning from erratic schooling abroad, William studied painting briefly, then sciences at Harvard before entering medical school. One of the fascinating episodes of his varied career was his expedition to the Amazon with the naturalist Louis Agassiz. He next went to Germany to study the philosophy of experimental medicine. It was there that he became acquainted with the writings of Charles Renouvier, which, as we will see, became a life-changing experience. After receiving his M.D. he taught physiology, which became for him an avenue to psychology. During this period, psychology (or "mental science") was still a branch of philosophy, and it was James who departed from that tradition and turned it into a laboratory science.
James suffered from depression, what we now understand as clinical (vs. situational) depression. Today we know that clinical depression has a strong biochemical component and can be managed with antidepressants. The only tool available to James was his will, the will to find only limited consolation, the will to pull himself out of the mire. "I may not study, make or enjoy, "he wrote, "but I can will." And he willed himself to find modest sources of solace and pleasure. But it was precisely James' depressions that forced him to tackle the issue of will, and it was precisely in heroic struggles against his depressions that he found so much to teach us about will. It would require a further crisis to compel him to refine his ideas about will and willpower.
James' education had been encyclopedic during an age of burgeoning sciences. In his era, biology, mathematics, physics and chemistry, as well as physiology, were building a record of impressive accomplishment. Therefore, any conception of the world and humanity other than that implied by the natural sciences was dismissed as sentimentality or mysticism.  Science seemed to reveal a wide range of forces that inhibited a human's power to decide. But James found this vision repugnant, and as he studied the spectrum of human possibilities, he was deeply troubled by the problem of personal freedom.  This, along with many personal and family dynamics, led him to a breakdown and suicidal thoughts when he was in Germany, and then to periods of panic and despair when he was back in the States. It also led him to the insight that if a man could exercise any choice whatever within the existential conditions of his life, moral decisions are possible and his projects can have meaning. He felt that, somehow, his belief in natural determinism and freedom had to coexist.  He would struggle to integrate this insight for the rest of his life. He maintained openness to new ideas, which ranged from a theory of the incompleteness of the universe to spiritualism to Christian Science. He was, in his way, a surprisingly "New Age" Victorian.
Just as James' outlook and insights were necessarily shaped in reaction to the prevailing theories of his day, the issues that occupied Paul Tillich were shaped by the anvil of the First World War and forged by the ovens of the Second. Tillich was born in 1886 in Starzeddel, Germany (which is now a part of Poland). His father was a Lutheran pastor, an authoritarian Prussian who had, as Tillich recalls, "a heightened consciousness of duty and sin." His mother, whom he adored, died when he was 17. At age 18, Tillich began his theological studies. By the time he was 26, he had been ordained in the Evangelical Church of the Prussian Union in Berlin, received his Ph.D. from the University of Breslau, and was awarded the second highest degree that could be earned in Germany. He has also gained experience by then in a variety of ministerial and pastoral duties.
The major turning point in Tillich's life was World War I, during which he served as a chaplain. "Hell rages around us. It is unimaginable," the 28-year-old wrote to his father from the trenches of Verdun. He broke down more than once during his months on the front. The intense suffering he experienced in facing battle deaths brought on a crisis that he later viewed as ripeness for renewal and action. Tillich immersed himself in a "Bohemian" existence in postwar Berlin, struggling to rebuild himself. He worked on lectures and studied art in spite of his personal turbulence, and amid the postwar chaos he determined that he must focus his theological work on the social, political, and economic issues of his times. The challenge of this determination was the tension of being a theologian of culture while remaining a church theologian.
There was an inherent conflict in developing a new theological language that would stay true to church doctrine yet address the urgency of a frightened culture. The people were defeated and hungry, cities were filled with beggars and the war wounded, and the populace was looking for new political answers. While he worked towards a professorship in the German academic world, he continued to deepen his vision of a specifically Protestant message and theology.  As a professor of philosophy and religion in Dresden, he articulated a Protestant theology in relationship to religious socialism, which in 1932 evolved into his book The Socialist Decision. At the same time, he had to dissociate his religious socialism from National Socialism. The Nazis targeted him and banned the book; later he lost his professorship at the University of Frankfurt, where as Dean, he defended Jewish and left-wing students, while demanding the expulsion of Nazi students. Eventually, after a painful period of indecision, he emigrated to the United States. In 1933 he accepted Reinhold Niebuhr's invitation to teach at the Union Theological Seminary at Columbia University in New York City.
The years of World War II and its aftermath caused Tillich to shift his emphasis from religious socialism to existential theology. It is as though the theology he envisioned while in the milieu of postwar Germany had become as overwhelmed as humanity had in a post-Holocaust, post-atomic world. Tillich realized that he needed to fashion a theology that addressed a culture haunted by a pervasive existential vacuum. The challenge for a theologian of culture in such a situation was to identify this void as a source of both demonic eruptions and of sacred possibilities. He answered this task by developing his "method of correlation" which could correlate the essential symbols of Christian tradition with human existence. This method was refined in the first volume of the three-volume Systematic Theology, his definitive summation of Christian theology.
Tillich viewed theology as the attempt to correlate the questions of contemporary culture with the answers of revelation, so that the cultural setting determines the form of the answers. He echoed Nietzsche when he stated that God does not exist. While Tillich's statement is not the same as "God is dead," he meant it in the same sense as Nietzsche's statement. Namely, he was referring to the traditional idea of God, which in its popular understanding is inadequate. In a culture that is rapidly changing, the old theology becomes irrelevant because it no longer articulates the existential question of God in a manner that fits our situation.
The combinations of internal and external dynamics and of personal and cultural forces provide the soil in which our ideas and worldviews germinate. William James' theories on will, his emphasis on the immediacy of experience, and the importance of decision and commitment grew out of the circumstances of his family, his nature, and the environment of late 19th century America.  Paul Tillich's urgency to develop responses that met people's search for consolation was rooted in his religiosity and amended by the German experiences of two World Wars. Likewise, Rollo May's passion to heal our shriveling sense of meaning was embedded in a post-atomic America while nurtured by the ideas of his predecessors.
We in our age are faced with a strange paradox. Never before have we had so much information in bits and pieces flooded upon us by radio and television and satellite, yet never before have we had so little inner certainty about our own being. The more objective truth increases, the more our inner certitude decreases. Our fantastically increased technical power has conferred upon us no means of controlling that power, and each step in technology is experienced by many as a new push toward our possible annihilation.
That was Rollo May's analysis of 1983 America, and this was the context from which his existential psychotherapy emerged.
There is relatively little biographical information available about Rollo May. The little that is known reveals some intriguing commonalities with William James and Paul Tillich. All three men had disruptive childhoods, all suffered the early loss of a close female relative, and all three shared a brief flirtation with painting before settling into their life's work. More significantly, the life-changing stimulus for each of them was—as it is for most of us—a crisis: James felt the loss of being in his panic, Tillich witnessed the non-being of war, and May touched non-being in a sanatorium.
May was born in Ada, Ohio in 1909. His childhood was not particularly pleasant: his parents divorced after years of hostility and his sister had a psychotic breakdown. After he received his bachelor's degree from Oberlin College in Ohio, he went to Greece and taught English for three years. During this period he also spent time as an itinerant artist. When he returned to the States, he entered the Union Theological Seminary. There, he was a student of Paul Tillich. They would develop a friendship that lasted over thirty years and Tillich would have a profound effect on his thinking.
The major turning point in his life occurred when he contracted tuberculosis and faced the possibility of his death. During the three years he spent in the sanatorium, he filled his days reading literature. Among the books he read were the writings of Soren Kierkegaard, the Danish religious thinker who inspired most of the existentialist movement. It was Kierkegaard who provided the inspiration for May's pioneering work in existential psychology as well. Once May recovered, he went on to study psychoanalysis at the White Institute where he met such people as Harry Stack Sullivan and Erich Fromm. He completed his education at Columbia University in New York, where, in 1949, he received the first Ph. D. in clinical psychology that Columbia awarded. The next several years were spent teaching at a variety of top universities and then, in the 1950's, he was asked to edit a book on European existentialism. With this, along with his subsequent writings, he became the person most responsible for introducing existentialism and existential psychotherapy to the United States.
Existential psychotherapy is a form of traditional psychotherapy that draws its orientation from existential philosophy. The existential tradition in philosophy is ageless, in that great thinkers everywhere have at some stage in their works turned their attention to life and death issues. The existential school of philosophy, however, began with Kierkegaard. During the 1840's he published several important existential treatises, but they were untranslated until after World War II. It was at this point that Kierkegaard's ideas found fertile soil and were taken up by philosophers Martin Heidegger and Karl Jaspers. In particular, Heidegger's Being and Time is considered the single most important text in the existential field. The existentialists were centrally concerned with rediscovering the living person amid the dehumanization of modern culture, and in order to do this they engaged in depth psychological analysis. Existential psychotherapy is based on the assumption that it is possible to have a science of humankind which does not fragmentize the individual and destroy her humanity at the same moment it studies her. It is the same tension James maintained between determinism and freedom.
Rollo May defined existentialism as "the endeavor to understand man by cutting below the cleavage between subject and object which has bedeviled Western thought and science since shortly after the Renaissance."  By this he meant that the existential position challenges the Cartesian view that the world is full of subjects that perceive objects, which seems self-evident. It is the basic premise of scientific method, i.e., there are objects with a set of properties that can be understood though objective investigation. The existential position, however, undercuts that cleavage between the subject and the object. The person is not seen as a subject who can perceive external reality, but as a consciousness who participates in the construction of reality. This thread of existential philosophy is pulled from Heidegger's term dasein (being there). Da ("there") refers to the fact that the person (sein, a "being") is placed, is a constituted object. But at the same time this person (an "empirical ego") constitutes the world (that is, is a "transcendental ego"). Dasein is at once the meaning-giver and the known. Each being constitutes his or her own world; therefore, to study all beings with the same standard instrument as though they occupied the same objective world is erroneous.
The existential notion of dasein is very close to William James' homier notion of truth happening to an idea. It is even closer to the theory in quantum physics that states that the very act of observing an experiment changes it, that the watching subject affects the object in such a way as to make that object different somehow. The implications of this are vast! In fact, if we return to Tillich's controversial belief of God as being immanent and transcendent at the same time, we see closer parallels yet to existential philosophy.  How different conceptually is Heidegger's "empirical ego" from the immanent God and his "transcendent ego" from the transcendent God? As an empirical ego, I am here—placed in my individual life. But as a transcendent ego, I am also all the world. I am my own movie, but in your film I may play only a cameo role. The immanent god is my god—that personal god to whom I am known—and that transcendent God is irreducible. Further, how different is quantum theory's statement that the observer changes the observed from Tillich's statement that everything finite participates in Being-Itself? The concepts of existential philosophy provide the warp frame upon which the threads of James' pragmatism, Tillich's theology and May's psychotherapeutic model are woven.
Existential psychotherapy is a dynamic approach to therapy which focuses on those concerns that are rooted in the individual's existence. All dynamic approaches to therapy are based on the idea that our thoughts and motives stem from the conflicting forces within us.  It differs from other therapies in its existential position that these conflicting forces are those which flow from our confrontation with the facts of our existence. These givens of existence are those ultimate concerns that are inescapable parts of our being in the world. When we uncover those ultimate concerns through deep personal reflection, we will be confronted with our situation—our possibilities, our boundaries—our ultimate concern. Some of the "boundary" situations include the confrontation with death, a major irreversible decision, or the collapse of meaning. The four big ultimate concerns are death, freedom, isolation, and meaninglessness.
***
In the next installment– the major writings of William James, Paul Tillich and Rollo May, and how they coalesce.