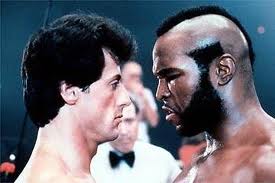 I know what you're thinking, "What's a Rocky III?".  I would ask that those people stop  reading this post immediately as you are too young to matter to me.  Rocky III is the second sequel to the popular Oscar wining boxing movie featuring the lovable Sylvester Stallone.
In Rocky III we find Rocky a few years after his championship win over rival turned friend Apollo Creed.  He has successfully defended hit title in a succession of matches laid out in typical 80's montage form. Having accomplished all he can, Rocky's wife , Adrian , persuades him to retire. He is honored at a huge ceremony as the great champion he was. Even receiving his own statue.  In the midst of the celebration, he  is confronted by up and coming fighter Clubber Lang, portrayed by the equally lovable Mr. T.
Clubber claims Rocky has been ducking him during his title run because he is afraid to face  a real challenge. After much arguing and Clubber making advances on Adrian, Rocky excepts the match. Micky, Rocky's  trainer, farther figure, and closest friend is none too pleased with the decision. He reveals to Rocky that he was not really fighting everyone available. His fights weren't fixed, but he didn't face a real challenge in any of them. Nothing like Clubber Lang. "He'll  kill you to death", Micky tells him.
Rocky is floored. He accepts Mick's explanation and begs him to manage him for one more fight.  Against Clubber.  Micky accepts but Rocky does not heed his advice while training. He figures the same old routine will be more than enough to defeat Clubber. He is sorely mistaken. Clubber destroys Rocky inside of 2 rounds and the stress of the fight pushes a frail Micky over the edge and he passes on. Rocky is crestfallen. His spirit broken.
Now, how does this mean anything to us? Well, Rocky is a lot like America in this movie. He has spent a long time resting on his laurels. Listening to the yes men and basking in the adulation of being number one. Forgetting what made him great. Ignoring the people who always had his best interests at heart. Clubber Lang represents the emerging 3rd world combined with the intimidating presence of imperialist China. A more than competent challenge to America's "championship".
Rocky's hesitance to accept faults or work on internal struggles represents America's financial meltdown as we failed to hold ourselves accountable.  All these factors have combined to knock us out. We beat ourselves before the match ever began.  But there is a second chapter. The re-match.
This is the part of most interest. When Rocky seeks the help of foe turned friend, Apollo Creed. Apollo, with help from Adrian, forces Rocky to deal with his own faults. Face his fears and resolve to be better. There is  a moment on the beach when Rocky admits he is afraid that he can't win. that he can't do it anymore.  Adrian tells him he shouldn't be afraid to lose. The people who love him still will. But no one, especially himself, could accept it if it wasn't his full effort.  If he didn't try. So Rocky doubles his efforts. Becomes the fighter he needs to be to defeat Clubber and does just that.
This is what America needs to do. Admit that we are just scared. Not of the challenge but of failure. Of losing face. But hiding away, running from the challenge is worse. You could live in comfort for the rest of your days but it would always eat away at you that you didn't try. That yo didn't take that one chance.  America needs to roll the dice. To look at all the things we said we could never do and just do them.
We have been knocked down but we are not out of it yet. We can rise to the occasion. Take back the top spot. But we have to put int he effort. A renewed effort. The old ways just aren't going to get it done. But we can do it. I know we can. Rocky is a quintessential American story.  It is what makes America great. Someone getting  a chance and cashing it in beyond imagination. Come on America. We have a chance. Right now. Seize it.
And that concludes my vague post/pep talk on the lessons of Rocky III.  If it is any consolation, I also have no idea what just happened.