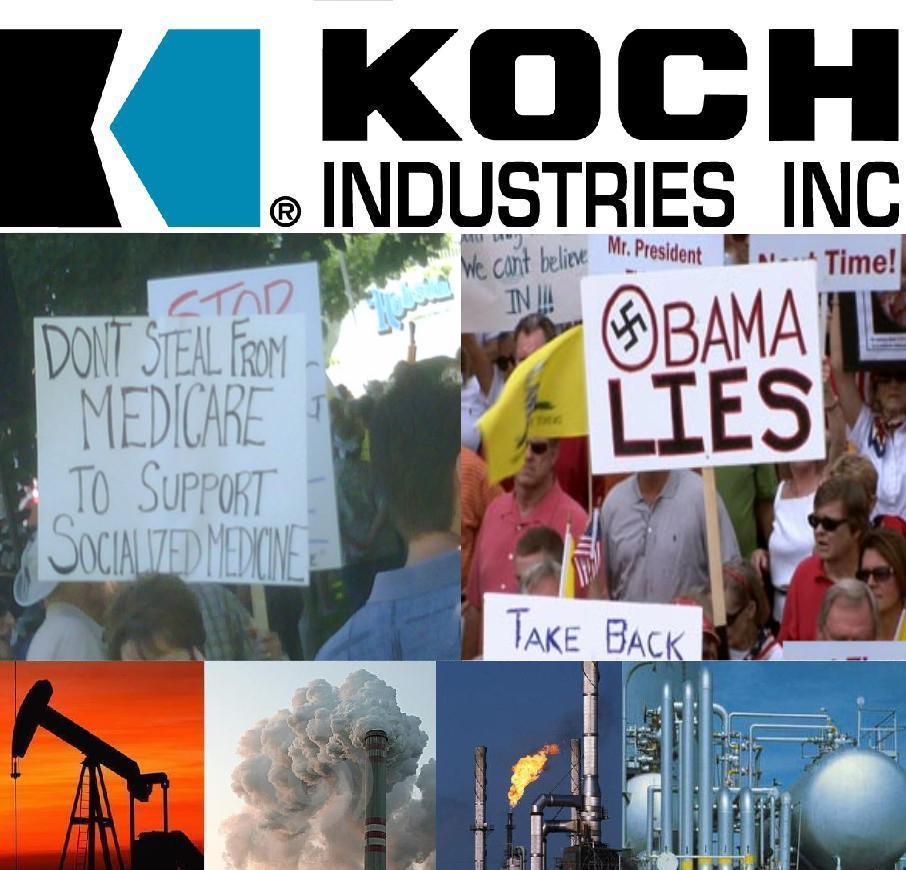 This weekend, the Koch Brothers are orchestrating a secretive meeting in Palm Springs with fellow billionaires, CEOs, Right Wing operatives and possibly Supreme Court justices to draw up their latest plans to further buy off and take over our democracy.
First, why should you care, who are the Kochs and what are they up to? Here's a brief overview:
In 2006, Koch Industries owner Charles Koch revealed to the Wall Street Journal's Stephen Moore that he coordinates the funding of the conservative infrastructure of front groups, political campaigns, think tanks, media outlets and other anti-government efforts through a twice annual meeting of wealthy right-wing donors.

He also confided to Moore, who is funded through several of Koch's ventures, that his true goal is to strengthen the "culture of prosperity" by eliminating "90%" of all laws and government regulations.

Recently, fronts funded by Charles and his brother David have received scrutiny because they have played a pivotal role in the organizing of the anti-Obama Tea Parties and the promotion of virulent far right lawmakers like Sen. Jim DeMint (R-SC).
http://thinkprogress.org/2010/10/20/beck-koch-chamber-meeting/
The Kochs and their cronies brought us the Tea Party (which they conceived of and funded), the fraudulent and lying opposition to Health Care Reform and the current push to repeal it, the GOP's takeover of the House, the war against climate change/mine safety/anti-pollution, defunding the safety net for Americans, tax cuts for the wealthy, the Citizens United ruling, and much more.
Such a conference was held last year, attended by Supreme Court Justices Antonin Scalia and Clarence Thomas…who delivered the Citizens United ruling sought and exploited by the Kochs.
In response to this latest Koch Klan Meeting at the Rancho Las Palmas Resort in Rancho Mirage (in the Palm Springs area), a coalition of Progressive organizations have banded together to expose the Kochs and their devastating, anti-democratic agenda. Progressives and moderates of all kinds will be coming together for actions and activities that will be taking place at the same time and in the same vicinity of the Koch's conspiratorial conclave.
The participating groups include:
(Our own action group) GROW
California Council of Churches IMPACT
Common Cause
Courage Campaign
California Nurses Association
CA State Labor Fed
CREDO
Poder Popular
California Coalition for Civil Rights
Health Care for America Now
California Student Sustainability Coalition
Code Pink
Democratic Women of the Desert
Ruckus Society
350.org
The Billionaires
You are enthusiastically invited to join us, here are the details:
DATE: Sunday, January 30, 2011
TIME: 1pm – 4pm
PLACE: Meet at Rancho Las Palmas & Bob Hope Drive in Rancho Mirage, CA
CLICK BELOW TO CONFIRM YOUR ATTENDANCE:
http://www.commoncause.org/KochRally&msource=EEW1101KOGOW
(and select "Grassroots Over Washington" as the group that referred you).
Buses have been arranged, coming from various locations in Southern California but space is limited so please use the link above ASAP and you can reserve a seat if you'd like to.
View Larger Map
If you can't attend, you can still make a valuable contribution to this effort by sharing the link above and spreading the word about this event by email, Twitter, Facebook and posts and comments around the internet.
Here is an overview of the actions that are taking place:
11:00 am – 12:45 pm – Common Cause hosts a panel featuring:
Robert Reich – the former Labor Secretary
Erwin Chemerinsky – UC Irvine Law Dean
Lee Fang – Center for American Progress blogger and Koch Brothers expert
Van Jones – Founder and Former President of Green for All,
DeAnn McKewan – California Nurses Association Co-President.
Speakers will shine the light on the Koch's Billionaires Caucus agenda and discuss what can be done to restore the voices of ordinary Americans.
1:00 pm – 4:00 pm – Join a large coalition of organizations for a peaceful rally in Rancho Mirage to talk about the sickness, the diagnosis and the cure for America's democracy.
We sign petitions and blog but here is an opportunity to really do something, I hope you'll join me in supporting this action which will also be a fun and exciting opportunity to connect in person with members of major Progressive organizations and many like-minded folks.