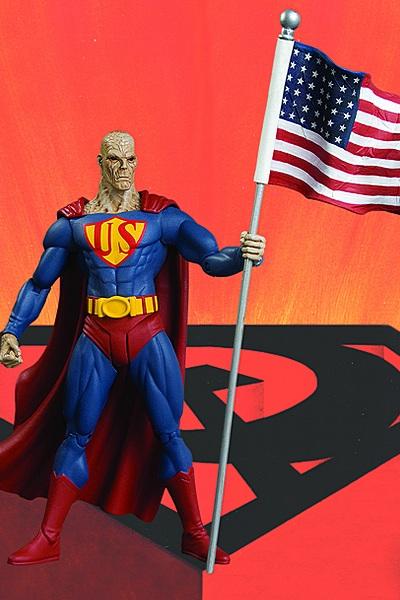 Okay, an arsonist has set your house on fire. You drive up to see it burning and call 911. They say that the fire department is coming but it may take 20 minutes. You become so frustrated about how long it's taking for them to arrive that you call to cancel them and instead hope the arsonist will put out the fire for you.
You would then be certified as an average U.S. voter in 2010.
The GOP sold out the middle class, conducted the biggest transfer of wealth from the lower 98% of the population to the upper 2%, destroyed the economy, mired us in two unwinnable wars, caused massive job losses and foreclosures, gave our democracy to the wealthy and corporations and have continued to try and destroy the economic and health safety nets for all Americans.
President Obama and the Dems did not reverse all of that in a scant year and a half so of course, the Bizarro thing to do is put even more extremist Republicans back in control.
As Bizarro Superman might say, "Me not like being screwed so me vote for ScrewMe Party!"
It may not be technically classifiable as a form of insanity but insanity has been quoted as doing the same thing over and over again and expecting different results.
I understand what's going on here but I find it as hard to relate to as people intentionally subjecting themselves to watching "Jersey Shore".
Imagine if these people made all their decisions the way they make their decision to vote. Think about how such people would send Valentines cards to corporations who fired them to snub politicians who hadn't successfully passed legislation that would've stopped the outsourcing of their jobs.
Or giving Xmas presents to insurance companies who jacked up their premiums and slashed their coverage to send a message to politicians that they're unhappy their rates haven't been lowered and their coverage has deteriorated.
Frankly, such behavior might be appropriate for a 5 year old that responds to getting a lollipop smaller than the other kids, by throwing it on the ground and smashing it to pieces. But for adults?
Let's recap, these petulant voters who wanted instant gratification from electing Obama, who expected the worst recession in our lifetime to turn into a booming economy in a year and a half, have instead decided that since they didn't get what they wanted quickly, they will now wait for Bizarro Superman to save them.
And what a Bizarro set of characters the GOP candidates are this year. Honestly, it is like the cast of a cartoon show. Has there ever been such a collection of ridiculous, wacked out extremists running for office at the same time in the history of our democracy? I don't think so.
It's a perfect storm for lunacy.
Sharon Angle could be a Senator? Rand Paul? Joe Miller? Christine O'Donnell won the GOP primary? Carl Paladino too? The Nazi re-enactment guy? Many of these people want to demolish Constitutional Amendments, the EPA, Dept. of Education, VA, Social Security, Medicare, public schools, unemployment insurance, the minimum wage, women's control over their own bodies, Wall Street regulations, insurance company regulation, freedom of religion (if you're not Christan), the Civil Rights Act, etc.
I remember when even discussing change to Social Security was the third rail of politics…but in the insanity of the current times, Repub candidates can loudly boast that they want to end Social Security and Seniors who depend on it are readily supporting them. How people can put their own best interests at risk just to be vindictive is beyond me.
Is this the expression of PTSD by society that has been traumatized by too much over the last ten years? A Supreme Court elected president, 9/11, anthrax, Iraq and Afghanistan wars, Mushroom clouds, spying on Americans, terrorists all around us, the drowning of New Orleans and impotency of the government to help, H1N1, the crash of the economy and the loss of retirement funds, widespread job losses and home foreclosures, the mainstreaming of racial and religious hatred, the BP oil spill devastating the Gulf, etc.
Is the American electorate simply having a nervous breakdown? Do we need to ask Starbucks to begin offering a Prozacaccino? Maybe our tax refunds could come with a sample of Zoloft?
Until Americans snap out of this self-defeating, knee jerk way of voting, America will stagnate and/or decline.
It's lunacy to want progress so much in this nation that not getting it quickly enough means voting for gridlock and empowering in those who want to reverse progress.
As Bizarro Superman might say, "Me want things better so me voting for people who make things bad. Hello!"