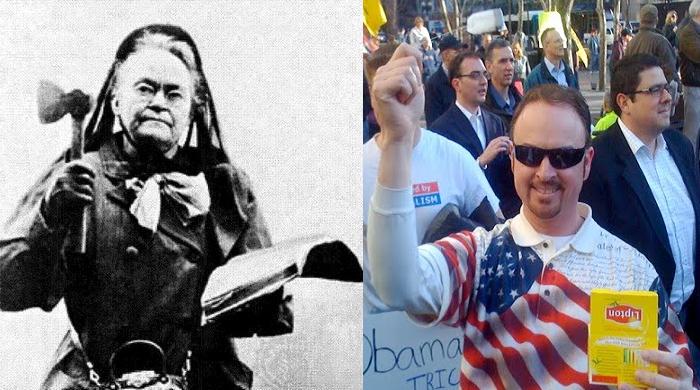 The new HBO series, Boardwalk Empire debuted this week. It's set in 1919's Atlantic City when Prohibition became the law of the land.
While watching it, and perhaps this is not coincidental, the similarities between the present and that period struck me.
The births of the Temperance Movement and the Tea Party Movement are quite different but as I'll later illustrate, there are a number of similarities that are deserving of consideration.
Here's a brief background on the "genesis" of the truly grass roots Temperance movement from Wikipedia:
As the American Revolution approached, economic change and urbanization were accompanied by increasing poverty, ordinances were relaxed and alcohol problems increased dramatically.

Apparently influenced by Dr. Benjamin Rush's widely discussed belief that the excessive use of alcohol was injurious to physical and psychological health, associations advocating to ban the making of whiskey were formed in Connecticut in 1789, Virginia in 1800 and New York State in 1808. Within the next decade, other temperance organizations were formed in eight states, some being state-wide organizations.

The American Temperance Society was formed in 1826 and benefited from a renewed interest in religion and morality. Within 12 years it claimed more than 8,000 local groups and over 1,500,000 members. By 1839, 18 temperance journals were being published. Simultaneously, many Protestant churches were beginning to promote temperance. In 1833 Joseph Smith, Jr. revealed the Word of Wisdom to the Church of Christ (Latter Day Saints).
http://en.wikipedia.org/wiki/Temperance_movement#United_States
The true history of the Tea Party movement is rather simple. It was a manufactured propaganda tool financed by the billionaire Koch brothers and their cronies on the far right wing and promoted by an alleged news channel, Fox News. The astroturf Tea Party movement was conceived and financed for one purpose, to undermine the new and first black President of the United States by appealing to prejudice and ignorance, to block any and all progress on tilting the economy back towards the 98% of the nation that isn't wealthy.
As Dr. Frankenstein (or was it Franken-STEEN?) discovered and as the story of the Golem illustrates, sometimes a monster created to serve doesn't always follow the instruction manual as desired. The Tea Party, which was designed to prey on the anger of the lesser informed, attracted so many angry people that they took over the direction of the movement and have weeded out sitting Repubs in favor of fellow haters and ignorant ideologues.
Now, let's go back to the Temperance Movement. There was an immense amount of anger and self-righteousness behind this movement. It was politically and strategically coupled with Women's Suffrage, which gave it a populist aspect.
The Tea Party has connected itself to the anger and self-righteousness behind the anti-government/anti-deficit sensibilities to anoint itself as a populist movement and hide its true origin and intentions.
Those behind The Temperance Movement were religious extremists who believed that their religious views should be the law of the land and enforced on everyone, reflecting a prejudice against those of different faiths and views. Their proposal of prohibition was presented as a magic bullet, that all of the ills facing society could simply be blamed on one evil and that could be easily removed and then all would be better.
Many of those in the Tea party movement are self-proclaimed religious extremists who express infallible righteousness. They don't hesitate to demonize non-Christian religions and any that practice them. They frequently declare that America is a Christian nation and demonstrate prejudice and racism. They claim to know who the enemies of America are (Democrats and Obamal) and that simply getting rid of them and putting Repubs in their place will solve all of America's problems.
There was no science or research behind The Temperance Movement folks' proposition that outlawing alcohol would create a utopia out of American Society, just an absolute, religious conviction that no one could argue them out of.
Need I describe the contempt for facts and reason and the religious-type blind faith that those in the Tea Party have? Or the crazy theories and beliefs they have?
This extremist grass roots group that was the Temperance Movement grew in popularity and leveraged the anger in society over the exclusion of women from the democratic process to advance their extremist agenda.
In light of Obama's presidency, The Tea Party has galvanized the anger of many in society over the alleged theft of power that should rightfully be in the hands of white Christians…to advance the Repub goals of returning to Bush economic policies.
The net result from these angry, intolerant Temperance people consolidating enough power to push through their simplistic, dogmatic policies was a profound destruction and damage to America that we are still suffering from 90 years later.
Prohibition made many Americans criminals for not being conservative Christians. It was a triumph of emotion and fanaticism over tolerance and reason and unintentionally established the institution of organized crime in this country, bringing gangsters unimagined wealth and power while causing an explosion of crime, deaths and misery for many.
Imagine now that the current GOP, now subservient to the same kind of fanatical, intolerant and emotion-over-reason extremists, gains control of the nation.
If in 2012, there was a Repub President and Congress, beholden to the Tea Party, what long term damage could come from the same kind of poorly thought out, easy answer, extremist laws and policies?
Laws based on extremist Christian or racist/xenophobic views? Laws based on simplistic knee jerk answers to complex problems?
The Temperance Movement was tragically ignorant of both the futility of their goals and the resulting blowback that made society far less safe and moral than it was before they passed their Amendment.
The Tea Party seems similarly positioned with goals of, in the name of protecting America, ending Social Security and Medicare as we know it, killing HCR, plunging the nation into an additional $700 billion in debt to give the wealthy a tax cut, block unemployment payments, trying to repeal the 14th and other Amendments, undermining public schools, etc.
Though Pres. Obama will not be signing any lunatic laws, 2012 could be even more of a turning point election in America's History than 2008…a choice of moving forward through the 2000's or Tea Partying like it's 1919.