From Gettysburg, I went on down thorough the pan-handle of West Virginia, which was actually one of the finest manicured highway stretches I've ever seen. Enchanting, actually. Across the Mason-Dixon Line, I headed in to Shenandoah. In the powers invested upon me by me, I re-dub the Appalachian Mountains the "Adorable Appalachian Foothills" (I feel the same about Southwestern "rivers"). Hey, it's all relative, I suppose.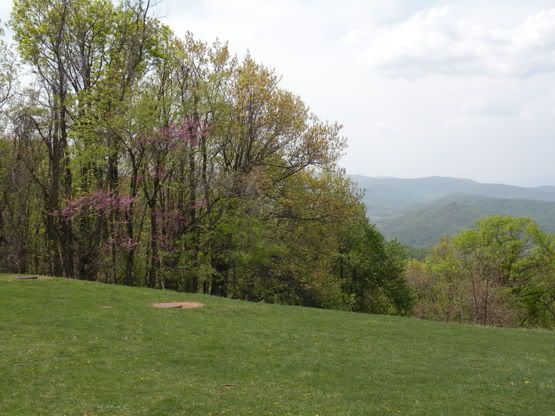 I can only imagine how beautiful the Autumn colors would be.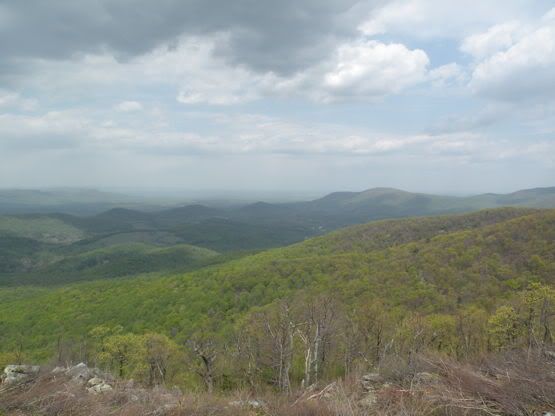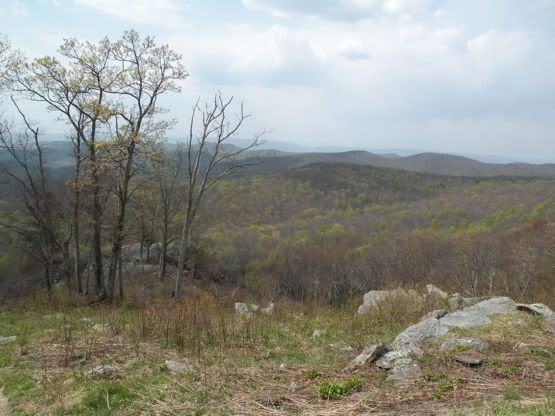 This is about the highest the Appalachians get, at around 4,000 feet above sea level. The highest point of the Appalachian range is 6,684 ft. At the lodge near the peak I heard my first southern accent. Hardly over the Mason-Dixon Line. She did explain the lack of pine trees. It had to do with seasonal factors. And, she in turn was fascinated by saguaro cacti. She was also hospitable enough to pack me a coffee to go. Good thing, as it got a little chilly.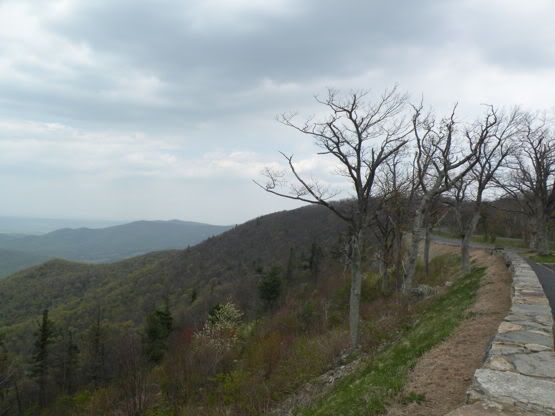 Shortly hereafter a deer was munching away. My attention was divided between the scenery and the Prime Ministerial debates on the radio, though.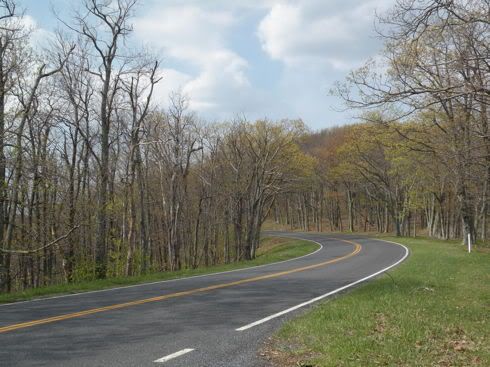 Apologies if there are copyright issues here, but this postcard was too good. After some giggling, I promptly purchased it.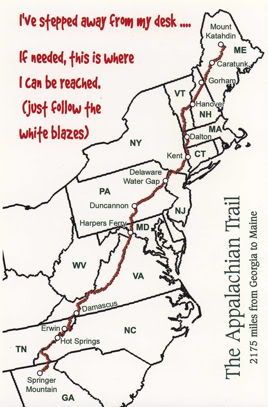 In Charlottesville coming onto the University of Virginia campus, this was odd to me at first. Coming from the Pacific Northwest, dotted with reminders of the Lewis & Clark Trail (Meriwether wrote that my hometown was the site west of the Rockies most worthy of settlement), I always thought of these two as quintessentially Northwestern. But, they were, after all, Virginians. Both had roots in Abermarle County in central Virginia.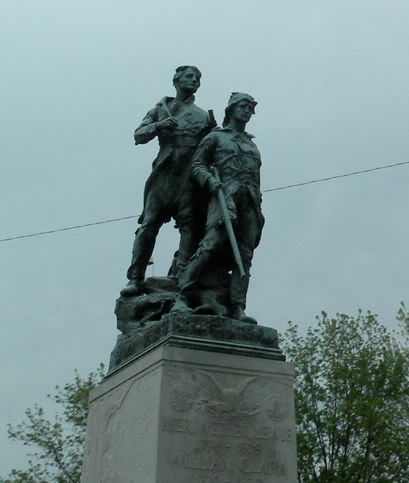 It is only a short drive up to Monticello, but my oh my, back in Jefferson's time, this must have been quite a trip up the hill. I'll get back to this picture at the end. Take your guesses now.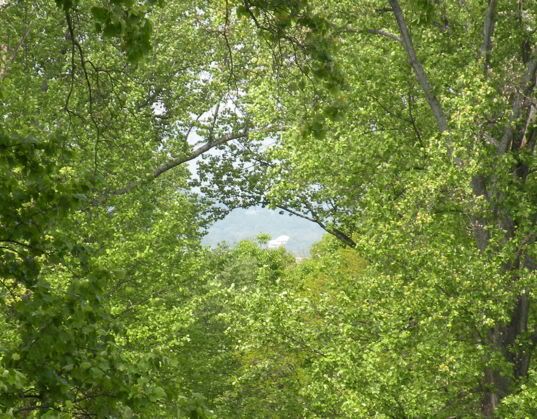 If only I could have taken photos inside. If I had had any doubts Jefferson would have nothing to do with the Tea Party before…
From the side. Unfortunately, it slipped my mind to photograph the East front.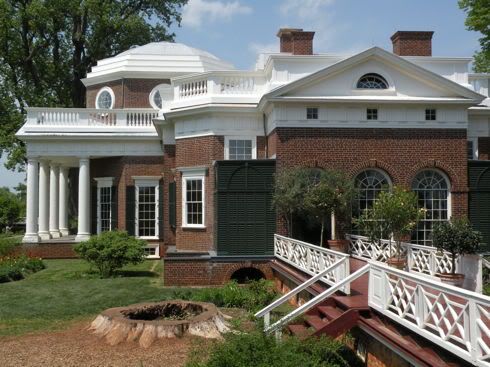 Full lawn. Jefferson later regretted deforesting this expanse, in the summer heat.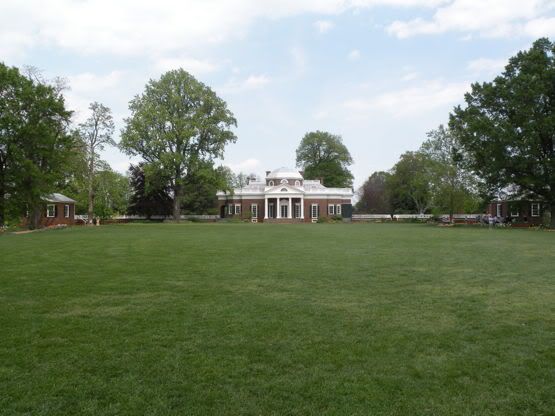 If you noticed in the side view, there was a tree cut down. This is now the last witness tree. All the flowers on the grounds are those which Jefferson planted. As with everything else intellectual, Jefferson experimented with horticulture.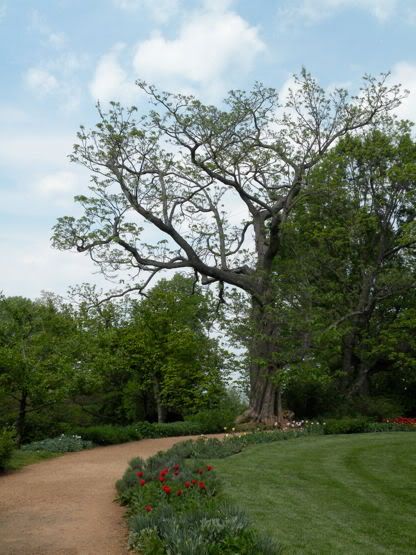 Down the hill across the lawn, Jefferson created a walking path. It started out with three concentric circles, this being one of them, descending in size. Not much to look at in the photo, but I longed to go further and walk the same peaceful walk as Jefferson is said to have done to clear his mind and reflect. Oh, the thoughts he must have thought…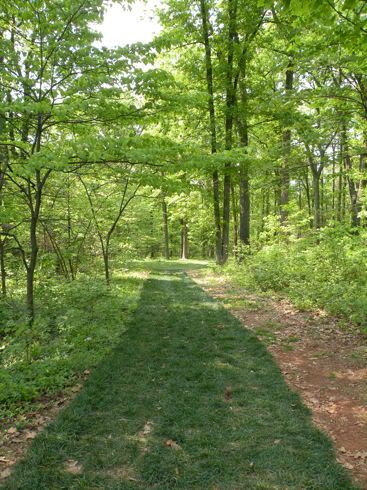 You don't want to know how long I had to wait to get this shot.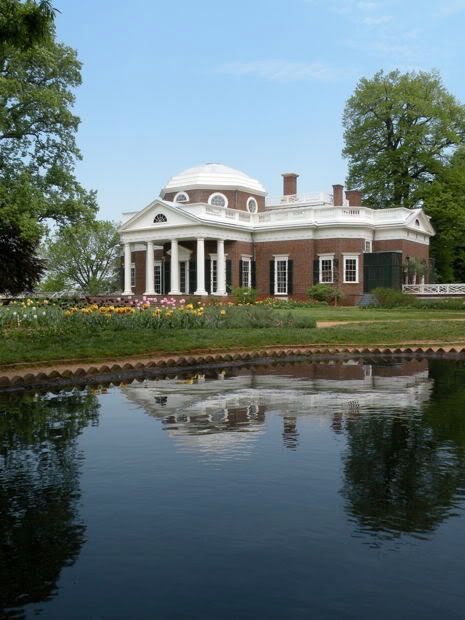 This is Mulberry lane on the East side. In Jefferson's time this would have been bustling, like a mini main street.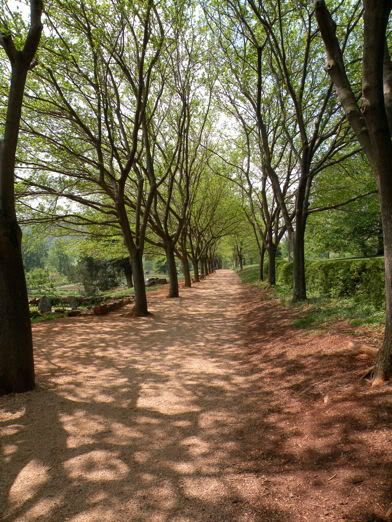 Of course, most of its denizens would have lived in dwellings this size. They were slaves.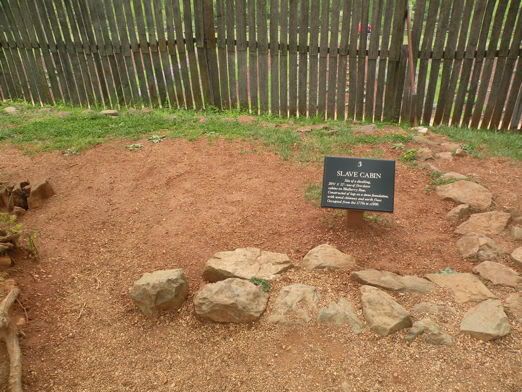 This was the where the blacksmith made all sorts of things, from nails to gardening implements, horseshoes, etc. Among slaves, this was a more prized and better paying duty (Jefferson did give supplemental income depending on job).
Grave of Rachel Levy. Monticello is in the shape it is today thanks to Uriah Levy, whom bought it in the 1830s. As a Jew, he admired Jefferson's commitment to Religious Freedom. Something which 70% of us are really forgetting today as a nation.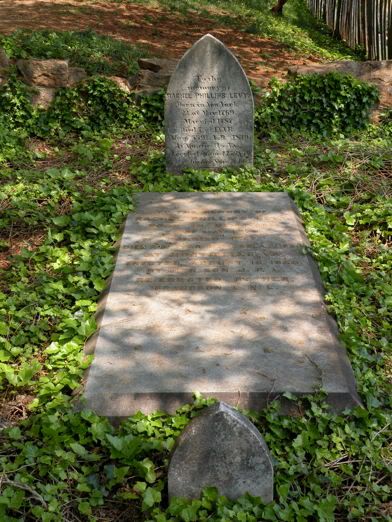 Vegetable garden.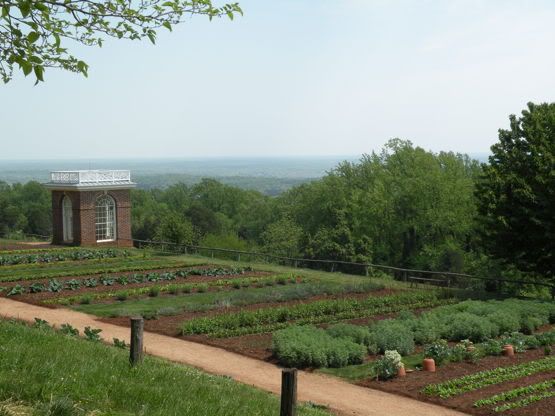 Jefferson grave. Notice what he was most proud of, after the Declaration of Independence. Upon learning how many so-called "patriotic" Americans believe Muslims shouldn't be able to run for president, he turned over yet again, I'm sure.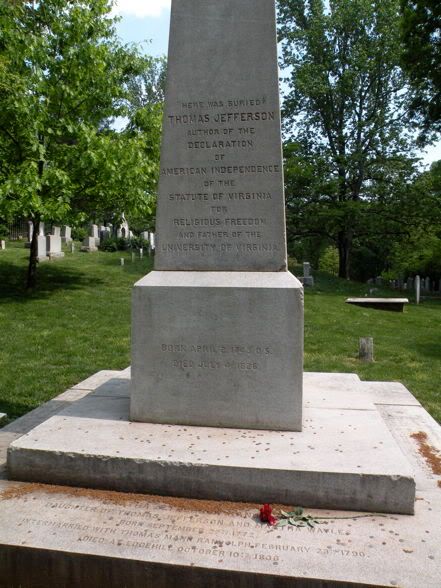 Thom. Not to scale at all. He should be about 1-2 inches taller than me.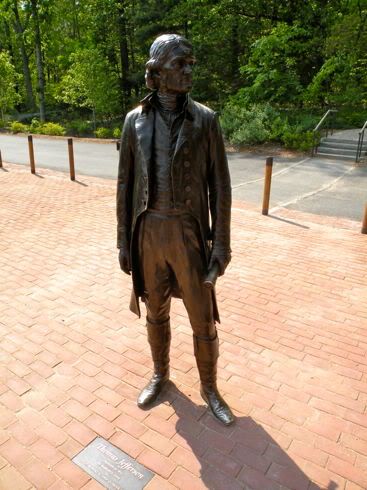 In the middle of the parking lot was this. The African American graveyard. There are no lasting markers.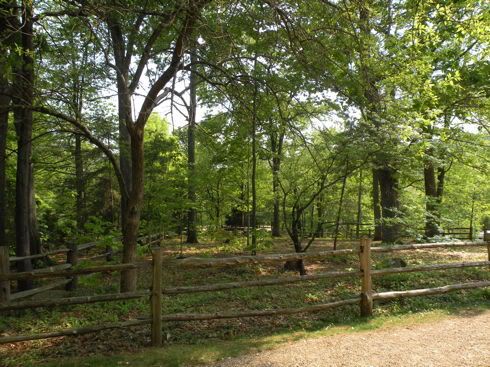 Right next door was Ash Lawn-Highland. James Monroe's residence.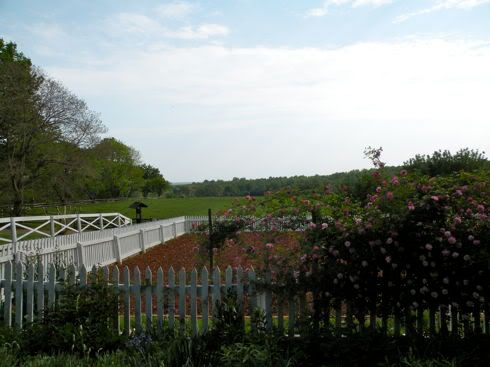 The front of Monroe's simple house.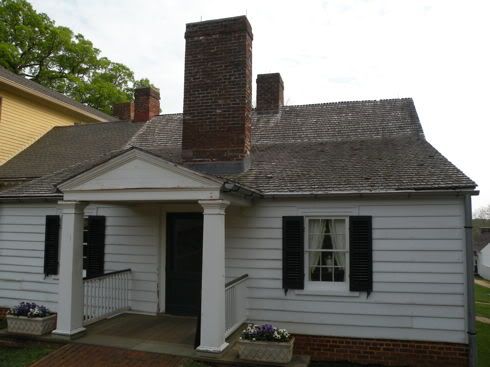 Back porch with later addition (in yellow).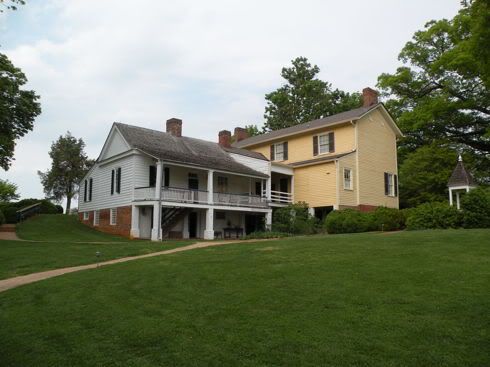 He actually had relatively nice slave quarters. It should also be remembered that Monroe was what might be later called a Separatist. This is why he helped found Liberia and why its capital is called Monrovia.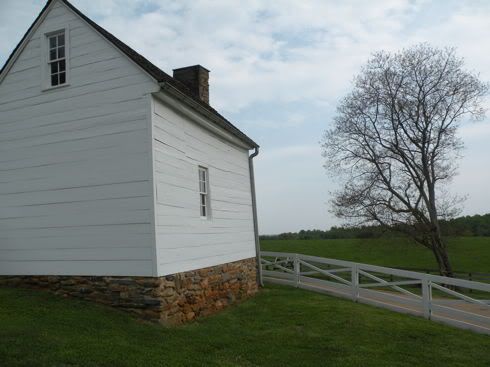 The two very different personalities of the two Founding Fathers, set apart by a little hill, were very apparent.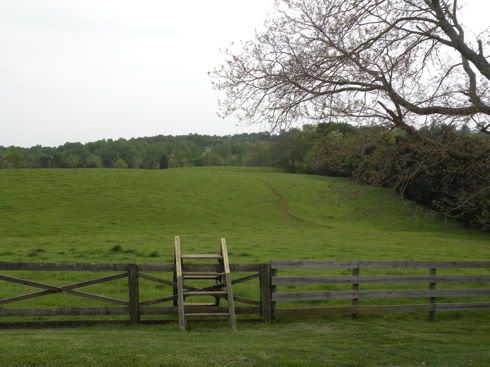 At the University of Virginia. I'm not quite sure what this is, but it was very photogenic.
The rotunda at the University of Virginia, designed by Thomas Jefferson. Scroll back up to my first Monticello picture. This is what is seen through the (carefully tended) foliage. And you know, some days cloudy days can be great, but what I would have given for a blue sky to break up the dome here.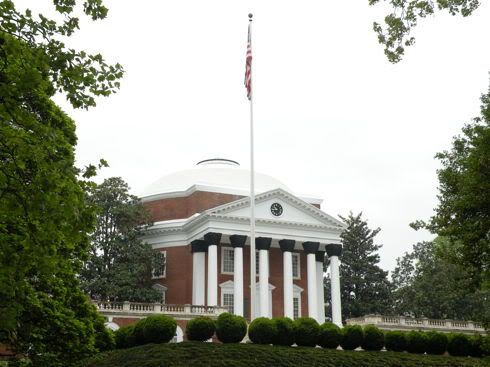 Also, I had to get creative, as there was scaffolding for renovations on the lower half of the building.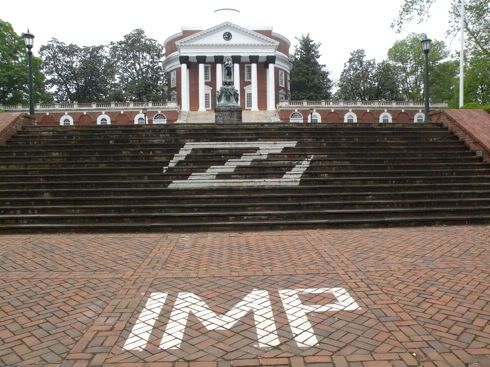 Final question. What on earth is Zeta 'IMP' about?
I wish I had of gotten some pics of the Downtown Mall. They shut down main street and made it into a very European feeling shopping, eating and cultural heart of the city. There was a very vibrant feel to the city, even when driving around the more mundane parts, that I could see myself living in Charlottesville. I enjoyed it very much.
I also, in a sense, like Lewis and Clark before me, felt part of me had come home that first night in Virginia. There was a sense of contentment to it all; a magic in the air when I stepped outside to be alone before bed.
Just don't ever ask me to get lacrosse mania…