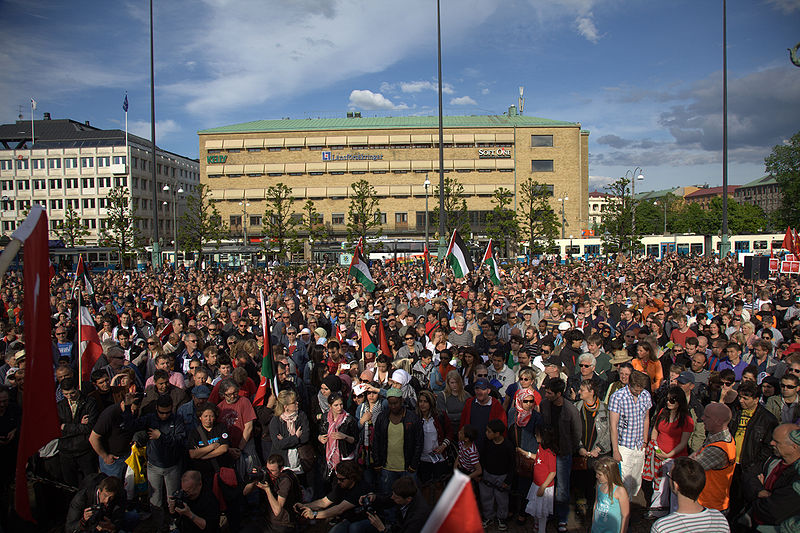 The attack on the Palestinian aid ship may be a turning point for Israel. Many Americans have supported Israel throughout the years, America is Israel's strongest ally. What has been growing more difficult for many American supporters is the morphing of Israel from a nation that bravely faced its existence being under siege from all directions,  to becoming the party that is besieging others.
This unfortunate role reversal places American supporters of Israel in an untenable position. The very principles that justified support of Israel are now more applicable to Palestinians. What is an Israel supporter to do, rationalize why the same principles shouldn't apply to Palestinians or step back from such strong support of Israel? Or some other alternative?
Each side of the Israeli-Palestinian conflict have valid reasons for feeling how they do. The real story is what the situation and actions as of today reflect about each side. What end game is represented by each side or if one is not discernible, how does the continued death and suffering on both sides characterize each of them?
One need only briefly see video of the suffering and desperation of the Palestinians which this blockade/embargo has created to be outraged. And yet, those ideologues who are leaders of the Palestinians seem to benefit in power, wealth and alliances from the continuation of the situation.
On the other side, Israelis have legit and reasonable concerns about safety but their leaders often pander to fear (sound familiar?) and pursue hostile policies with political dividends for doing so. Netanyahu knows that those who elected him want Israel to be aggressive and unbending towards the Palestinians and he ultimately won re-election by espousing that as his position.
It continues to be an intractable situation that appears most devastating to the Palestinians in day to day life and most devastating to Israel in day to day perception by the world. In the end, can Israel afford to winnow away its support while sympathy for and suffering of the Palestinians grow? Personal feelings aside, can this Israeli policy be successfully sustained indefinitely if it undermines their financial and political support?
The U.S. has serious issues right now economically and with the issue of Muslim terrorism. As Israel continues on such a harsh course, The U.S. is confronted with the impact that its alliance with Israel brings. Might the U.S. be pressed so far by extreme Israeli policies that it may have no choice but to reduce support?
Bottom line, the safety, security and existence of Israelis are absolutely something the U.S. can and should support…but along with the same for Palestinians.
Neither terrorist bombings by Palestinians or Israel attacking ships and killing people in international waters are things that the U.S. should be able to morally support. The U.S. should stand by its friends but it should not compromise its values in the process. Sometimes, when a friend crosses the line, you have to tell them they're doing the wrong thing. We shouldn't condone unjustifiable actions no matter who performs them. For instance, the U.S. condemns North Korea for blowing up a South Korean ship in international waters but not Israel for this incident. And what if Palestinians boarded an Israeli ship in international waters and killed some of the people on board? Would the U.S. block a U.N. resolution to condemn in that situation as they have with Israel in this one?
To be clear, the point of this piece is not about taking sides in the conflict between Israel and the Palestinians. It is about the U.S. having consistent principles and sticking by them, no matter who the other party is. Perhaps by doing so, we can help influence things to go more in the direction of dialog than death.