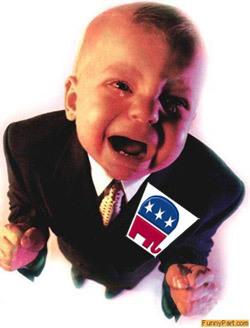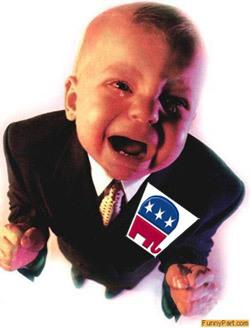 In 2008, a majority of voters seemed to have recognized that the GOP's policy of allegiance to the wealthy and destruction of our constitution, principles and economy was really not something that they wanted to continue.
The voters wanted change and elected Barack Obama.
Here we are, a scant year and a half later and in response to the change they voted for, many are freaking out and apparently, spitefully supporting the very party they know destroyed much of what's best about America.
The voters are revolting. Maybe even a bit obnoxious too.
Is it because they liked the idea of change but in reality, just wanted the same movie but with a fresh face in the lead?
Is it because they had some fantasized version of change, that it would rain $100 bills and no one would ever be sick or unhappy again?
Or is it because they weren't voting for Obama as much as they were flipping the bird to Bush…and now are petulantly voting for Repubs just to flip the bird to Obama for not being a magic genie?
It may be a combination of the above.
In the end, this lack of consistency and patience doesn't reflect well on us as citizens and voters. Are we simply short attention span children who want what they want and want it right now…and if we don't get it immediately and exactly as we imagined, we will throw a tantrum and "get even" with no thought of the consequences?
We are continuing through a terrible recession and too many people are still out of work. But we avoided what everyone insisted would be a Second Depression thanks in large part to Pres. Obama's response.
Instead of recognizing that and how the banks are still withholding credit (to hurt Obama and help the pro-bank Repubs?) which is keeping unemployment high…and that there is not much ANY president could do about this to force them to give credit…many citizens seem to petulantly point a finger at Obama for not waving a wand and magically making everything perfect.
As if a President can somehow, just by sheer force of will or policy, end a recession?
How self-centered and uninformed are many citizens? What powers do they think Obama has that he hasn't used to try and end the recession? Don't they understand that any Repub or Dem president would do whatever they thought they could to cure a recession and improve their approval ratings?
Many seem to be operating from a position of childish blame…on Bizarro World.  "Things am bad so since Dems and Obama am in charge, me let them know how mad me am by voting in more of Repubs I hated a year and a half ago for destroying economy! Me am smart! Hello!"
From one direction, our democracy is being damaged by corporate, oligarchic control and from another direction, it is being destroyed by adults showing the patience of 2 year olds.
How long do these people think it should take for a near-depression to be turned around? It seems that many think that it should have taken less than a year.
And voting in a Repub majority or near-majority in Congress which will assure gridlock, is the solution that these geniuses have come up with to address the lack of progress in turning around the economy?
I may be insulting Bizarro World by making a comparison to it.
How can we ever make profound change in this nation when so many Americans demand instant gratification or they'll vote out the party in power? No long term planning can occur with such a mindset controlling political power.
Imagine if the same sensibility was applied to constructing a building. The land owner has two different construction firms to choose from to build an office building. One wants it built with a lot of  glass, one wants it built with a lot of marble. The company who planned a glass building is chosen and begins…but doesn't complete the building in one week so the impatient land owners fire them and instead hire their competitor. The competitor tears down the work of the first architect and starts building with marble. But the short attention span land owner gets frustrated after another week that it's still not completed, fires them and re-hires the other architects.
And the cycle repeats itself ad infinitum. A constant cycle of beginning then undermining the completion of something because the one in charge easily becomes impatient. And of course, the ultimate goal to construct a building is never completed because his catering to his impatience and unrealistic expectations makes him act against his own best interests.
We need to have a bit more vision and patience and a bit less of an obsession with immediate gratification.
Yes, people are hurting in this nation now but the response to a doctor not healing an injury as fast as the patient wants is not to put the attacker who inflicted the injury in charge just to express spite at the doctor for not performing a miracle.
Don't we want things to get better? Will a gridlocked Congress or a President Romney continuing the 8 years of Bush policies fix the results of 8 years of Bush policies?
I must say, I'm a bit pissed at some of the Dem and indie voters out there who are blindly spiteful and are happily expressing how gratifying it will be to cut off one's traitorous nose to teach one's slow-to-gratify face a lesson.
If I was spiteful, I might hope that they get their wish and get Repub rule back to cut off their unemployment, SS, Medicare and health care. Then instead of being impatient about when the economy will improve for them, they can worry about missing Cornbread Night at the local soup kitchen.
But if I was so spiteful and cheered on the further disintegration of a safety net to occur, how would I be able to afford the cost of plastic surgery to replace my nose?