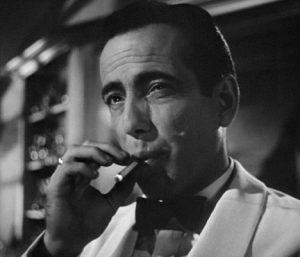 There's been a big kerfuffle lately about cigarette smoking in Avatar. This issue has a long history.
Hollywood and cigarette smoking simply go hand in hand — more than you might ever imagine. It goes way, way beyond Humphrey Bogart and Ingrid Bergman in Casablanca.
Two massive industries grew up in lockstep in the early 20th century — advertising and cigarettes. They literally made one another. Cigarettes dominated the advertising market until the 1970s. Cigarettes could not have become the huge industry without advertising.
In 1900, according to "Cigarette Century" (A fascinating book; might be a bit dry for some folks), fewer than 10 percent of the population smoked cigars or pipes. Very, very few people smoked cigarettes. By 1940, 50 percent of men smoked, and by 1955, that number had grown to nearly 70 percent. Why? Advertising!
Advertising and Hollywood.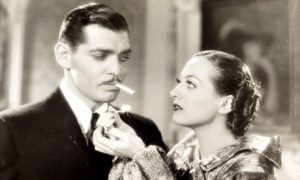 Watch any film from the 30s through the 50s. Cigarettes are as omnipresent as Fedoras, pulled punches and tan trenchcoats. They're everywhere in hundreds of films. Hollywood bought into the idea that smoking was cool hook, line and sinker. And Hollywood helped teach several generations that smoking was cool and hip; and it did it for free. Not a nickel was paid to the studios for all that free advertising. What money the tobacco companies did spend were spent paying stars to promote cigarette brands.
Fast forward to the 1970s. The surgeon general had declared that smoking causes lung cancer, warnings were put on packs of cigarettes, cigarette advertising was banned on television. Newspapers stopped printing cigarette ads.
What did the tobacco companies resort to? There was one advertising niche they had yet to openly exploit.
Their old friend Hollywood.
Beginning in the late 1970s, cigarette companies began a stealth campaign right out of a Le Care spy novel to sneak cigarette smoking and cigarette branding into Hollywood movies. The first movie in which this was done? You not going to believe it.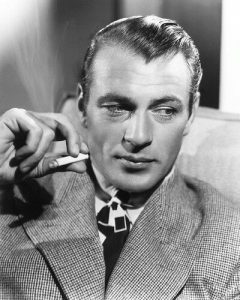 Superman.
Yup. A PG-rated kid's movie, seen by millions of kids. Philip Morris actually paid the studio to have Margot Kidder smoke like a chimney throughout the movie. Lois Lane never actually smoked in the comic book. This was a PG movie, marketed toward children. It was absolutely amoral. They did it again, in Superman II, and they added a fight scene with a tractor-trailer with "Marlboro" prominently displayed.
Over the next 20 years, tobacco companies paid Hollywood huge sums of money to insert smoking and branding into movies. And they specifically targeted movies being marketed to kids. Philip Morris was budgeting $2 million a year for product placement payouts to Hollywood studios. More than 130 movies over a 10-year period had smoking and product placement of Philip Morris cigarettes. BAT claimed that its products were shown in more than 500 Hollywood productions during this time, and they were actually paying individual actors to smoke their products on-screen. And the tobacco companies specifically focused much of their efforts on PG, PG-13 and even G-rated movies. They were going after new smokers. They didn't give a damn about R-rated movies.
And Hollywood went right along with it. As part of the "Cigarette Papers" case, much of the evidence came out in the 1990s of the sordid dealings between Hollywood and Big Tobacco — of the millions upon millions paid to studios for secret smoking advertising. As part of the 1998 Master Settlement Agreement, Big Tobacco agreed that they would no longer pay movie studios for placement of their products.

And then a VERY weird thing happened. The amount of smoking shown in movies actually went UP after 1998. That's right. UP. There were no longer millions of dollars in payments from Big Tobacco to Hollywood (Not as far as anyone knew, at least), but smoking scenes actually went up. In 2003-2004, 77 percent of PG-13, PG and G movies contained tobacco use.
What happened? Hollywood was still enamored with the archaic idea that cigarettes are hip and cool. This had nothing to do with cash payouts any longer. Hollywood just couldn't quit cigarettes. They were hooked. They were stuck in the days of Bogart and Bergman.
In case you think this is a silly issue, remember, there is no more cigarette advertising on TV. There is very limited cigarette advertising in magazines anymore. Where is the biggest source of misinformation that smoking is cool and hip? Movies! An increasing number of studies started showing a direct cause and effect between "cool" smoking scenes in movies encouraging young teens to begin smoking. In some of these studies and surveys, kids said point-blank they started smoking because they wanted to be cool like some certain movie star.
Well, do-gooder busybodies like me started noting this bizarre situation and started pressuring, via letters, lobbying, etc., for the MPAA to start cracking down on the gratuitous smoking in PG and PG-13 films. Hollywood fought back, whining about "artistic freedom," (Never mind the fact that any depiction of pot-smoking results in an automatic R rating). We started asking for an automatic R rating for inclusion of smoking scenes. Believe me, I have written dozens of letters to the MPAA. They have received tens of thousands similar letters.

Don't get me wrong. I'm not a complete prude. I have no problem with smoking in R-rated movies. If you got 'me, light 'me. It's the movies that are marketed to kids that drive me nuts when I see gratuitous smoking. I also am NOT in favor of fiddling with old movies to remove the smoking scenes (Some people in the smokers' rights crowd have accused us do-gooders of wanting to do that. No one has ever seriously proposed that.). Smoking in movies from the 30s and 40s is all part of the historical context, which is fine with me. Sam Spade or Rick Blaine sucking on cigarette is as Americana as it gets.
I make the analogy of smoking to the F-bomb. There are very strict limits to using the F-bomb in PG-13 movies. You can use it once, in a non-sexual manner, and that's it (OK, granted this is kind of a silly rule, but that's what it is.). Studios know this. They know the rules, and they know how they want a movie marketed before the first day of principal photography, so they work around the rules. They do it with every movie. They don't includes F-bombs if they want a PG-13 movie. If studios can avoid the F-bomb to keep the PG-13 rating, they can just as easily avoid pointless smoking scenes.
The MPAA compromised with the smoking guidelines, writing up a Byzantine set of rules that it takes a degree in law to follow. To sum up, smoking is still OK in PG and PG-13 movies if it's set in historical context or if it's not portrayed in a positive light. A movie like "Good Night and Good Luck," is a good example. It takes place in the 1950s, when most people smoked like chimneys. (And seriously, I love that movie, but watching it actually makes my eyes feel gritty.). A movie like "Stranger than Fiction," is another good example, in which a heavy smoker in the film wakes up every morning with a terrible smoker's hack. These are both PG movies. Personally, I wanted stronger rules, but I'll go along with this for the time being.

I'll go along with it, because I think the rules will have a "chilling effect" of discouraging gratuitous and lazy smoking scenes in movies marketed to kids and teens. I'm a big believer in artistic freedom, believe me, I really am, but the "artistic freedom" argument from some Hollywood directors toward smoking is a bunch of bunk, in my opinion. First of all, 99 percent of the time, smoking scenes add absolutely nothing to the plot, nor to character development. They are simply an extremely lazy prop meant to convey "cool" or "rebellion" or some such nonsense. Leonardo Vicario is the best example of this. The guy is pushing 40, still looks 20, and smokes like a damn chimney in almost every movie he appears in because he apparently believes it makes him look tougher or more grown-up. I've never seen an actor rely so heavily upon a cigarette as a prop. Second of all, 90 to 95 percent of genuinely "artistic" movies (at least) are rated R anyway.
Remember, in the 1980s, Hollywood put out a bunch of teen movies depicting drug use and heavy drinking as just being part of wacky teen hijacks. Well, after MADD made a big stink about this (A lot bigger than us anti-tobacco types did), you don't see drug use or heavy drinking in PG-13 movies anymore, at least not depicted in a positive light. Movies are a business as much, if not more, than art. If you want to make a movie with lots of booze and drugs, like "Superbad," it's going to be R-rated and you're going to have to market it as an R movie.
Avatar got caught up in the middle of this MPAA change. One of the characters, Sigourney Weaver's, was supposed to be a heavy smoker, but the MPAA changed its rules. Suddenly, they couldn't include "pervasive" smoking scenes in Avatar and keep the PG-13 rating. If you pay attention in that movie, Weaver smokes some early in the movie, but midway through the film, she completely stops. They had to write all the smoking scenes out of the movie in mid-production or risk an R rating!
As an aside, if you haven't seen it, I would recommend for an interesting take on smoking is "Constantine." It is the most anti-smoking movie I've ever seen. It's not a great flick (actually genuinely more scary than I thought it would be), but I love the subtle anti-smoking message in that movie. (Ironically, Constantine is R-rated, and a fairly hard R to boot.)
Another movie with a short, subtle anti-smoking scene is "Superman Returns." In order to make amends for the beginning the era of cigarette product placement in movies, they added a little scene in which Superman keeps blowing out Lois' lighter as she tries to light a cigarette. He looks at her lungs with his X-ray vision and tells her she has about 20 years left if she doesn't stop smoking.

So, that is the sordid history of Hollywood and Big Tobacco. Hollywood has yet to kick the habit.
By the way, Humphrey Bogart died of esophagus cancer at the age of 57. Clark Gable died at 59 of a massive heart attack. Gary Cooper died at 60 of prostate and lung cancer. Audrey Hepburn died at 62 of cancer. Errol Flynn died at 50 of a massive heart attack.