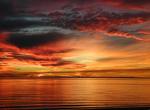 Good morning everyone. We hope that this will be the place you come to when you wake up early before you leave for work. The place you visit when you wake up late or just a place to meet and chat in between breaks from serious topics and discussions during your day.
Feel free to talk about your interesting news story finds, your funny stories, photos or a slice of your lives. This is your space, come here to relax and unload. We welcome you with open arms. Enjoy.
BTW this blog is open to one and all, not only the early risers.
Bearing in mind that weekends are a time for catching up with family matters and a long awaited extra hour or so under the warm bedcovers, your "Morning Blog" will run every morning from 5 am EST, even on weekends.  Drop in any time. Thanks a bunch.