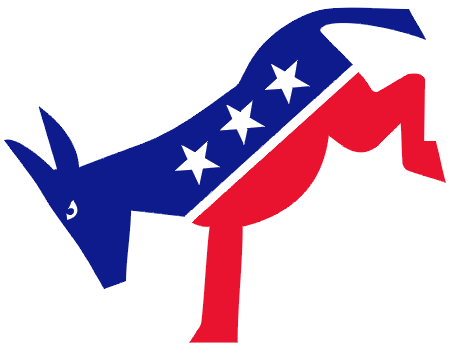 Something struck me this morning, thinking about what's looming on the horizon tomorrow for the Democrats with this ginormous chinwag session that's about to take place at Blair House.
Trust me … the world will be watching. Well, at least the BBC will be, wrinkling their noses superciliously.
What occurred to me this morning as I drove to work was how much the Democratic Party had evolved or devolved into the Knee-Jerk Party.
Think about it – especially the last three Democratic Administrations.
Carter was carried into the White House on the public's revulsion at Nixon's Watergate antics, coupled with Ford's pardon of Nixon. Clinton was chosen as a reaction to Bush 41's tanking of the economy the first time around, plus his veritable intransigence at dealing with a Democratic House and Senate. Obama was, well, put simply, a reaction to 8 disastrous years of arguably the worst, most corrupt Presidency since Warren G Harding (and he was a Republican too).
Carter tried a new, low-key populist approach to his tenure in the White House, but he was only afforded one term. His foreign policy was perceived by the hawks as weak and his inability to deal with the Iranian hostage crisis, including a botched rescue attempt by US special forces, which resulted in the deaths of the rescuers, wasn't helped at all by a primary challenge by Ted Kennedy in 1980.
The Democrats were perceived by their supporters as weak, divided and ineffectual, and so the 'Reagan Democrats' were born and remained in the Republican fold for donkey's years (pun intended).
I remember Clinton's candidacy, when doubtful Dems were wary of a man who'd been an openly Progressive populist governor, whose wife was even further to the Left than he was. Clinton campaigned on securing universal healthcare and for allowing gays to serve openly in the US military. The ensuing result was a bitchslap in his face by a Democratic Congress regarding the healthcare question, the deplorable enactment of DADT, the loss of the House to Newt Gingrich's nasties (the parent party of today's National Obstructionalists), and a sharp shift to the centre which, whilst it got Clinton another term, gave us the final nail in the coffin of eventual economic meltdown – the repeal of Glass-Steagall in 1999.
And now, we have an intelligent, articulate, deep-thinking intellectual who speaks to us and treats us like the adults we are; and he's beset by both sides of the political equation.
Being a superstitious person by nature, I'm wary of the truth surrounding the old premis that things happen in threes. If that's true, then I'm wondering if we aren't staring down the barrel of another Knee-Jerk Administration. A one-term wonder.
If so, and if we're looking about for a culprit on which to cast blame, we need look no further than ourselves.
If nothing else, the Obama Administration has opened a can of worms for all to see exactly how big a tent the Democratic Party is. You might laugh when Glenn Beck exclaimed at the CPAC conference last week that the Republicans shouldn't strive for a big tent. "We're a political party, not a circus!" (Richly ironic statement, coming from an ex-rodeo clown).
Up to a point, Beck's statement reveals a deeply ingrained problem in the Democratic Party: intolerance.
I mean the intolerance of the Democrats toward their own.
Yes, we are a big-tent party. Always have been. I hope we always will be. If you think back to the Democratic Convention of 2008, I remember looking out over the panned shot of the audience and thinking that this really WAS the face of America – all races, all faiths, united in one sole purpose. (Corny sentiment, I know, but – hey – I've lived abroad for most of my adult life).
The Republican faces, seen a couple of weeks later were simply old, cold and white.
The two parties might reflect two Americas, but the Democrats, within their scope, reflect many demographics of America trying to pull together to forge and further strengthen our ties as a nation.
A commentator to my recent blog about Real Time with Bill Maher remarked that she resented the fact that most celebrities, who purport to be Progressive and speak for the middle/working classes, don't give a rat's ass about them – in fact, hate them. I agree to a great extent.
Bill's somebody, whom my late mother would deem 'just a YANKEE,' and she'd say that with disdain. A 'YANKEE' to her was just anyone not from our geographic area who came into the immediate domain with a pre-conceived set of ideas and notions about life on our 'manor' as we knew it.
Bill liked John Edwards, but didn't like the fact that Edwards made 'shit' sound like it had two syllables. Bill makes jokes about Jesus's domination of the South; well, every person with whom I went to high school, even the ones who've never been outside the boundaries of Fauquier County are atheist to the core, and some of them are even Republicans.
Bill assumes that incest is rampant in the South, that everyone's married to his cousin or his sister. Well, pardon me, but I don't remember MacKenzie Phillips as being from the South; and whilst her late father can claim Virginia birthright, he was, at the end of the day, an army brat, who'd lived far and wide.
I hate this wanton and blind categorization, this lumping assumption of native traits on a geographic area or on an ethnic group as true. I don't think all people from New York City are rude or all Californians are flakes; but I've seen so-called Progressives, who pride themselves on tolerance, make openly ignorant remarks about Southerners, about people who live in what they term 'fly-over country' and about centrist Democrats.
A lot of times this is encouraged by people who purport to be party insiders, but who, in reality, have other agendae.
Evan Bayh announced his intention to leave the Senate recently. Immediately, the cry went up on Huffington Post about his corporate interests, his wife's association with the private healthcare industry, how he was really a DINO. Bottom line: it was pushed that he was a corporatist, that he'd leave the Senate to make millions as a health insurance industry lobbyist.
The next day the Washington Post ran an article where various Indianans, ordinary people from all walks of life, spoke about Bayh. All were Democrats; all were dismayed at his departure. All said he was a good Senator, who worked hard for his constituents.
You know, maybe he is a corporatist; maybe he will walk away into the sunset and land a 7-figure job as a lobbyist; I don't doubt his wife presented a severe conflict of interest in her position as a board member with one of the biggest health insurance companies in the country. Maybe the guy is a Class-A jerk, or maybe he's just the son of a highly successful Senator, who was literally born and raised on Capitol Hill, and maybe he's just suffering from overkill and wants to try something different before he's too old to do so.
In his Larry King interview last week, Bill Maher dissed Bayh as a corporatist and said that he was glad that Bayh was leaving the Senate, that Bayh was part of the problem, that he wanted to see the parties more polarized.
Hello?
Thinking clearly, Bill? Aren't they polarized enough already?
Sometimes, not always, pulling to the centre is an answer. Sometimes, in politics, you have to take what you can get.
LBJ, arguably the ballsiest Democrat since Truman always said of himself that he was a compromiser and a manoeuverer; his aim was to get "something." That was the point of politics. And LBJ accomplished.
Democratic supporters don't serve their party by bitching, whining, moaning and scrapping amongst themselves, nor by developing the mentality of entitlers. The mentality of entitlement reigned supreme across the scope of Southern Europe and the PIIGS group (Portugal Italy Ireland Greece and Spain) is going to pull one big fuck on the stronger economies of Europe and bring that gravy train to to a grinding halt.
But Democratic politicians aren't helping matters very much, themselves. They're cerebralists who don't communicate their messages well. They assume that because the voting public look like adults, they function and think as such. The truth is that somewhere during the last 30 years of plastic wealth and a culture based on greed and re-financing, we're nothing more than recalcitrant adolescents, blinded by the latest bling. We need a Big Daddy President to define our parameters – a Jock Ewing or a John Wayne.
Instead, we get an Atticus Finch or a Henry Fonda. But, it pays to remember that even Atticus Finch had a few weapons up his sleeve and in the end, was the hero of the piece.
Politico reports today that several of the reluctant Democrats in the Senate, are lining up behind the possibility of passing the healthcare bill, and maybe including a public option, via reconciliation. This group includes Bayh (who has nothing to lose, since he's lame duck), Ben Nelson (who recently voted with the GOP against cloture for the jobs bill and whose Medicare pork Obama threw under the political bus) and Mary Landrieu. Nelson will need strong Democratic support to retain his seat in what is essentially a red state (the home state of Henry Fonda, incidentally). Landrieu comes up for re-election in 2012. She's citing Republican obstructionism as the reason for her change of heart. Being Southern, myself, I think probably her daddy gave her a good verbal blessing-out, with a threat to beat her ass if she didn't find some political balls and get onside. Maybe Birch Bayh should have issued the same threat to Evan.
Maybe LBJ's and Harry Truman's ghosts ought to scare the hell out of the Democratic Party, and maybe its base ought to wise up and take a shard of advice from James Carville to buck up, suck up or else there's going to be a helluva fuck up … and that doesn't scare you, think about CPAC and the Teabaggers. And that's not the name of some punk rock group, rather it's a load of rock-headed punks seeking to bring down this country.