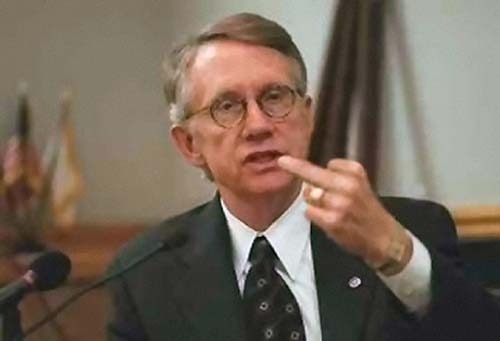 According to the Whispering Reid, The Reid that blows in the wind…or the Reid that just simply blows, Sen. Reid will block the efforts by Dem Senators to reform the filibuster.
You see, this human tribute to invertebrates everywhere wants to make sure that the tyranny of democracy will never reek its destructive power in the Senate.
Yes, this walking Senatorial reminder to neuter your dogs wants to protect America from a Senate that could actually pass the agenda they've been mandated by the majority of Americans to pass.
This Prince of Procrastination, this Disciple of Dithering, this Fakir of Futility has decided that he likes the way everything's gone over the last year and wants the next three years to be just like it. He supports the public's growing distrust of government to get anything done. He is giving notice to the nation that The Senate is no place for such unAmerican concepts as majority rule, progress and obeying the will of the people.
It's so unfair that he will likely be voted out in November…I've lost the receipt for this barrel of tar and sack of feathers and I just know I'll never get around to selling them on eBay.