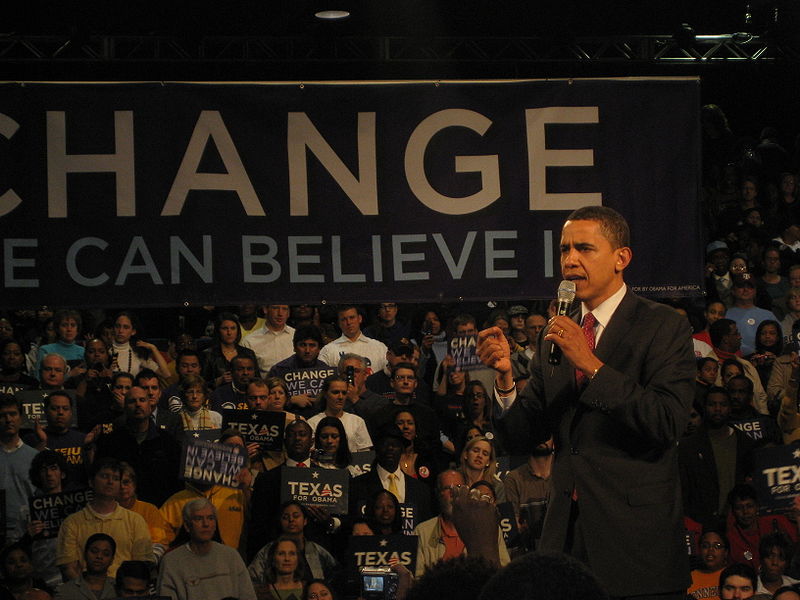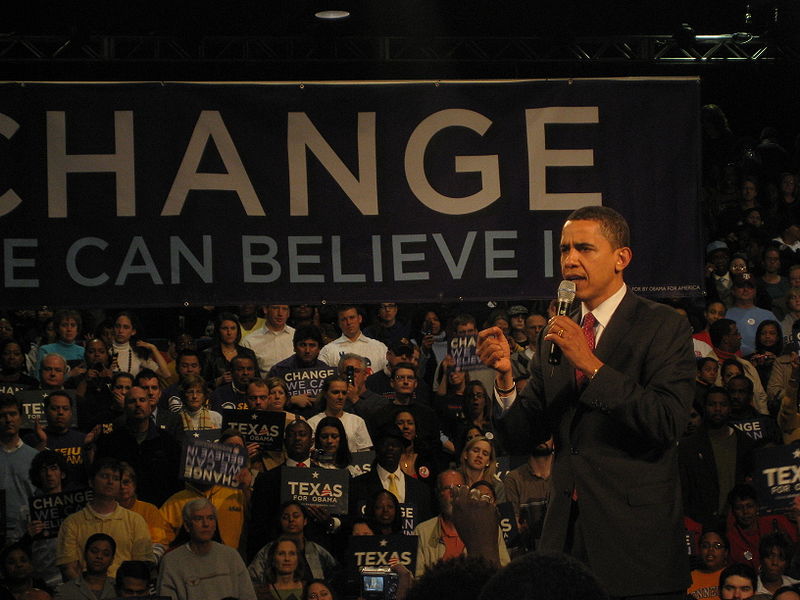 I've discussed this issue of Dems Against Obama with some who are very sharp and informed Progressives and subscribe to being very vocal critics of his.
I thought it would be constructive to discuss and examine some of the points that are made by those subscribing to this POV. Additionally, I will not be shy about my criticisms of the Obama Admin but I think the approach to dealing with them is critical to keeping Dems in power and helping the Obama Admin make more changes.
Here are some propositions:
1. Pres. Obama's image as an agent for big change was an effective campaign tool but not reflective of his true sensibilities.
2. He is an incrementalist at heart and deeply believes that the best he can do as president is to tweak the system, not make big changes.
3. He is too much a politician, it is important to him to be a peacemaker, to please everyone around him. In this way, he feels that his primary objective is to bring everyone together in a positive atmosphere, then they will be willing to work together constructively. He will not acknowledge that the GOP is wholly unwilling to cooperate.
4. By bringing on Rahm Emanuel, Hillary Clinton, Geithner, Summers, Bernanke, he has simply continued the status quo in Washington and continued many Bush era policies.
5. His decisions on handling the banks and TARP as well as pharma and health insurance companies are a continuation of the policies of accommodating corporations first, instead of the people. He has not come out strong and hard against the corporatism that is dominating our nation.
I think many of us can agree with at least one or more of these arguments.
As for me, I am a huge opponent of Rahm Emanuel. He is the one who conceived and implementing the wrongheaded policy of working with lobbyists and their corporate clients in the Insurance industry, to have understandings with them on limitations of the scope of HCR in order to get their agreement not to oppose what they would try to pass.
As is quite apparent, the give aways to HC Corps that Rahm championed,  such as greatly increasing the time it will take for a drug to be sold as a cheaper generic, the continued ban against importing cheaper-priced drugs from Canada and other nations, the continued ban against the government being able to negotiate bulk rates for drugs and the lack of commitment to the Public Option and other items that would benefit the public at the expense of corporations…did not result in these slimeball corporations keeping their promises.
They took all that Rahm wanted to offer them then like the weasels they are, went behind everyone's back to finance the CoC's attack on HCR and many other entities propagandizing against  HCR so they could have their cake, eat it then grab away everyone else's cake too.
Rahm was also behind letting the Congress work everything out without  direction from Pres. Obama which continues to this day, an AP article yesterday stating that Dems are urgently looking to Obama to give them some direction on how to accomplish what he asked for in his SOTU address.
Rahm had one raison d'etre, to get bills through Congress. He was the guru, he was the genius, this was what he knew better than anyone.
And he destroyed this current opportunity with his DLC coziness with corporations and his incompetence at not recognizing that unethical HC corporations…are unethical. Unethical people don't keep promises and Rahm, who believes he is the smartest on the hill, wasn't smart enough to  figure that simple one out. Nor did he add 1 + 1 to figure out that the Senators the Insurance Companies owned, such as Lieberman, Nelson, Baucus, etc. would have their strings pulled too.
Where is the accountability for this debacle? Rahm should be fired for his utter failure. Now some may say, "How is it a failure, we got farther than ever and bills passed in both houses of Congress?" My POV is that we had the strongest fastest horse in the race, being cheered on by most of the crowd and yet, with Rahm at the reins we ended up out of the money.
Had the realities of passing HCR been accepted at the outset, that there weren't 60 votes in the Senate and that no matter what one was promised by the lying weasels at HC Corps, they are lying weasels who would never act ethically if it was against their own interests, HCR could have been strategized to have been passed a long time ago.
The difference in this attempt at HCR is that the nation was powerfully behind it like never before, it was a mandate in the election. So comparing it to other times in the past is apples and oranges. It took massive incompetence to undercut this attempt which was already so close to the finish line before it began.
All of that said, I am anxious to hear the new strategy from the WH and Congress on getting HCR passed and am hoping that lessons learned will help make it happen.
On another of the propositions, I too was disappointed when Pres. Obama surrounded himself with DLCers, Clinton-related folks and corporate people as decision makers. I am not a fan of HuffPo's obsession with attacking Geithner but one can fairly say that Geithner's track record is not a distinguished one in terms of doing what's best for all, not what's best for banks. Neither is Summers for that matter.
There was a huge window when Obama was elected, to make sweeping changes to the financial structure in this nation, the majority of Americans were behind him on doing so. Instead he supported the more conservative approach of rebuilding and strengthening of the existing, unjust system. That window has closed now and it's a terribly disappointing missed opportunity.
And as for this continued bipartisan approach, I am very frustrated. It almost seems like there is a bubble of denial in the WH, they just refuse to accept the actual dynamics of reality. The GOP has one strategy to winning back the Congress and the WH, stop anything good from happening while Obama is president.
Here too, I can only hope that this renewed push for bipartisanship is cover for soon ignoring them but I thought that before, after the Stimulus bill and was disappointed to see it continue through the HCR push.
Now, as to the issue of how Dem party members respond to their disagreements and disappointments with what has transpired under Obama, I agree that we should always be vocal at protesting actions that run counter to our principles however the degree and approach of that protest does make a big difference.
When Bush was president, there was no other choice for dealing with a president who didn't give a shit what the people had to say, we needed to be loud, aggressive, attacking and unyielding.
I don't agree with that approach to Pres. Obama because I think it does not take into account the blowback.
The blowback is what happened in MA. Being pounded by attacks on Obama from the Right and a segment of Dems too, Dem voters were discouraged and de-energized and didn't turn out to vote. And a Teabagger was elected that destroyed passing HCR. How short sighted was that?!
So the net result of aggressively attacking Obama is to give aid, comfort and support to the GOP and Teabaggers.
Those fervent about aggressively attacking Obama and his Admin for issues I see as totally valid, seem not to have learned from the MA election where this path leads.
Yes, those protesting often have valid points but as the saying goes, the operation was a success but the patient died. What's more important, aggressively expressing oneself on what one sees as wrong or avoiding a worse situation where far more wrongs will occur?
Will having a GOP controlled Congress and a President Palin or President Romney give those aggressively protesting now more of the America they want or less?
Short term vs. long term perspectives.  By not making their criticisms constructively, are such Dems not serving the same end result as the GOP attacks? Damaging Obama and feeding the anti-government/incumbent fervor?
For me, this is the huge difference, this is why I see virulent attacks by Dems on the Dem Party and Obama ultimately self-destructive.
Even if one agrees with every proposition above, even if Obama truly believes in only making incremental change in this nation, in such a scenario the only choices we have are incremental change or a return to Bush era corporatism with no positive change for Americans.
Again, at worst the choices are:
a. Incremental change that helps Americans.
b. Escalation of corporate control and domination over Americans.
What none of the Dems who attack Obama so fiercely have been able to express is that there is any other possible choice than the two above and that their lack of support for a. is in fact a boon for b..