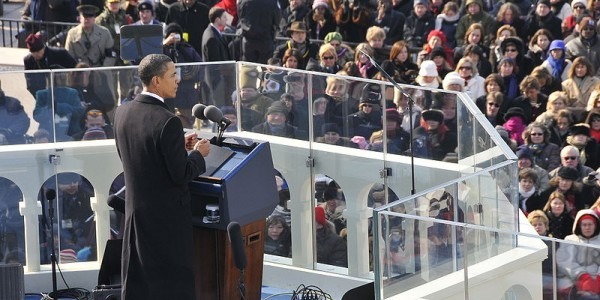 It was one year ago Barack Obama was inaugurated as President of the United States…or wasn't according to teabaggers who protested the mucking up of the oath by Roberts. Remember? The de-legitimizing of Obama's presidency literally began on the day he became president.
What also ended that day was the era of bipartisanship, which  is clearly over for at least a generation, possibly forever.
The end of bipartisanship was observed by the GOP at the beginning of the year during the Stimulus conferences, discussions and votes.
Unfortunately, President Obama, with the best of intentions, mistook the end of bipartisanship for an initial setback. He deserves to take the heat for this mistake in perception, this misplaced optimistic altruism.
But forgiveness should not come with much resistance, Presidents have been guilty of far worse deeds far more frequently in recent history.
Wrapping up the finger pointing, Rahm Emmanuel's political malpractice, his total failure to guide Obama and his agenda successfully and intact through Congress should not be permitted to be swept under the rug. He should resign or be fired, he and his pro-corporate DLC ways have undermined and sabotaged this president.
One more note about this bipartisanship thing. As brilliant as Pres. Obama unquestionably is, the dynamics of productive bipartisanship is far different than de facto bipartisanship and it is the latter which he pursued.
Negotiating away things that would greatly benefit Americans just to coax one or more Republicans to sign on may technically be bipartisanship but goes against serving the American people. It is not what the American people meant by bipartisanship, what they wanted was for both parties to come together and work together to do what's best for them.
Once the GOP made clear that they did not want what's best for The People but for Obama (and the country) to fail, Obama's continuing a pursuit of a technical bipartisanship was neither supported by the American people nor to their benefit to support. And that has been a huge factor for the political blowback from HCR, the economy (because of the compromises on the Stimulus), the MA election and Obama's approval ratings at record lows.
We can't and shouldn't dwell on what can't be changed. We have 3 more years in this term to change this nation for the better and regain positive momentum for Progressive issues. And those so-called Progressives who want only to condemn Obama can kiss Rush Limbaugh's ass.
I think Pres. Obama has to turn his back on the 2009 Obama and truly "start" his presidency in 2010 as he should have in 2009. Fighting for the people, not accepting the concessions to corporate interests, not readily negotiating away valuable benefits for Americans to pursue  some disconnected concept of technical "bipartisanship".
It is this kind of bold leadership that he represented he would bring to the country and which was expected. It is this kind of bold leadership he must embark on now as he begins again.
I suggest that Pres. Obama meet with Harry Reid and splash a bucket of reality in his face (though a real bucket of water would please me too). "Face facts, you're going to lose your seat in the Senate, the Dems look incapable of leading and accomplishing things in Congress and will lose control. The only hope any of us have to turn this around is to get rid of that damn filibuster. If what gets accomplished after that doesn't get you reelected, you can at least leave the Senate proudly as  having helped make the most fundamental and meaningful changes to this nation since FDR instead of as the ineffective leader that doomed Democratic control of Congress and the Obama Presidency."
Short of nuking the filibuster, the Dems in the Senate need to use all the levers that Repubs used when they had 51 votes under Bush to get huge changes through. And yes, despite all the whining, that means using Reconciliation.
In either one of these scenarios, only 50 senators plus the VP are needed to pass legislation and no compromises with Blue Dogs or Repubs need to be made.
This is it for the Dems and the Progressive agenda. With the huge majorities they still have and a brilliant, fair minded president, if there is a possibility of the Democratic Party delivering for the American People in a big and sustained way, it will begin now. If not, the Dems will lose the enthusiasm and faith of their members for a long time to come. It will be hard to believe again in change being possible with the Dems if they can't manage it now.
Word is that Obama's SOTU Address will reflect more of a pivot towards being a bold leader. I'm pleased to hear that.
Hope and Change 2010. Be it and be it strongly, Mr. President and hold The Senate's feet to the fire, I think the tables will quickly turn if you do.