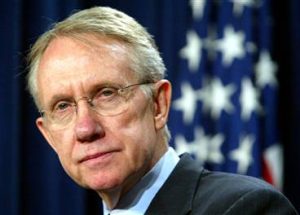 "Doesn't speak with a negro dialect."
I have to be honest. I KNOW what my reaction would have been if some right-wing Republican congressman or senator had said such a thing. It would have been outrage.
Harry Reid? Honestly? Disappointment. I'm being honest with myself about my own biases, but I think my biases are fair and based to a large degree on reality.
I cringed. Absolutely cringed when I read those words. Does it mean that Reid is a racist? I don't know. Does it show that he's from an era in which there was a different attitude about racial sensitivity? Definitely. To not know in this day and age that the term "negro" makes blacks cringe shows a lot of insensitivity; a certain amount of cluelessness. Does that make Reid a racist? I don't know. I don't know if that's the definition of racism. It's a kind a racism, I suppose. Sometimes racism is blatant, sometimes it's covert. Reid has apologized, and I for one, not being black, take his apology at face value. I think he is genuinely sorry and am sure he wishes he had never said it.
Progressives need to be honest, that there is racism everywhere, sometimes where you least expect it, sometimes in people on our side of the political spectrum, sometimes even within yourself. Of course it's rampant within the Republican party, but it exists within the Democratic party, too. I don't necessarily see Reid as a progressive. I see him as an old-school run-of-the-mill Democrat.
I remember about 15 years ago when I lived in the Puget Sound region there was a lot of controversy over the Makah tribe wanting to harvest a gray whale. They had legal treaty rights to harvest whales and they decided they were going to exercise their rights. The reaction was huge from environmentalists, and it grew very, very racial. People carried protest signs saying, "save a whale, harpoon an Indian." It was scary how quickly so-called "liberals" deteriorated into some fairly blatant racism when confronted with an emotional issue. It was embarrassing. It turns out the Makah only wanted to harvest a whale … simply because the had a right to. People didn't understand it. The environmentalist "liberals" didn't see it from the Indians' point of view, nor did they even try. The Makah killed one whale and have never hunted whales again. They had made their point.
What prompted me to write a post is that I'm furious over the faux outrage from Michael Steele, Liz Cheney and other right-wingers over Reid.  These are the same people who remained silent as the Teabaggers carried signs with Obama dressed as a witch doctor, who have remained silent over the Teabagger idiot in Houston with the sign calling Obama a "niggar," who remain silent over Beck calling Obama a racist and Limbaugh playing "Barack the Magic Negro" on his radio show. They're opportunists, nothing more. There's nothing more disgusting to me than right-wing fake outrage. The right-wing is absolutely infested with racism and they know it. They refuse to address it, much less even acknowledge that it exists, but someone on the left makes an unfortunate and uncomfortable slip of the tongue, they pounce! I find the hypocrisy sickening. (Remember Steele's recent "honest injun'" crack? He's one to talk!)
Here's how I see it. Are all racists Republican? Are all Republicans racist? No. but most racists, if they vote, probably do vote Republican. I believe that, based on personal experience. Republicans need to acknowledge that before I take their faux outrage seriously.
But, then again, Reid's comments make me realize there is still much, much work to do.