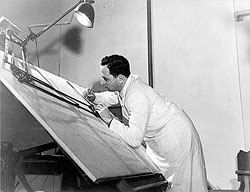 The Conference Board Research Group has released the results of their survey regarding job satisfaction and the results show that 45% of Americans are content with their jobs. The lowest rate of job satisfaction since the study began over twenty-two years ago.
The study concludes that workers dissatisfaction with their jobs are for several reasons, and three of them are:
1.) fewer workers consider their jobs interesting
2.) incomes have not kept up with inflation
3.) The soaring cost of health insurance has eaten into workers' take-home pay.
Americans' job satisfaction falls to record low
This article provoked thoughts about the corporation that I worked for and retired from 14 years ago.
I've calculated the average salary from figures recorded from 2000 – 2009.
Salary Survey for Job: Mechanical Engineer
An engineer that obtained a Bachelor of Science Degree in Mechanical Engineering has an average salary of $50,740.00 within the first four years of employment.
Last year, the corporation asked employees to take a 10% cut in wages –
$50,740.00 – $5,074.00 = $45,666.00 annual salary
The corporation also demanded employees take 2 days off per month without pay, two weeks off during the summer without pay and starting January 1st, 2010 – the first week of January off without pay.
That works out to 39 days annually without pay.
Engineering is rarely a 40-hour per week job.
Overtime is common and 55-hour weeks are the norm.
For this discussion, we'll ignore the fact that due to drastic cutbacks in employees, the remaining engineers are putting in 60+ hour weeks.
To keep it simple, we'll stick with the 55-hour week.
39 days x 8 hours = 312 hours off without pay annually
Normally, employers calculate the hour paid per year, including paid vacation and holidays at 2,080 hours for a 40-hour week.
Since engineers' average 55-hour weeks without overtime pay, the annual hours increase to 2,640 hours.
$45,666 /2640 = $17.30 per hour
According to the PayScale site above, the median salary for a Home Depot Retail Assistant Manager is $51,000 annually, and a college degree is not a requirement.
Four years at a university studying calculus, logarithms, science, physics, statistical analysis, and Strength of Materials for a job that pays less and is more stressful than an assistant manager at a hardware store.
Is it any wonder employees are not satisfied?