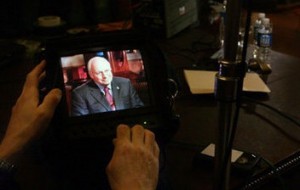 In perusing the headlines at HP, I stumbled upon a very interesting article by Congressman Eric Massa of New York. Apparently, the most recent personal attack on President Obama by a certain former vice-president has finally provoked a strong response from a Democrat. In the article, he also cites Senator Jim DeMint for his obstruction in the confirmation process for the head of the TSA.
"Bring It On" Dick Cheney and Jim DeMint
It is time, as Rep. Massa states, for Dick Cheney to "put up or shut up". His critique is no longer valid, nor is it sought by anyone who recognizes the horrible mess left to our new president by Cheney and his cronies. Mr. Cheney no longer has any credibility on national security or any other subject for that matter.
Rep. Massa writes:
Vice President Cheney, Senator DeMint, it's time for both of you to be held accountable for your failures and your poor decisions.

I challenge both of you to stand in the light of day and debate your record with me. Your partisan attacks are nothing but empty rhetoric and it's time to declare that we can no longer stand by while you attack our President for working to protect our Nation and for having an honest dialog about what went wrong.

Let's make a New Year's Resolution to call out hypocrisy in 2010. Stand against it and any time that former Vice President Dick Cheney opens his hypocritical mouth to continue uttering blather, he needs to be challenged in a straight forward factual manner that will demonstrate the emptiness of his rhetoric.
Let us hope that the good Congressman has stoked the fire, that he has inspired others to speak out loudly. It is time for some good old-fashioned pushback! It is time to control the message! It is time to call out the hypocrisy!