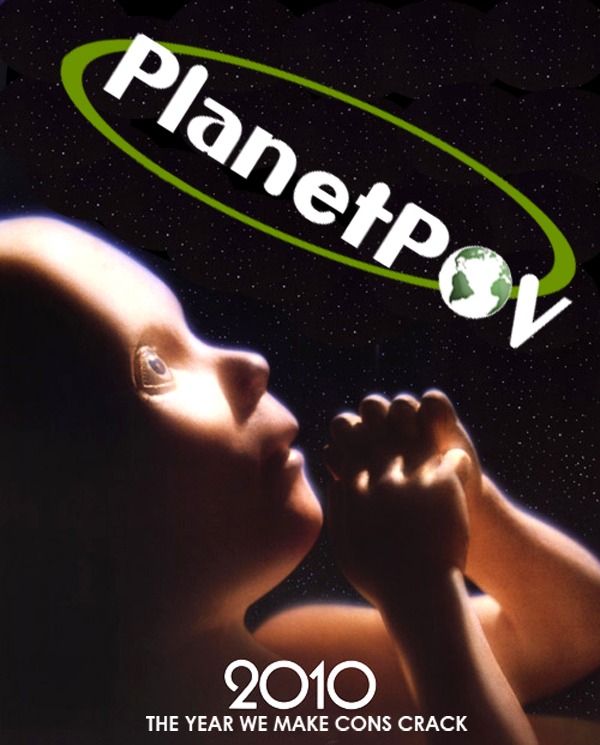 Happy New Year to the wonderful members and readers that have made 2009 an incredible year for PlanetPOV!
The Planet officially opened in August 2009 with the 4 founding members, myself, KQuark, Kalima and KevenSeven.
As of today, we have 199 members (anyone know of someone who could make it an even 200 by tomorrow?),  448 Articles published and 22,330 Comments posted.
I wanted to take this opportunity to share some impressive stats about our site with all of you since you have made this all happen. According to Awstats on our server:
Total Number of Visits This Month (Dec 2009):
11,416
Total Number of Pages Viewed This Month (Dec 2009):
636,042
Total Number of Hits This Month (Dec 2009):
2,011,382
We also have some remarkable results from Google Analytics. They provide baseline numbers for sites of similar sizes and we are far and away exceeding the norms. Before getting to the nerdy numbers, here is some fun info on who's visiting The Planet:
Number of Countries with Visitors to The Planet This Month:
61
Countries with Visitors to The Planet This Month (in order):
1. United States
2. Japan
3. United Kingdom
4. Canada
5. New Zealand
6. Germany
7. Slovenia
8. Nicaragua
9. Philippines
10. India
11. Barbados
12. Hong Kong
13. Australia
14. (not set)
15. Singapore
16. France
17. Turkey
18. Malaysia
19. China
20. Ireland
21. Russia
22. Pakistan
23. Senegal
24. Spain
25. Denmark
26. United Arab Emirates
27. Iran
28. Nigeria
29. Taiwan
30. South Africa
31. Switzerland
32. Hungary
33. Sweden
34. Israel
35. Argentina
36. Ghana
37. Luxembourg
38. Kuwait
39. Slovakia
40. Kyrgyzstan
41. Italy
42. Poland
43. Latvia
44. Lesotho
45. Sri Lanka
46. Thailand
47. Norway
48. Serbia
49. Guam
50. Indonesia
51. Côte d'Ivoire
52. Iraq
53. Dominican Republic
54. Netherlands
55. Austria
56. Czech Republic
57. Puerto Rico
58. Egypt
59. Papua New Guinea
60. Vietnam
61. Jamaica
62. Mauritius
Er…anyone know where Mauritius is? Actually, if you're curious:
Mauritius, officially the Republic of Mauritius, is an island nation off the coast of the African continent in the southwest Indian Ocean, about 900 kilometres (560 mi) east of Madagascar. And someone there reads PlanetPOV too!
Now for some nerdy stuff, according to Google Analytics, here are yesterday's numbers for The Planet and the average for sites of similar size:
Page Views in a Single Day (Dec 30):
PlanetPOV: 4,572
Similar Sites:  395
Average Visitor's Time on Site on Dec 30:
PlanetPOV: 21:32
Similar Sites: 2:23
Pages Viewed Per Visit on Dec 30th
PlanetPOV: 15.55
Similar Sites: 3.35
Bounce Rate on Dec 30th (Percent of Visitors who view one page then leave)
PlanetPOV:  00.37%
Similar Sites:47.77%
All of our numbers and viewership are phenomenal! People all around the world are interested in and reading what you write. Keeping in mind that 2010 is an election year, I'm anticipating even greater interest and growth in The Planet this year.
So we're off to a roaring start in 2010, we have a lot of momentum and everyone reading this deserves to take some credit for that.
I wish each of you a very happy, healthy and productive New Year and sincere gratitude from all the founders for everything you've contributed to this remarkable community of remarkable people we call PlanetPOV.
HAPPY NEW YEAR!!!