Media Matters for America has named Glenn Beck the 2009 misinformer of the year. It couldn't have happened to a more deserving fear monger. This charlatan is a danger in ways that we don't even seem to realize. Beck has been whipping people into a frenzy based upon nothing but sheer speculation, deliberate distortions, and childish association games. He has proven what a conman with a flare for showmanship can truly do. He is the right wing's own Professor Harold Hill.
My favorite musical of all time is The Music Man. If you've not seen this most charming gem then I would encourage you to go rent it the next time you're making it a "Blockbuster night." It's about a con man who makes his living stirring up people's emotions by painting a picture of disaster and horror that will be the result of some new thing in their small town, and the solution to this new danger is always the item he is selling. The musical ends with him having a change of heart about swindling people after he finds that he's fallen for a local librarian who's sharp observations have figured out exactly what his game is.
The character in the film, as potrayed by Robert Preston, is a delighfully entertaining and sympathetic figure. This is in stark contrast to Glenn Beck who is neither delightful nor sympathetic, but the reality is that Beck has been playing the same game as the main character in The Music Man. Nevertheless, the reality of the two figures is the same. As Media Matters puts it:
Glenn Beck's well of ridiculous was deep and poisonous before he launched his Fox News show, but the inauguration of the 44th president of the United States — and the permissive cheerleading of his Fox News honchos — uncorked the former Morning Zoo shock jock's unique brand of vitriol, stage theatrics, and hyperbolic fright, making him an easy choice for Media Matters' 2009 Misinformer of the Year.

When he wasn't calling the president a racist, portraying progressive leaders as vampires who can only be stopped by "driv[ing] a stake through the heart of the bloodsuckers," or pushing the legitimacy of seceding from the country, Beck obsessively compared Democrats in Washington to Nazis and fascists and "the early days of Adolf Hitler." He wondered, "Is this where we're headed," while showing images of Hitler, Stalin, and Lenin; decoded the secret language of Marxists; and compared the government to "heroin pushers" who were "using smiley-faced fascism to grow the nanny state."
The reality is that Beck has been looked upon by the left as ridiculously eccentric, but the reality is by far more serious. Many of us watch this con artist with bemused smirks and roll our eyes. The average viewer of Beck's program often buys into his routine hook, line, and sinker. In fact the right wing views any of us who look upon Beck as a joke look upon us with the same attitude for exactly the same reasons. Jonah Goldberg's cheer leading is a prime example:
[M]uch of the anti-Beck backlash (He's an extremist! He's paranoid! He's hate-filled!) from the left is hard to take seriously. First, this is a crowd that lets Michael Moore and Janeane Garofalo speak for them, and that celebrated the election of unfunny man Al Franken to the Senate. If you think it's racist to oppose Obama's health care reform efforts, it goes without saying that you'll think Beck is an extremist. This is what liberals always say about popular right-wingers, including Barry Goldwater, Ronald Reagan and William F. Buckley. For over 20 years liberals, including Presidents Clinton and Obama, have insisted that Rush Limbaugh is everything from an unpatriotic hatemonger to an enabler of domestic terrorism. It makes sense that they'd give Beck the same business.
You may be wondering if Beck is the "Music Man" then what is this Pied Piper of Hamelin selling? It seems the money is in using his influence to start a gold rush. Ironically, FOX News doesn't seem to approve of this. As DailyFinance puts it: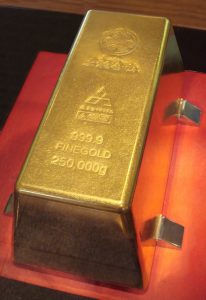 Like other news organizations, Fox News prohibits its on-air personalities from making paid product endorsements. But it makes an exception for its commentators who are also radio hosts, who are allowed to perform live reads, says Joel Cheatwood, senior vice president for development.

"When we hired Glenn at Fox News, we hired him with the understanding that he had a well-established, burgeoning radio business, and we had to be accepting of certain elements of that," Cheatwood tells DailyFinance, noting that Beck's relationship with Goldline dates back to his time at HLN, CNN's sister network.

The same understanding applies to Don Imus, who recently started simulcasting his radio show on Fox Business Network. (An MSNBC spokesman says his network has a similar policy in place, while a spokeswoman for CNN said only, "CNN/US anchors and correspondents are prohibited from participating in any paid endorsements of products and services.")

But the exemption is meant only to apply to live reads, not to the kind of broader spokesmanship Beck, to all appearances, provides Goldline. In particular, Beck's ubiquity on the Goldline website is not in keeping with Fox's rules. A Fox spokeswoman said the network's legal department is taking up the matter with Beck's agent, George Hiltzik.
So what, if anything, has FOX News done to address this issue? Politico answers that question.
Beck endorses Goldline International, but last week, Fox requested that he clarify his relationship with the firm, prompting it to tweak its trumpeting of Beck's endorsement. Goldline removed an identification of Beck as a "paid spokesman" from its website, but left the rest of the site – which prominently features his endorsement, photo and a radio interview he did with the company's president Mark Albarian – intact.

Removal of the "paid spokesman" language from Goldline's site brought his arrangement with the company in line with a network policy prohibiting "on-air talent from endorsing products or serving as a product spokesperson," according to Joel Cheatwood, a Fox News executive.

"We asked for clarification. We got it. We're satisfied. It's a dead issue," he told POLITICO.

On Thursday, the network also indicated it would ask Rosland Capital, another gold retailer, to remove from its website the logo for Bill O'Reilly's Fox show, the O'Reilly Factor, which Rosland features along with an audio clip of O'Reilly urging listeners to buy gold because "The U.S. Dollar is under attack!"

Fox's concern was that O'Reilly's endorsement of Rosland was specific to the radio show he no longer does, and Rosland is not a sponsor of his television show.

Rosland spokesman Steve Getzug said the company had not heard from Fox but was already "in the process of pulling the reference down as part of an overall update of Rosland's website." He called the O'Reilly endorsement "dated" and said "it's been a while since the company has updated its website."

Beck's critics have not suggested that he was actually influencing the price of gold, which had been rising steadily until this month, by encouraging his fans to buy coins from Goldline.

But some financial analysts and precious metals experts did tell POLITICO that potential gold investors would be wise to look into bullion or exchange traded funds intended to track the price of gold, rather than the coins sold by Goldline and a handful of other firms that advertise on Beck's shows and those of other conservative talkers. That's because those firms focus on collectible or antique coins, which they sell for many times the value of the intrinsic gold and promote as being exempt from a potential government seizure of gold like that which occurred under Franklin Roosevelt in 1933. Beck has suggested that gold coins are a good buy now because President Barack Obama and Congressional Democrats are steering the economy towards disaster.

And that feedback loop – Beck stoking fear of economic collapse, hyping gold as a hedge against collapse, and endorsing a company selling gold – prompted liberals from the watchdog group Media Matters to MSNBC host Keith Olbermann to Comedy Central's faux-news hosts Stephen Colbert and Jon Stewart to allege a glaring conflict of interest.
It's also intersting to note how many other right wing radio show hosts endorse gold too. Consider this other article from Politico:
For years a certain strain of conservative thought has held that there was one sure hedge against economic depression, civil disorder and liberal rule – gold. Now that belief has led to a kind of harmonic convergence between ideology and commerce.

Anyone tuning in to conservative talk radio or Fox News's Bill O'Reilly and Glenn Beck shows is bombarded by commercials for gold, mainly in the form of collectible coins, with announcers intoning that inflation and deficits caused by big government spending are devaluing the dollar and making gold the best investment money can buy.

The dire tone sounded in the ads often echo the occasionally apocalyptic economic forecasts of the shows' hosts, many of whom have endorsement contracts with the gold retailers, appear in their ads, or have had their executives as guests to trash the economic course set by President Barack Obama and congressional Democrats, and to preach the attractions of gold.

"There's a natural synergy between conservative talk radio listeners and gold," said Michael Smerconish, a Philadelphia-based conservative-leaning talk show host who signed a deal to endorse Goldline International, a Santa Monica, Calif.-based retailer when his show entered syndication in January.

And it's become an increasingly profitable synergy for everyone involved – the retailers, the networks and an array of hosts including O'Reilly and Beck, as well as radio talkers Mark Levin, Michael Savage, Laura Ingraham, Dennis Miller, Fred Thompson and G. Gordon Liddy.

This year, Goldline boasted it had become "the exclusive gold and precious metals company" of both Levin's show and the one hosted by Thompson. Other Goldline endorsers include Beck, Ingraham, Miller and Lars Larson.
It would seem that Glenn Beck has indeed followed the path of Professor Harold Hill. However, instead of playing the nickel-and-dime games of selling instruments for boy's band, Glenn Beck has struck gold! It makes me wonder what other advertisers are benefiting from the fear mongering we see on the right wing. How many other cons are the being sold to viewers of FOX News and listeners of right wing radio? Are they really crazy? Like a FOX!