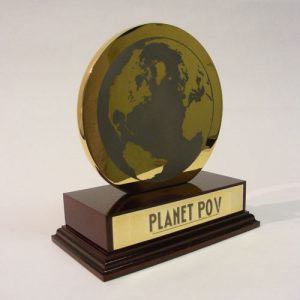 We're reaching the end of our first calendar year in existence (we officially opened in August) and speaking for my fellow founders, what's transpired here has exceeded our grandest expectations.
It's been remarkable, the growth of our membership and visits to the site, the humanity and insight of our membership and the consistent quality of articles and comments this community has created and continues to create.
So, to honor the wonderful work that has been contributed here by everyone, we are presenting, "The Planet's Top Posts of 2009".
Coming up with the best and fairest way to select nominees for the 5 categories was a challenge. So, here's the approach for this year. Each member is invited to propose up to four of their own posts, one for each specific category. From these, the Admin will select up to five nominees in each category which the membership will then vote on to select the Top Post in each category and the Overall Top Post.
The Categories for nominations are:
a. Political Commentary
b. Social Observation
c. Lifestyle
d. Humor
When you propose your articles, you must include which category you are nominating it for and again, only one per category please.
The article that gets the most votes from the membership will become The Planet's Top Overall Post of 2009 and the article with the next highest amount of votes in that category will become the Top Post in that category.
Please don't be shy or modest about nominating your posts, it will support our populist approach to nominations.
To propose your post(s), write a comment below which includes the title and category of each post of yours you're nominating. For example:
"For the category of Political Commentary, I'm submitting my post titled, Palin Comparison."
For quick access to a list of all of your posts, you can use the Authors pulldown in the right  column and click on your user name.
Again, you're helping to make this process work by nominating your posts so please don't be shy about it.
We're hoping this is fun and a great way to promote the site and everyone's work here. We don't see this and don't want this viewed as a competition between members but as an overall celebration of all of the thoughtful works contributed here by our members.
This process for proposing articles for nomination will close on Monday, Jan. 4th 2010, so please submit your choices here as soon as possible.
Thanks for your participation, looking forward to seeing your nominations below!
UPDATE:
To answer some of the questions in the comments below:
Q: Can I nominate Articles and Comments?
A: No, only Articles can be nominated.
Q: Can I nominate someone else's Article?
A: Yes, you may.
Q:What's the difference between the categories "Social Observation" and "Lifestyle"?
A:"Social Observation" would be any article about meaningful social issue such as gay rights, racism, capitalism, religion, etc. "Lifestyle" would be lighter articles about movies, music (not including Friday Music Thread because it's an official feature), art, cooking, relationships, parenting, etc.
Q: I feel a bit self-conscious about nominating my Articles when so many other great articles have been written here, should I really do so?
A:  Yes, you should. Just as many don't like hearing their own voice when recorded or how they look in photos or video, the admiration you have for others' posts might be held by others towards yours.
So, please do participate to give other members the opportunity to vote on your posts, trust me, they want to!