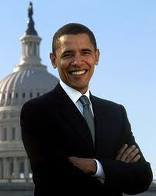 President Barack Obama accepted the 2009 Nobel Prize for Peace today.
Amazing, absolutely amazing!
There are not enough words to describe how proud I am of this man.  First impressions are just that…first impressions, and he has proven (at least in my mind) he is the real deal.  Mr. Obama is now the face of our nation and all of us must support him through his journey — our journey.  I believe he welcomes differing ideas, opinions, and rational discourse.
Not only did the former administration leave a huge pile of  Texas horse manure on the front steps of the White House,  it also wiped its cowboy boots all over our Constitution.  And upon exiting, had the audacity to say, "it's his problem now."
Change can be scary – very scary. On the other hand, change is good and can offer so many opportunities for growth.  Change builds character.
Those who fight change will never change.  Regardless of their motivation, the doubters will always be doubters and the saboteurs will always be saboteurs.