The other day we had a Huff troll here demanding that we stop insulting conservatives and working to get himself banned in order to make a case that the planet is some sort of Stalinist no-speech zone.
We did not accommodate him.    I told him his arguments were weak and he accused me of insulting him.   I corrected him and advised him that criticism of the quality of his arguments did not rise to the level of personal insult, not here.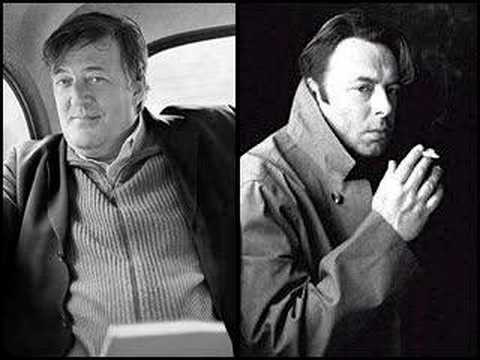 I mentioned later in the thread a bit of conversation that I had heard between Christoper Hitchens and Stephen Fry (but I had forgotten it was Fry) in which Fry (gay as a three-dollar bill) asks "from where do these people (religious extremeists) get off saying that they are offended?   He wants to ask "so fucking what?"
And I agree.   So fucking what if you don't like me challenging your (not us planetoids) opinion?   Who fucking said that you have a right to an opinion that nobody could challenge?   Man up or shut up.
Anyway.   I enjoy it when Hitchens and Fry take the stage and make a good liberal arguement.   Odd that Hitchens is also a NeoCon, and I am working up a column listing those of his lies that I am familiar.  But I am with him on so many other things, and I am so weak for Brit accents (lived there as a kid) that I need to cut him a bit of slack.
This is Fry asking his question:
I just love the tone of his voice.