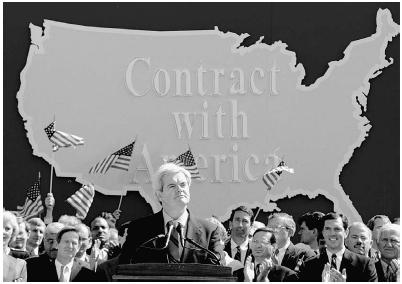 Again we have another faux member of the Democratic coalition (Senator Joseph Lieberman, (I-Conn.)), today claiming Congress should not use budget reconciliation for universal healthcare reform. Well that is flat out BS perpetrated by Republicans and conservative Democrats who do not want to pass real universal healthcare reform.  The truth is Republicans used budget reconciliation to pass their infamous "Contract with America" before President Clinton vetoed the bill.
Budget reconciliation is a limited process.  However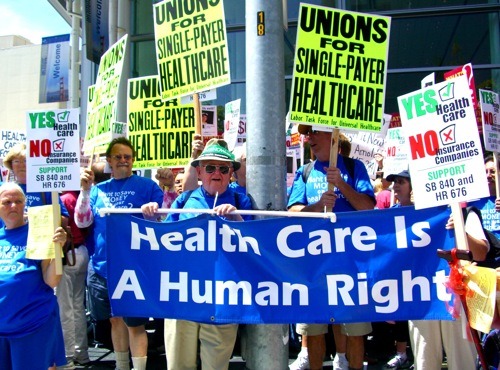 Democrats have every right to split the universal healthcare bills in Congress into two separate bills.  One major piece of legislation which contains most of the regulatory language where 80% of the universal healthcare plan is agreed upon in the Senate by the Democratic coalition and the other bill would contain the more contentious legislation like the public option and tax increases on the rich.  The first bill could probably pass filibuster and the second bill can be crammed through using budget reconciliation.
All we can do is fight the lies and distortions of the truth.  Following  are two good sources showing how mostly Republicans shoved legislation down our throats numerous times using the budget reconciliation process.
A list of instances where reconciliation was implemented:
"Omnibus Reconciliation Act of 1980
Omnibus Budget Reconciliation Act of 1981
Tax Equity and Fiscal Responsibility Act of 1982
Omnibus Budget Reconciliation Act of 1982
Omnibus Budget Reconciliation Act of 1983
Consolidated Omnibus Budget Reconciliation Act of 1985
Omnibus Budget Reconciliation Act of 1986
Omnibus Budget Reconciliation Act of 1987
Omnibus Budget Reconciliation Act of 1989
Omnibus Budget Reconciliation Act of 1990
Omnibus Budget Reconciliation Act of 1993
Balanced Budget Act of 1995 (vetoed)
Personal Responsibility and Budget Reconciliation Act of 1996
Balanced Budget Act of 1997
Taxpayer Relief Act of 1997
Taxpayer Refund and Relief Act of 1999 (vetoed)
Marriage Tax Relief Act of 2000 (vetoed)
Economic Growth and Tax Relief Reconciliation Act of 2001
Jobs and Growth Tax Relief Reconciliation Act of 2003
The Deficit Reduction Act of 2005
Tax Increase Prevention and Reconciliation Act of 2005"
Furthermore Republicans passed a great deal of policy through budget reconciliation.

"Whether reducing or increasing deficits, many of the reconciliation bills made major changes in policy. Health insurance portability (COBRA), nursing home standards, expanded Medicaid eligibility, increases in the earned income tax credit, welfare reform, the state Children's Health Insurance Program, major tax cuts and student aid reform were all enacted under reconciliation procedures. Health reform 2009 style would be the most ambitious use of reconciliation but it fits a pattern used over three decades by both parties to avoid the strictures of Senate filibusters."