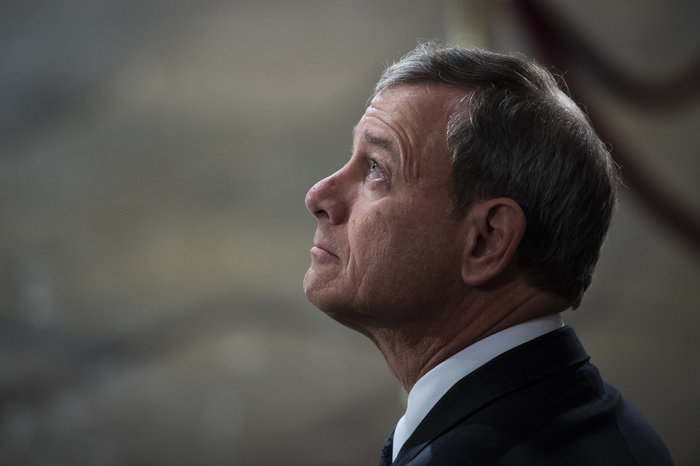 "Balls And Strikes"
The Chief Justice Says The Supreme Court Does Not Have Power Or Authority, But "Only Judges."
John Roberts' assertion that the Court: "only judges," is nonsense. And shocking. It's shocking that any student of the law could make such an irrational statement. It makes me question his fitness for duty.
The Court also sets standards and devises remedies: such as on the execution of minors a few years ago, and the legal rights of asylum seekers more recently. And nowadays, they blatantly advocate for corporate rights, and follow political "agendas." Everyone accepts that they employ remedies, set standards, and follow political agendas. We don't even question that they are mostly political hacks. Everyone knows it except them. One gets the impression that they are bound by oath to always adhere strictly to their party line, even when that seems irrational or bizarre. But, what everyone knows, John Roberts says is unreality.
Justice Roberts is "wiping the prints from the gun." The Supreme Court could have declared the War Powers Act unconstitutional a long time ago. They had the right. It is patently unconstitutional. The issue of presidential immunity to prosecution should have been settled by the Supreme Court, not a lower-level non-judge.
I honestly believe that our current Supreme Court lacks competence. They are too slow and too narrow-minded. We need guidelines on abortion, action on gerrymandering, and a definition of presidential power. We needed them years ago. By their own boast, they are teachers (look at their web site). Then they should teach us something of value: like what our model should look like for future presidents
These are exactly the kind of issues that cannot be solved by political dialectic. They can't be done in an evenly divided legislature. We need the Supreme Court to provide a framework of settled law. It's time that they did that job.
It's a separate discussion as to why they leave so many issues on the table, unanswered for so long. Abortion for instance: We need to have standards set. But, what we have is clearly a dereliction of duty. We drag on, waiting year after year for them to come down from the mountain. And year after year everyone on both sides feels cheated.
The United States Supreme Court doesn't just: "call balls and strikes." it defends the Constitution. And it is tasked to provide a framework of settled law. If they do not, then who else could? Everyone who joins a service or works for our government swears an oath to defend the Constitution of the United States.
I don't think John Roberts would have the nerve to stand in against a hundred-mile-an-hour fastball. We're about to find out.
https://www.npr.org/2019/07/08/738930098/fear-and-loathing-at-the-supreme-court-what-is-chief-justice-john-roberts-up-to