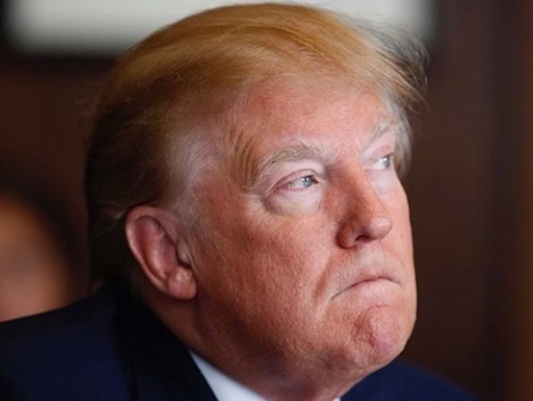 Since the Civil War, and actually long before, we have been a nation divided. Donald Trump has already caused great suffering, and he will obviously destroy everything that he touches unless he is stopped; but he could be the cause of a great re-unification in our United States.
If they, Trump's Base, was to unite with us to throw him out of our lives, this idiot tyrant, then we would owe them a tremendous debt of gratitude. We need them.
It could be a natural thing, like the body's healing processes. Think of the sense of shared beginning. The peace.
There are people in this world, call them: "hate mongers," or just simply, "crooked politicians," because it is what defines them, who used us all to profit from our misery. They have made fools of us all.
We could forgive them entirely for the horror they have made us suffer. (Ultimately, we will blame them, not an illiterate mafia goon. And, that would only lead to more division.) It's time to make a peace for the ages.
We only have one way to cut out the cancer that is "division." We have to throw the devils out and begin to determine what a government should be. That's called: "Government by the People." We have to require that they do their jobs, or be fined into bankruptcy. We have to expose and ruin every single one of Trump's minions who used public monies for private gain. (That's the gnat that broke the camel's back, isn't it? Trump cheats at every single thing he does, and always has; but now, we have to pay for it – as they rob the Treasury blind.)
Trump & Co. are the ultimate elitist kleptocrats: they really believe that they should have everything, and you have nothing. They don't share. They are without honor, and know no loyalty except to the Mafia. They honor no oath, and they will be remembered for all history as ingrates and treasonous dogs. But, we don't have to be.
To my family, my extended family, my world-wide circle of friends, and to every one of my fellow citizens who ever believed in anything, or anyone – take my hand. Together, we can make America great again! But, we have a stinking, nasty job first: to dispense with a traitor.
When my family is reunited, when we are all reunited; then we will be great. Not because a smart-mouthed Mafia punk said so. We will never be great, for that matter, as long as Donald Trump is dictator. We are the wealthiest country in the world, and we have every advantage – we have no excuse for Trump.
Our shaming is complete now. Who knows what our full punishment will be. The World will decide that.
https://www.salon.com/2019/12/01/impeachment-as-a-struggle-to-save-democracy-from-the-pathological-cult-of-donald-trump/