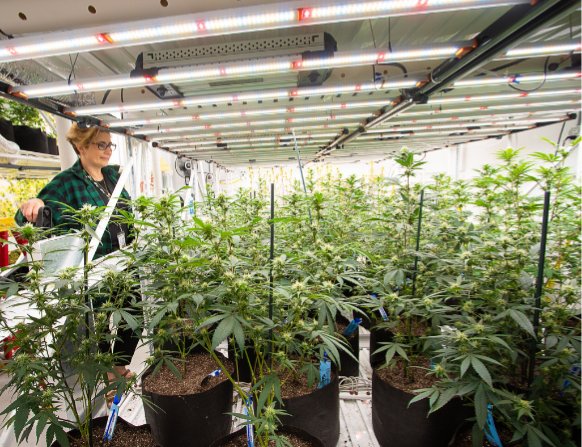 Nearly 200,000,000 Americans support marijuana legalization, and 33 states have some form of it; but two men, individually and collectively, have blocked the way forward for real legislative reform: Jeff Sessions and Mitch McConnell. (Read the attached article.) Congress clearly supports legalization, and the people too; but we don't really have a Democratic government: haters have the power, and they hate pot smokers. It seems like the bad guys always win. Just this year, substantive changes in marijuana laws would have been made, but for "memos" from Sessions' Injustice Department, and McConnell's moves blocking legislation that would clearly have passed.
I'm reminded of the situation in Turkey early in Erdogan's tyrannical regime, when a million people were persecuted and punished if they were accused of supporting a "peace party." Why do bigots hate people who try to be a little more peaceful – a little more civilized? We wanted to be better people, so they buried us alive in their prisons, and destroyed millions of lives – and separated millions of families. We, as a people, suffer under an epidemic of opiate addiction and suicidal alcohol abuse; but weed, which we all know can help the situation, is forbidden as a treatment.
Sessions, and his ilk, will parrot the knee-jerk line that we haven't had enough time to study the effects. But, think about it: we've all been around people smoking pot, and smoking pot and driving, for 50 years or more. Do you have a profoundly negative impression of people who drink and drive? I do. But, frankly, I don't have any impression at all of pot smokers driving. If anything, we are overcautious – and more responsible. And research into the health benefits, or detriments, is forbidden. How incredibly stupid!
In 2017, 670,000 Americans were persecuted and prosecuted for smoking pot. And, the states, counties, and the Federal Government collected billions of dollars in fees, fines, and penalties. Many of the persecuted lost their permission to drive, and as a consequence lost their jobs – to satisfy the hatred of bigots. Families were broken, and children sent into foster care. Billions more came out of taxpayers' pockets for the jails and prisons, hundreds of thousands of cops salaries, and courts and "rehab" services. And despotic courts and cops rake in billions. And the criminal element cleans up: 80% of marijuana sales, in legal states, is still "under the table or over the roof," because the so-called "criminal justice" system is a rotten mess, and dispensaries are only partially legal, and the actual law a mockery of the will of the people.
Surprisingly, incredibly harsh penalties still exist in the first states to legalize! Washington State and Colorado, and all the 11 "legal" states have a mish-mash of confusing and conflicting laws, federal and state, that cause tremendous suffering.
Colorado has a nearly endless list of mandatory prison sentences for nonsensical, idiotic "infractions." Can you imagine that a very industrious, hard working young man that I know had to take food from his children's mouths to pay thousands to a court, because someone in his car had possession of a new, unused pipe. "Second offenses" (it becomes illegal to possess if you have been busted before under the old, unjust law, regardless of whether or not you are on probation) require 2-5 year prison sentences. Mandatory! I know: that's insane. But, as the cops like to say: "It's the law."
The persecution of people who have done no harm is one thing; but this dismantling of the concept of justice is far worse. Colorado legalized with a constitutional amendment, but that mattered not at all. The entire concept of justice and the power of "legislation" are threatened; but that is old news. Sessions and McConnell have proved, and forcefully, that we have no voice; that only bigots have voice. If a Texan wants to walk through a shopping mall carrying an AK-47, that's his inalienable right that he would kill for. But, I have no inalienable right to be free from crooked cops and lying prosecutors, and despotic courts. Justice is a stranger in this land.
Did we ever really have a Democracy? I'll get back to you. But no; I don't think that we ever did.
Jeff Sessions, who was proven to have stolen hundreds of thousands of votes, says that we tokers aren't "good people." If he is an example of what a good person should be; I would rather die. I've been saying that for more than 50 years.