WITH LIES THAT MAKE HIM LOOK GOOD ABOUT HIS ACTIONS ON THAT DAY; AND USES THE DAY TO EXCUSE HIS FAILED ATTEMPT TO HOLD MEETINGS WITH TALIBAN LEADERS AT CAMP DAVID AND TO MAKE MORE THREATS HOLDING UP U.S. MILITARY POWER WHICH HE CLAIMS TO HAVE BOLSTERED MORE THAN ANY OTHER LEADER IN U.S. HISTORY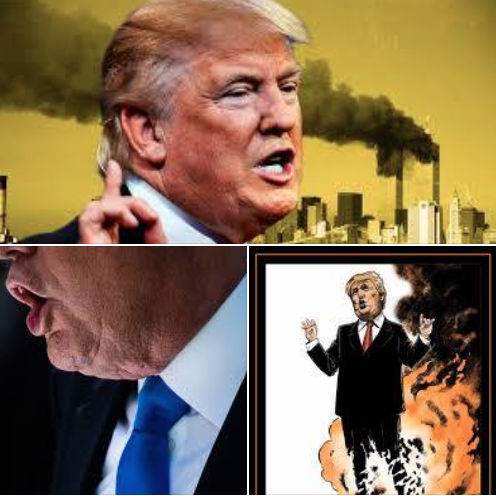 With transparently clear, robotically uttered, attempts at empathy and sympathy Donald Trump used the ceremony this morning to claim…..
that he saw the second airliner strike the Twin Towers,
that he led a force of workmen from his property to the 9/11 wreckage site to provide assistance and spent many days working there,
that having scheduled talks with the Taliban to take place immediately prior to 9/11 (an awful message if there ever was one) he hastily canceled them when he realized that they would not go as he wanted them to and having gotten blowback for even scheduling the meeting,
that he grew up with firefighters, and police officers who gave their lives in New York,
that the U.S. response to the attack in Afghanistan was both effective and long lasting
Trump, when challenged to support any of these claims, distracts and walks away. He's got nothing. TRUMP has claimed that "thousands of people were cheering" in areas with "large Arab populations" in New Jersey when the Twin Towers fell, though there is no record of such a response and PolitiFact has rated the claim "Pants on Fire."In a phone interview with a New York television station on the day of the attacks, Trump said that the collapse of the towers made a building he owned the tallest in lower Manhattan.Trump has claimed that he lost hundreds of friends and attended dozens of funerals. He has been unable to name one and no one can provide authenticating support for the claim.The Raging Narcissist and Pathological Liar In Chief doing what he does best.