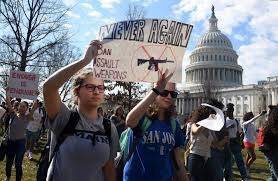 Coming on the heels of the #MeToo movement and right after experiencing a tragedy that should have left them coping with trauma for some time, the remarkable and driven students of Parkland, Florida started a movement that defies cynicism. In only a week, they have pressured politicians including Donald Trump to listen and meet with them. They have pressured NRA suorting companies to cut ties and even pressed Florida Governor Rick Scott, an NRA loyalist, to propose a series of gun control laws.
Many predicted last year, after the record setting Women's March following Trump's inauguration, that the era of activism would return. And it has with a vengeance since Trump's election. Parkland students describe their movement for gun control as their Vietnam protests.
All this successful activism is reminiscent on the 1960s and 70's so to celebrate this new activism and its continuing successes, the theme for this weekend's music thread is protest and issue songs, from the 1960s to the present.
Activate your activism or energize it by sharing songs about taking a stand.
Stand up and be counted on this music thread (and in the streets!).