Chat with others in The Resistance tonight right here on Vox Populi, our live weekly chat. Vox begins tonight at a special earlier time, 6:00pm PST/9:00 EST. Hope to see you then and…Vive La Resistance!
Hey, Ad! Didn't see the earlier time, so lemme grab a coffee and return in a few.
I think others may have missed it too!
Trump sure got a lot of bad reviews on his speech at his sparsely attended inauguration.
And I thought turnout to events was what we were supposed to judge Trump on?
Did anyone watch it all? I caught a bit before I went to bed, and it looked as if there was no one in the side stands as the cavalcade headed for the Capital.
I haven't watched much of it but read reports that there seemed to be more cops along the route than spectators.
Only 1/3 of Americans support him. Disaster is only a few decisions away.
oh, if there were ever a day to give cause for drunkeness, today is that day! Howdy folks!
I wonder if doctors can now prescribe hard alcohol for those suffering from Trumpitis.
a nice Scotch is prescribed for Fucktus Interruptus.
Well, there were free joints being handed out during the …ahem..inauguration!
I second that P! The Glennlivet it is!
hey Fuzzy! Needed for the relief of much pain, Fuzzy
I'll take a screwdriver to handle all the screwing that will be going on.
Not strong enough Ad! Maybe a Slow Screw Against the Wall! That's more Trumpian.
looks and sounds like it was anticlimatic.
FD – Yes, I saw that! Joints will be handed out for 4 years!
They'll be sorely needed!
i'm looking forward to the "Pussy hat Protests," starting tomorrow! Fun times!
Of course the Trump camp will claim it a record turnout, but the photos belie that.
havent heard of the Pussy Hat Protests, Fuzz.
it was pretty sad turnout for a presidential inauguration. It was supposed to be an IN-AWE-GURATION!
PPO – It actually was good for the anti-Trump folks. Trump is so deluded, he thinks he can continue down the same obvious con man path that a majority of Americans are disgusted with. The sparse turnout and big anti-Trump women's protest tomorrow will reflect the true dynamics of what lies ahead for the next 4 years. America vs. Trump and the GOP. I can tell you who will win that conflict.
oh yeah P. Thousands of women had hats made to look like pussies, and they're all going to wear them for tomorrow's protest marches. I think it's brilliant!
Trump can't grab them all!
PPO – I heard that Trump had Obama's turnout posted on the WH site as their turnout. Too bad for him we have free expression on social media and news outlets to show the truth.
Trump and his cohorts aren't the sharpest pencils in the box. That, is to our advantage.
FD – Or because it was so disappointing, the "In-Aww-Grr-ation"?
Hey glenn my friend! How are you whethering today?
Good evening, all. Well, we have just inaugurated the least qualified president in the history of the US. It's going to be interesting times.
Is there an echo in here? Ooops, shades of what's his face!
Well, these ARE high times for those who love protests! Not so much for the Trump Chumps!
Think I'm wethering, weathering, whethering, or whatever well, despite the fact that we have an idiot for a president.
Today is a good day to drink! If there were ever a good reason to black out!
As for the protesters, trump will be on vacation, so he won't pay any attention to them, right?
Man, I wish George Carlin were still with us!
glenn – We have inaugurated the least sane president in history and that's saying something!
Ad–I agree, not only is the man unqualified, he is also certifiably insane.
Yes…. the media. Now, how will they behave now?
FD – We're gooing to see 1960's level activism around the country. Don't forget Trump has attacked BLM and vows to investigate and persecute them while protecting coops from investigation.
FD–do you think the media will cover the protesters honestly? They covered the very small amount of those who couldn't control themselves today, but not the majority, according to the DC police chief, that protested without incident.
And he shuns LGBTQ, Latinos, women's rights…it will be the 1960's again. Power to the People!
I suppose it will become mandatory for everyone to have a Twitter account to get the latest Dictates of Der Drumpfster
oh man, that weasel Chris Matthews said Trump's address was "Hitlerian." No shit Chris! Where you asleep for the last year? Matthews practically creamed himself over Trump, during the presidential debates. Now he get's it? A little late you corporate lackey!
At least I have my music thread theme for tomorrow!
PPO–the media will roll over and normalize trump's behavior, because that's what they have done all along. It will be interesting to see how they frame the "both sides do it" now.
Ad–is your music thread going to be "music to soothe the savage soul"?
They can't ignore the massive protests that will be happening glenn. Tomorrow is only the beginning.
glenn – The MSM is not to be trusted but the revolution will not be televised…it will be on social media. I think most people are tuning out tv news now after they helped elect Trump.
FD–I agree, they can't ignore them. But will they focus on the few that get out of hand, or the many that are peaceful?
no need to answer that, glenn.
good question glenn. If the past is prologue, they'll concentrate on the trouble makers.
Ad–but sometimes social media is just as bad as the press, with the amount of fake news. And, there is fake news…and a lot of people can't keep up with what's real and what's not.
hey murph! Feeling any less nauseus now?
Hey Murph! How are you on this very black day?
FD – You nailed it! Howard Fineman too was torn apart oon his article criticizing Trump for holding Hillary to a much higher standard during the GE. I have stopped watching ANY MSNBC, I'm done with it. They helped elect Trump as did CNN and of course Fox. I don't think I'm alone in turning off cable news for good.
FD–yup. That's my take on it, too. I understand that protests will be happening all over the world, not just in the US. It will be telling to see how those are covered, also.
The truth will out! We need to make sure of that!
glenn – Songs from the 1960's, protest, issue and society oriented. They're coming back!
A sickening day…..poor turnouts for the inauguration, poor turnouts for the parade and lies from the Trump people denying both…and an inauguration address that was short, bitter, and nasty. No reason not to feel nauseous….but I kept it together by watching episodes of The Middle for much of the day.
I dumped my cable TV. Nothing worth paying for. Especially all those commercials every other 5 minutes.
FD–Yes, we do need to make sure that the truth gets out there.
Murph–the only good thing about that inaugural address was that it was short. That's because the teleprompter can't hold trump's attention for that long.
glenn – That's true but social media is the best tool for organizing and spreading the word to people about protests.
Crowd count is in: Trump 2017: 250,000 Obama 2013: 1,000,000 Obama 2009: 1,800,000
One of Trump's ex-wives said he kept of collection of Hitler's speeches on his bedside table. And people say he doesn't read!
Murph, here's Trump's speech from a different angle:
P. and many of those were probably paid to attend.
Murph–I played on-line scrabble most of the day. I did wait until after the inauguration to see what people had to say about it. Except for the few trump supporters, who were wearing "Make America Great" hats made anywhere else but in America, most people thought our liar in chief was abysmal.
PPO…where does that count come from. I posed a serious of images from 2009, 2013, and today showing the same angle of the Mall at 11 AM…..there was a LOT OF EMPTY SPACE.
FD – Trump like Melania is a plagiarist, he's borrowing from Mein Kampf for his State of the Reich…er…Union speech.
I really do tink that Trump has read many of Hitler's speeches and probably some of Goebbels too.
Whoops! Reverse that! Trump left and Obama on right!
All of the images can be found at
https://www.buzzfeed.com/tamerragriffin/trump-obama-crowd-comparison?utm_term=.etrZ23Pkv#.xdamk6yqN
Here's How Much Smaller The Crowd At Trump's Inauguration Is Than Obama's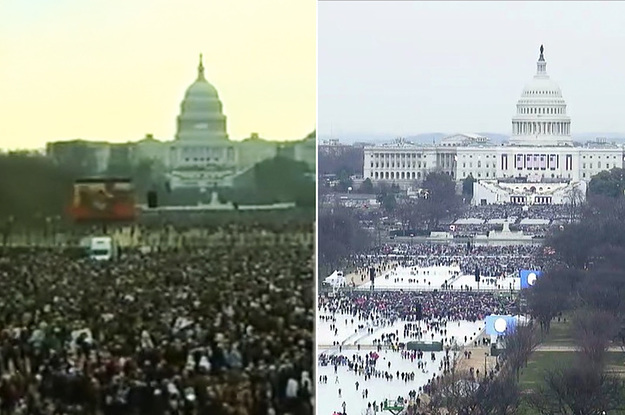 Here's what the crowd looked like in 2009, 2013, and today.
Was that an Orwellian Slip, Ad?
Ad–best line I saw today was on Twitter, (of course). There was a picture of Melania giving Michelle Obama a gift. The line below the picture says that Melania tells Michelle, "Here is your speech back." Thought that was great!
FD – Blame it on the scotch!
Ad–did you indulge a little too much today?
Murph – I think it is heartening to see that indeed, Trump only has the support of a small minority oof the public.
glenn – We were talking about it earlier, heavy drinking is recommended for today!
Murph, Irish online news Journal.ie correspodent @DanJGross
FD – I guess it should be renamed for the next 4 years, The White Trash House.
OMG! How can you "unsee" that? Those bare arms are just so scandalous!
spot on! Absolutely fitting!
I know glenn, how shameless!
I guess it runs in the Trump family, showing off you're ass.
Gee, Fuzzy, I didn't know you were that well endowed!
I have size estimates here….
http://deadline.com/2017/01/donald-trump-inauguration-crowd-smaller-than-obama-photos-show-1201890973/
Obama Vs. Trump Inauguration Crowd Size: Photos Tell Story

President Donald Trump boasted of  "unbelievable, perhaps record-setting turnout" in his walk-up to today's inauguration. Photos of the event taken from the Washington Monument su…
but they are guestmates. Any other hard number sources.
( see where your name is under the photo!
They do it every day. How about the Trump kids, Uday and Qusay?
Murph–was that pun intentional? Size estimates of Melania's and her husband's hands?
Not to belabor it but it does seem like the WH lawn should become a trailer park.
Murph–hard numbers? OMG, you're killing me!
Transit officials tweeted the number of people who rode public transport before 11am on the various inauguration days since 2005. The concluded that there were 513,000 trips taken on Obama's inaugural day and 193,000 today. Follow Metro @wmata Metro Ridership: As of 11am, 193k trips taken so far today. (11am 1/20/13 = 317k, 11am 1/20/09 = 513k, 11am 1/20/05 = 197k) #wmata 3:34 AM – 21 Jan 2017
Replete with rusty old fords on cinder blocks and an outdoor toilet! with no walls, of course.
PPO–those transit numbers are low because trump's supporters came in limos! HA!
glenn, you mean Hoopdies?
PPO – And keep in mind, a portion of thoise were protesters!
Obama leaves office the third from the top in job approval. Clinton, Reagan, Obama……Approval ratings have been measured since Truman….so we have 12 slots of comparison. There was similar polling done for Coolidge, Harding, Hoover and Roosevelt…since we can expand the number of comparable polls to 16.
FD–I think they're going to paint the cinder blocks and rusty old fords gold. That will make them look better.
FD–there you go. That's a great picture!
We rubes travel instyle, god dammit!
Murph – Which reminds me, the anti-Trump majority in America has a natural leader…Barack Obama.
Ad–I hope Obama continues to speak out. His voice is sorely needed.
Talk about organizing a "community." Trump should be worried. But's he's too full of himself for that.
I don't expect Obama to get involved too quickly or directly but as the revolt grows, watch how he joins it.
FD–hey, he's acting presidential now. We haven't had any nasty tweets today, have we?
Nor have we had any about how wonderful his inauguration was. Sad!
Obama has already said he's going to be fighting for progressive causes. That's a great retirement goal!
FD – Exactly, OObama's history as a community oorganizer paired with his success as President…we won't be lacking for powerful voices and leadership in standing against Trump.
Review of the Trump speech at WaPo (a speech that was the inverse of his victory speech on election night): Twenty minutes into his presidency, Donald Trump, who is always claiming to have made, or to be about to make, astonishing history, had done so. Living down to expectations, he had delivered the most dreadful inaugural address in history. Kellyanne Conway, Trump's White House counselor, had promised that the speech would be "elegant." This is not the adjective that came to mind as he described "American carnage." That was a phrase the likes of which has never hitherto been spoken at an inauguration. Oblivious to the moment and the setting, the always remarkable Trump proved that something dystopian can be strangely exhilarating: In what should have been a civic liturgy serving national unity and confidence, he vindicated his severest critics by serving up reheated campaign rhetoric about "rusted out factories scattered like tombstones across the landscape" and an education system producing students "deprived of all knowledge." Yes, all.
not that I know of. He was probably shieled from the negative news today. That won't last. It has to be a monumental effort.
Here's a laugh, at least! BBC broadcast the inauguration of the 45th president of the United States, but it seems they incorrectly used the subtitles ( for the hard-of hearing) of the BBC kids' show 'The Dumping Ground'.
Murph–that one about the schools "swimming in money" (or something like that) really got me. Public schools haven't been fully funded by the states for decades now.
PPO–I saw that about the BBC, but I'm not sure the subtitles were incorrectly used…I believe it was British humour at work!
Trump's cabinet needs to be fully stocked with Roach Motels!
One thing is for certain….he clearly wrote his own address….or at least ordered it to be written as is.
He probably punched it up a bit. I tink Steve Bannon wrote most of it.
FD–There are not enough roach motels in the world to kill those critters. We will have to rely on the Dems to stop them, which isn't going to happen either.
i'm not so sure glenn, about 60 of them boycotted the ceremonies today!
FD–a lot of people on line agree with you that Steve Bannon had a large hand (pardon the pun) in writing that speech.
check this out!
http://www.independent.ie/entertainment/banter/trending/she-looks-like-paddington-bear-the-internet-is-having-a-field-day-with-kellyanne-conways-inauguration-outfit-35384870.html
'She looks like Paddington Bear' – The internet is having a field day with Kellyanne Conway's inauguration outfit – Independent.ie

The internet is having a field day with Kellyanne Conway's inauguration outfit.
Murph – That is in sync with ALL other commentaries I've read in national and international papers. Trump's angry, dark and disturbing speech has cemented him in peoples' minds as the creature they saw in the campaign. And also telling was his vow to win in 2020…he was just being inaugurated and instead of talking aboout what a great president he'd be, he had too change the focus to the next campaign because that's all he knows he can do! He will be destroyed in 2020…if he makes it that long in office…unless the estab Dems ordain another elite establishment Dem to get the nom.
LOL! How about that phony picture of Trump with the notepad and a "SHARPIE!" Who writes speeches witha Sharpie?
FD–I'm glad to see the boycotted the ceremonies today. However, they don't have the votes to stop the cabinet nominees, so I should have rephrased that post. There really isn't much Dems can do except get the facts out to the American people about how unqualified most of trump's nominees are.
PPO – That's hilarious! Because it's true!
FD…he would have been better off with the blank page on that notepad.
glad to see the Dems….sorry skipped that word.
2018 will be quite interesting. The pubs think they're all powerful now. Well, that will not last. Not with Il Doosh Bag at the helm.
Oh, I know. Conway's outfit was priceless! That meme will live forever in twitterverse!
The Tri-cornered Twit? I'm being nice.
Murph–he should have told everyone he was still writing the speech.
glenn – There is much that can be filibustered by Dems in the Senate to stop much of Trump's insanity.
FD – Agreed, Bannon clearly wrote much of that speech if noot all of it.
Her next gig is as the Patriots' mascot
thank you! I'm here all week! Don't forget to tip your bartenders.
Ad–hope so. But, didn't I read somewhere that there were rule changes that prevented filibustering of cabinet nominees?
Trumps ex order today re. ACA is being reviewed by those on the know as orders that will implode the system…..bringing it to meltdown quickly….there could be massive insurance losses well before any replacement sees light of day.
PPO–the patriots' mascot, or the nutcracker!
the founders are spinning in their graves.
Murph–re the ACA. How will those meltdowns happen? Will insurance companies just start massively canceling policies?
FD–I like the patriot putz!
To be clear, I don't like her; just that name for her.
Trump and the Repubs have no idea how their power has doomed them. The thing is, I think if Hillary won, she would have lost in 2020 just because of a growing hunger for something new. Either way, I think we would have lost the WH once out of these two elections. Maybe it's best that Trump won this time because it will so poison the public against Repubs, Dems could have a lot of power for a lot longer period in the near future.
I watched the inaugural address at my usual watering hole. One of the guys said that he was worried that someone would try to "take Trump out." Another guy said "We should be so lucky." I waited for the reaction. Mostly laughter. Not a good sign for Trump.
And, she can wear that outfit again on trump's new holiday….patriot day!
Glenn….I have not studied the order but everyone in the know has had the same response the order will push many insurers out of the marketplace.
i know, glenn. A firend of mine calls her Cadaver Spice!
Festifus!, glenn. A waste of $3500!
Murph, I don't know who is worse, Trump or Pence.
Glenn….the death spiral….so that Trump can ride in on a white horse. The problem. That horse is congress and they are unlikely to go along with Trump.
Murph–I really hope that trump stays safe. Not because I like him so much, but because it would turn him into a martyr and that would not be good.
Thanks P! I love it. It's so fitting.
glenn – The cabinet can't be filibustered but many Trump-favored bills can and will be.
Murph–I hope Congress fights trump every which way they can. Just to show him that he doesn't control the government, only one branch of it.
Ad–what kind of trump-sponsored bills do you think a republican congress will deny?
I watched the scene when the Obamas went to board the helicopter….l was sad but happy that he ended on such a high note and in charge.
FD….I have rarely seen KellyAnne looking so fresh and lifelike.
It's morning in America!!
Murph – I suppose it has to happen, Trump has to make decisions that hammer his voters and America as with the ACA. A leopard doesn't change its spots, Trump is a walking disaster and as he harms the nation, he and the Repubs sow the seeds of their own destruction.
Hey Funk! Trump let you in the Green Room?
I think we need to be more worried about ryan and mcconnell, who seem intent on passing bills in the middle of the night. They are out to gut Social Security, and Medicare, and it seems like they are well on their way.
In his swearing in ceremony, President Donald Trump says power is being transferred from Washington to 'the people.'. yeah right!
The next 6 months is going to be a whirlwind of toxic legislation. The GOP has one year to put as much filth as they can into law before they have to pull back for long enough for people to cool off before the next election
Murph – First, props to you for watching it. Secondly, if anyone was to make an attempt on Trump, I would bet it would be one of these supporters after losing their healthcare and family members because of it.
PPO–please, can you not use the words, "president donald trump"? How about PDT? It just grates my every nerve to see those words actually written out? Or, at least give me a couple of days before we use them?
In Wyoming, they're proposing a bill to outlaw utilities from using wind or solar and mandating coal.
Funk…I think you are correct, but I am hoping that public awareness and ire will force conflict in their ranks to break out.
SO Sorry, glenn! I'll wash my keyboard right away.
Ad…I am already seeing the worm turn here…..that moment in the bar today……two months ago the second guy would have been shouted down and likely expelled from the bar.
In Iowa, there is a bill up for debate that would eliminate any registration or licensing of any kind for gun owners. It's in the states that the really nasty stuff is going to get trial-balooned
Funk – Americans do have a short attention span but when healthcare premiums skyrocket, they will still be hurting Americans 2 years later. Same with any monkey business with SS and Medicare, slashing social programs, crashing the economy…that's not a plan that will work.
Funk–hey, how are you? Really, they're proposing that? So, does that mean that other companies can't come in with wind or solar power?
Glenn, public utilities would be prohibited from using wind or solar to provide power to Wyoming residents
And I'm good! Surprisingly so.
Hey funk! I hope you're comfortably numb this evening. I sure am.
glenn – I have vowed never to call Trump anything but Trump, never putting the office title in front of his name because as a Russian/FBI tool, he is illegitimate.
Here in Missouri…the new gov and legislature are pushing Right to Work forward….I have a neighbor who is a retired Union worker (at Chrysler) who is all for it. I pointed out that his son is in union and that the bill will likely lead to its demise. Why was the union ok for him but not for his son. He had no answer. I suggested he was selfish as I walked out the door.
Ad–I'm with you on that. He doesn't deserve that title.
Ad, people's health insurance premiums skyrocketed even more prior to the ACA and it didn't stop most Americans, even supporters of the law from placing blame on the ACA for that problem
Trump is NOT my president. No way, no how!
Anyone marching tomorrow?
Funk – I hear that in W. VA they're loooking at passing a law that people must eat a minimum daily requirement of coal.
My daughter is marching in Portland. It's the Pussy Hat Parade!
Ad at my Post Trumpatic Stress Disorder Columns at Yabberz this disclaimer appears: "* Until Mr. Trump has earned the title, I will refrain from referring to his as President Trump, or The President, or Mr. President. While I respect the office, my complete lack of respect for him overshadows that historic sentiment. I am open to being surprised. I am also going to bring the same level of energy and purpose to my critique of him that opponents of President Barack H. Obama did during his 8 years as our President."
Ad, what do you have against FreedomCoal™?
Murph – That is good to hear. In just the transition period, Trump has betrayed most of his promises to these rubes.
Nice! My whole family marching in Seattle
Murph–I keep saying this, but it just blows my mind that republicans vote against the very things they say they want. For example, a living wage–mostly because of unions, but now unions are the "enemy." They want a 40 hour work week, and overtime pay, again because of unions, but now republican voters trust their corporate bosses to give them those things. Blows my mind.
I've seen one person referring to him as T***p. I like that
Funk…thanks….I heard that the dad and son have been having more and more heated arguments (from the Mom). Good.
Glenn…stupid is as stupid does.
tRump's sons, Uday and Qusay!
Hey Funk, CA is enjoying all the rain, short break in it tonight and tomorrow then more on Sun and Mon. Turning a real corner on the drought!
Glenn, it shouldn't (it does surprise me too). Election after election show that people vote with their feelings rather than their head
Well funk, at least the Trumoies do.
Murph – Like the immigrants who are in the US want too stop other immigrants, the mentality is, "All I care about is that I got mine. Screw those who want to get theirs."
Funk–people lately seem to be voting with only one feeling–and that is hatred of their fellow Americans.
That's the Trumpian Golden Rule, Ad!
Ad….the sense of community is lost on most. Community is the saving place.
murph there is a genuine resistance movement building now.
History is repeating itself. As more and more people slip beneath the waves financially, they seek out and support anyone that will tell them who to blame, what to be afraid of and that it isn't their fault
Funk – Wasn't that a kind of "correction" though? I heard rates look to stay pretty level after the hike which adjusted rates to the reality of young, healthy people not signing up for healthcare.
Pink, it works doesn't it.
FD…I am part of it but much more will be needed…..something akin, in energy, to that of the 60's and 70's
Ad, rates kept going up, but much slower than they did prior to the ACA. No one remembers that.
Murph – Great disclaimer! Right with you on that!
I think it's finally coming, Murph. People from all walks of life and all races and genders are joining
You all are more optimistic than I am. I don't think Americans will rise up until everything breaks.
FD, funk and me having a laugh
no funk, things are happening all over the country, and they will only get more active and numerous.
I just turned "The Middle" back on….I just cannot stand looking at his face or hearing his voice.
I sincerely hope you are right.
Good, lets assume you are. I'm in.
I'll certainly do whatever is in my power.
Funk….You worry is my worry.
At least I have the Tennis to watch here. We stupidly taped the inauguration because it started at 3.00 am here, but it's a waste of time. We won't bother watching it.
P**k, is this the Aussie Open?
why make yourself dyspeptic, P?
Funk – Which is why Trump may have had to happen to force the emotional, ignorant voters to face that billionaire con men and Repubs (what's the difference?) will only lie to them to get their vote and they have to vote for Dems to keep their lives from further disintegrating.
Pink you aren't going to miss much
Ad, that could be the case. But I thought that about Bush too.
Yes funk, Serena blasting her way past her latest victim as we speak.
PPO…this Inauguration was not only a waste of time but an invitation brain rot.
Can't be easy playing tennis on a court that is 50 C on the surface…
Murph, you're so right. Toxic sludge from go to whoa.
That's what will wake them from their deep sleep, Ad. When their livelihood is directly in danger, then they start to actually revisit their prior beliefs.
funk, they now close the roof when it threatens to be that hot. But, with our weather, just wait an hour for the thunderstorms and snow!
Murph – I think we will see a level of energy and activism reminiscent of the 1960's because like then, Trump will be destroying the lives of women, minorities, youth and so many others. I've always said, Americans seem to need to suffer so much they can't take it before coming to their senses and stepping up.
I'm sure there are a few million Trump Chumps who are enrolled in the ACA. When they lose that, and possibly their SS and Medicare, then they'll see the error of their ways.
Don't forget the Brown Recluse spiders in nets!!
FD, if the Stock Market crashes, there won't be an Obama to bail them out this time.
exactly P. It's ALL on them now.
funk, more people die from bee stings than all the shark, spider, snakes and jellyfish critters put together.
Trump will be untouchable until someone steps up and gets in his face. He is saying "Make me" every day and so far no one will take him head on.
Ad…I hope you are right….what gives me the most hope is his ratings slump…maybe the public is a rousing lion after all.
Funk – It did happen with Bush though his disasters were end-loaded, came to fruition in his last couple of years. Trump's will be almost immediate and as so much falls apart in the lives of so many, the anger and energy will be acted on. Look at the outcry over Repubs killing the House Ethics office. It stopped that, much more of that coming in the near future.
I hear the deadliest animal in Australia is the horse believe it or not
Well gang….I am heading to bed…..it has been nice checking in. See you next week….Week One of America Held Hostage……
Night Murph, the Resistance needs rested warriors. Pace yourself
Ad and Murph, I really hope you all are right about people finally coming to their senses. But, I'm one of those in the pessimistic camp….we had a president who brought down unemployment, brought down the deficit, brought the stock market to record highs, and did all kinds of other wonderful stuff, but people voted for the disaster that is trump, and voted for republicans in Congress, so I don't have much hope for the American people. Plus, if the republicans dismantle social security and medicare, and never replace the ACA, it's going to take years to get us back on track. And republicans will continue to lie about how what they're doing is working, and people will continue to believe them, because Democrats and liberals are now the enemy.
Glenn, that's my fear as well.
Night Murph. See you next week.
And so the world's biggest Ponzi scheme begins. Here's hoping we all come out of it with health and finances intact. It is a world-wide problem. I'm going to say cheerio on that note and see you all next week.
Glenn…your read on the current environment worries me as well. …..
Unfortunately we may just need a couple of generations of turnover before that is weeded out of our society
Glenn….and yet Obama leaves office with a 60 percent rating.
Funk – Hw is Trump untouchable? He's been condemned today in almost every MSM outlet for his horrible inauguration speech. Leaders in other countries are openly hostile to him and protests tomorrow against him could be bigger than the turnout for his inauguration. Trump may bluster on but he is being challenged from many directions.
There are 600 protests organized for tomorrow! 600!
Ad, people are trying to shame him and embarrass him into doing the "right thing". It won't ever work. He's untouchable until someone files suit, or brings charges, brings the legal framework of the nation to bear. Like they did in NY
Murph–yes, that is the enduring question. How can Obama leave office with a 60% rating, yet trump be the president? Doesn't make sense, does it?
Murph – It actually seems to affirm the proposition that many Trump voters were more voting against Hillary than for Trump. Now many are abandoning him.
I'm out of here, too, Good night all. Have a good weekend. See you all next week.
Well Ad, I hope they're all giving themselves a good swift kick in the ass, for being so stupid!
Glenn, Obama served two terms and Dems lost 900 state legislative seats. Dems dropped the ball after 2008. His magnetism, skill and popularity masked a lot of problems the party was having.
Funk–completely agree! Dems got arrogant, and coasted on Obama's coat tails.
Someone said something interesting the other day: "We live in times of strong partisanship and weak parties. That is a recipe for someone like Trump"
i do think we got a little too over-confident!
Okay I'm really leaving now. G'night.
i'm out too. It's been nice folks!
glenn – I think it's important to really get to the root of why Trump was elected. Why did Brexit win? Why is Marie Le Pen now ahead in polls in France? This is a global problem, stemming from the economic oppression of the many by the wealthy minority. Economics is always at the root of nationalism, desperation drives people to seek a strongman/strongwoman.
Whoops, folks left while I was writing!
I'm excited for the march tomorrow. It will give my wife a chance to vent her spleen for a few hours.
I think Trump's win was a combo of Russian and FBI interference, desperate people wanting a strongman with easy answers, a weak, uninspiring and troubling Dem candidate and flat out racism pent up for 8 years.
That sounds like a pretty good recipe
Very cool, Funk! Daughter's taking a placement test tomorrow so I can't be at the marches…but there will be many more and we'll be there!
I'm still surprised about the Russian angle. There seems to be two camps: Russia installed a mole into the White House and those who decry any suggestion of Russian interference as war-mongering.
Tomorrow's marches will make a powerful and lasting statement though!
Funk – Then of course, there are the facts. The "war mongering" has no facts behind it, just more propaganda.
We levied significant sanctions against them, and Putin blamed Clinton for the 2012 election problems in Russia, they had tremendous incentive to interfere. But there is plenty of space in the middle between those polar opposite views
Ironically, Russian bloggers are posting the "war mongering" propaganda.
Ad, I gotta go get some stuff done. Have a great night and a safe weekend.
Let' go Make America Great
Funk – Unless we go on assumptions over the enture intelligence community, there is no valid case against Russians meddling.
You will be doing it tomorrow!