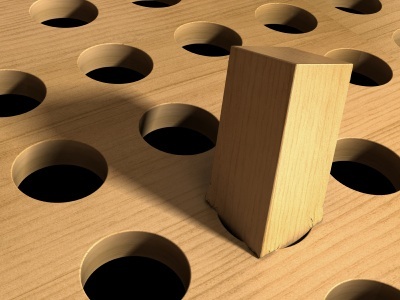 There are those kids that just can't learn lessons the easy way. Their parents or teachers can invest all their time and energy in explaining to them how to do things the right way but some kids just insist on doing things the wrong way despite the problems and punishments they cause.
Both political parties suffer from this mentality though the dynamic seems reversed in a way, it's Democratic politicians and Republican voters who seem convicted in their own ways to repeat mistakes. On the other hand, Democratic voters seem to get smarter from their experiences as do Republican politicians.
When in a political cycle where their President is not as popular, many Democratic politicians choose the "Run away!" tactic that has always resulted in their not only losing their elections but making themselves look like pandering, unprincipled cowards…which doesn't look or fit well on a bumper sticker.
Blue Dog Democrats concurring on their election year strategy.
Has this ever worked? Have Democrats ever succeeded as a party by agreeing with Republicans, "I suppose you're right, The President from our party IS a dick!"?  If the definition of insanity is doing the same thing over and over again and expecting different results, the Democratic Party may need to hold its next convention in Arkham Asylum.
Here we are in a year when most Americans are better off than they were when Barack Obama took office, we have universal health care, marriage equality in around half of the states, unemployment is down and the stock market is at record highs. And instead of setting the anti-Obama propaganda straight, many Dems, especially those in red states, have jumped over the fence and have joined the Republicans in shouting down the leader of the Democratic Party. And they expect Democrats to rally behind their election or re-election?
On the other side, you have Republican voters who repeat the same self-destructive behavior, dependent on their Social Security checks, using Medicare when they're ill (and the new benefits of Obama's ACA like expanded Medicaid) and benefiting from a recovering economy while rabidly supporting Republicans who plan to slash away at all of that.
It's not exactly flattering to their intellect that the Repub politicians openly declare how they will cut, damage or end such core benefits that rural Republicans depend on for survival yet when their racial, religious, 2nd Amendment or fear buttons are pressed, all thinking flies out the door and they march in lock step to champion their actual enemies. No doubt lemmings watch such Republicans and chuckle to themselves at how ridiculous they are for being such mindless followers.
Rural Republican voters heading to the polls.
Blue Dog Democrat Politicians and Rural Republicans have a lot in common. They seem primarily motivated by fear, they don't learn from experience, they don't seem to reason well and given the chance, they will make the same mistake over and over no matter how obvious the mistake is. And most disappointingly, they will work against their own interests.
For both of these groups, you have history and experience heavily weighting the scales against doing the same failed thing again yet these folks have the conviction of their ignorance. They rationalize away the lessons of the past that others would learn from, confident that their lower instincts to respond irrationally to fear will carry the day.
And when they pay the price again for their poor judgment, they simply put on the blinders to avoid seeing the true cause of their troubles and blame the scapegoat they chose at the start…which coincidentally for both groups is identical, "OBAMA! (to be yelled like this):
This dynamic only benefits the GOP, which actually represents a smaller fraction of Americans and thus means it subtracts from our democracy. When both Democratic politicians and Republican voters are both rowing in the same direction, away from the leader of the Democratic Party, they've got a much better chance of running aground on the Republican shoals. Hopefully, it won't happen tomorrow. It's up to all voters, especially those who may feel a bit discouraged by polls and the anti-Dem behavior of Dem politicians, to step up tomorrow and make their voices heard.
Democracy isn't defined by money, attack ads or propaganda (they're actually tools to undermine democracy), democracy happens only at that moment when people fill out a ballot and submit it. That's what keeps us somewhat sane as a nation, doing the same important thing over and over again and expecting the same result. Democracy. If you truly believe in democracy then for that reason alone, sustain it and participate in it by voting tomorrow.