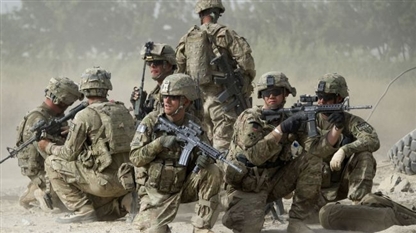 We'll see if stating that a nation can declare war on an emotion inspired by a tactic of conflict, as George Bush did with his propagandist and nebulous "War on Terror" (this was a companion war to his "War on Angst" and his "War on Humiliation", both of which he also lost), has permanently been cemented in American minds as legitimate or not.
The MSM and election-concerned politicians have been gleefully pounding the war drum over the ongoing atrocities committed by ISIS.
I don't think anyone would argue that this bloody crusade by ISIS to create a new Caliphate is horrendous and needs to be confronted and stopped but isn't there a difference between being in an existential military war and being among the many targets of terrorists?
Some of those urging the U.S. to declare war against ISIS claim that because ISIS has beheaded two Americans, unquestionably a heinous and evil act, that by doing so, they have declared war on America so America should declare war on them and send our army back into Iraq.
The question that arises is, if any terrorists murder Americans anywhere in the world, are we instantly at war with them and required to send our army into the country where that took place?
If this is now such a Return to Bushism, then we will need millions of soldiers deployed in various wars all around the world at a cost that staggers the imagination. This is actually what would be good for America? Slashing all other domestic programs and spending so we can fight wars around the globe against any group of savage lunatics that harms Americans? And rest assured…or better yet, rest uneasy, there are plenty of savage lunatics around the world.
Terrorist organizations want the U.S. to be so frightened by them that the US elevates them by declaring war on them. Would the US declare war on an entity that wasn't powerful and threatening to the most powerful military nation in the world? Declaring war on ISIS is playing into their hand, this is exactly what they want and it can be the most powerful recruiting tool they have. "Do you hate America and want to join the group that they fear the most and is formally at war with them? Come to ISIS for the fighting, stay for the ego boost!"
This is not saying that the US shouldn't be part of a coalition, even leading it, to fight and crush ISIS. But are we truly "at war" with ISIS or should we be?
Wars, meaning full on wars that include ground troops, are generally fought against the dangerous leadership of countries or states. Even the Iraq War was started on the lie about Saddam Hussein being a threat to America. The Afghanistan war was fought against the Taliban leadership of that nation supporting Al Qaeda's attacking our nation.
In this case, there is a rogue army that is occupying territory but they don't represent the leadership of any nation. They are a militarized, terrorist group. Africa has far too many of these as well. If an American is killed tomorrow by one of these groups, does that mean we are at war in Africa and need to send in troops?
The bottom line is that as horrible and truly evil as ISIS is, they are at this time a terrorist army that is attacking Syrians and Iraqis and stealing their land and wealth (sort of like Wall Street but not as sneaky). The two nations which they are attacking are the ones at war with ISIS and should be spearheading military action against them (of course Syria is a very complicated situation). If a terrorist group was doing the same within the U.S. but they killed Iraqis as well, would or should Iraq declare war against them and send Iraqi troops into the U.S. to fight them?
Any imperialist entity needs to be confronted, sooner than later, and fought back since power can snowball. A despotic group or nation that is allowed to expand its influence and power can go from not posing a dire threat to our country to posing one. So, this is not intended to say that the U.S. shouldn't exert any military force against ISIS, the airstrikes that protected thousands of Yazidis were invaluable and today it was announced that U.S. airstrikes have broken ISIS' control of Iraq's Haditha dam. These were successful and effective military actions that didn't require U.S. ground troops or declaring war. The U.S. is providing air support as requested by and in conjunction with the Iraqi government.
Instead of the U.S. declaring war and sending in ground troops, it is now time for the Iraqis to get their political house in order and rally together over the need to fight off and destroy this ISIS threat to their sovereignty. And the neighboring countries which are next on the list for invasion should also be jumping in to protect themselves. Western nations including the U.S. can provide logistical support, satellite intelligence, drones and air strikes and assist with the coordination of a multi-nation coalition against ISIS.
It's not exactly history repeating itself. With Iraq, there wasn't any actual threat nor were Americans being beheaded, there was no ongoing invasion of other lands nor an ongoing mass murdering of innocent people. Saddam was not a good guy but when we went to war against him and Iraq, there was no legitimate or urgent reason.
There is an urgency to stopping ISIS however, if we look at the situation accurately, ISIS is really at war with the nations in the region to create its imagined Caliphate. They may ultimately dream of world domination but so have many brutal people and nations that we haven't gone to war with for that reason.
The civilized world should come together over putting a stop to such terrible barbarism, the U.S. should be part of that effort but it is not necessary for the U.S. to proceed alone in a declared war when the responsibility for maintaining a civilized world rests on the shoulders of all world leaders, including the leaders of the nations that are actually being attacked and usurped.