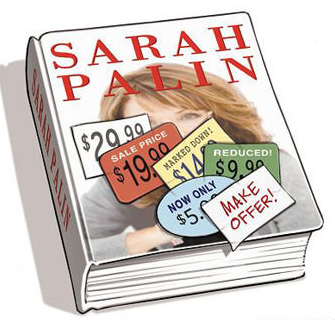 Sarah Palin Launches Subscription-Based Online Video Channel. With expenses outstripping fundraising the newest venture continues her crusade to live well off of the anger and anxiety of others.
The former Republican Alaskan half-term-governor-turned-VP-candidate-turned-Tea-Party-Pundit-turned-real­ity-TV-star-and-Fox-News contributor trotted out  the Sarah Palin Channel this Sunday evening on her Facebook page.
"Tired of media filters? Well, so am I. So, let's go rogue together and launch our own member-supported channel! This will be OUR channel, for you and for me, and we'll all get to call it like it is."
According to Variety, Palin's newest con will be offered with the help of TAPP, the online-video venture formed by former NBCUniversal chairman Jeff Gaspin and former CNN U.S. president Jon Klein.
"I want to talk directly to you on our channel, on my terms, and no need to please the powers that be. Together we'll go beyond the sound bites and cut through the media's politically-correct filter."
Subscriptions will reportedly cost $9.95 per month, or $99.95 for a one-year plan. Content for the channel will largely be based on Palin's speeches, commentary, Q&A sessions, and other curated items. There will be features about her family and their "adventures" in the "great outdoors."
The channel's website gives some "sample" videos of what users can expect (old footage drawn from previous appearances): One shows Palin answering user questions on "Obama's addiction," another is the former governor talking about not fearing the dreaded "i-word" (impeachment), and another is her 30+ minute speech before the 2014 Western Conservative Summit.
"Together, we'll go beyond the sound bites and cut through the media's politically correct filter and things like Washington, D.C.'s crony capitalism….We'll talk about the issues that the mainstream media won't talk about and we'll look at the ideas that I think Washington doesn't want you to hear."
OH! And just to make sure you get the underlying theme of this new effort, the channel's home page features a national debt ticker, and a countdown clock to President Barack Obama's last day in office.
Palin's website exists as a fundraising tool for herself, her family, and her staff who are paid by the site despite its avowed intention to support conservative candidates.
Per Sarah Pac at Open Secrets SARAH PAC Reported the following for January 1 through Decemeber 31, 2013.
Total Receipts: $1, 177, 802
Total Spent: $1, 210, 057
Begin Cash on Hand: $1, 149, 939
End Cash on Hand: $1,117, 684
Were did the money go?
Unclassifiable: $105,000.
Fundraising: $202,800.
Administrative: $52,700.
Media: $6,500.
Strategy and Research: $33,800.
All other: $679.
Candidates: $5,000.
SarahPac claims that its purpose is to "Formed in January 2009, SarahPAC is a federally registered political action committee (PAC) dedicated to building America's future by supporting fresh ideas and candidates who share our vision for reform and innovation." http://www.sarahpac.com/…
Palin's fundraising at the site has declined steadily.
Her 2012 report shows revenue of more than $5 million.
For More Info or to Subscribe (gag!) go to https://sarahpalinchannel.com/
Crossposted at Daily Kos: http://www.dailykos.com/story/2014/07/28/1317233/-AT-LAST-The-Sarah-Palin-Channel-you-betcha