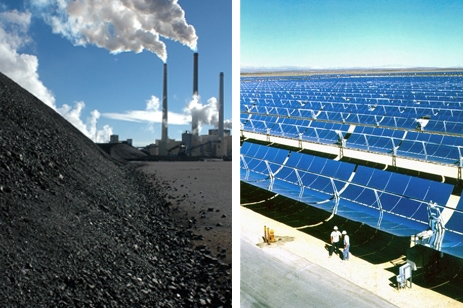 In the UK they are turning coal mines into SOLAR FARMS !
Of the three sites, the Welbeck Colliery, which was owned by UK Coal and closed in 2011, will be the first to come online. The 32 acre, 11.2 megawatt (MW) solar farm will encompass 44,160 solar panels mounted on approximately 15 kilometres of frames. The energy generated is predicted to power more than 3,450 homes in the local area and lead to carbon savings of around 5.11 tonnes each year.
http://www.greenwisebusiness.co.uk/news/30mw-of-solar-to-be-built-on-former-notthinghamshire-colliery-sites-4386.aspx#.U8O2oPldW0p
The land that the solar farms are on is waste land. Finding a use for the land that is productive and clean is wonderful!
"These sites are based in the Midlands and north of England, which is important as we believe it is essential that solar developments are made across the UK and not just in the south west," said Adrian Pike, ceo of Anesco.
Spreading solar farms around the country keeps losses from transmission down. The further you have to transmit energy the more loss of energy you have.
Here in Vermont we have several small solar farms. This one is only five miles from my home.
http://www.wcax.com/story/19298445/solar-farm-breaks-ground-in-williamstown
This one is built on a landfill.
http://www.wcax.com/story/25474712/solar-farm-being-built-at-vermont-landfill

Another is in Rutland where my son lives.
http://www.bizjournals.com/boston/blog/mass-high-tech/2012/04/allearth-renewables-proposes-new-vermont.html
The largest in Vermont is one that tracks the sun. The panels stay in position facing the sun all day. Moving slowly for the most efficient use.
http://www.wptz.com/Vt-s-Largest-Solar-Farm-Now-Tracking-The-Sun/5726520#!beJlS4
There are too many for me to post links. Vermont is a leader in solar use. Many of us have solar on our roofs or in my case in my back yard. In most cases people use net metering. That is when you are making more electricity than you use your meter spins backwards, giving you a credit. When your array is not making as much electricity as you are using the meter spins forward. My array has been making electricity for me since August, 2008 and I have not paid a cent for my electricity since October, 2008.  I have built up credit for the extra power that my array has put into the grid of hundreds of dollars.
What the UK is doing sets a good example . Recovering waste land for the production of clean energy is a win win situation.  The UK is leading the way to repair the wounds inflicted on this earth.
Vermont is leading the way here in the USA. We have a goal of 90% renewable energy by 2050.  See link below.
http://publicservice.vermont.gov/topics/renewable_energy/state_goals
Lets talk about renewable energy especially solar. Solar works even up North here in Vermont. The further South you go the better solar will work.