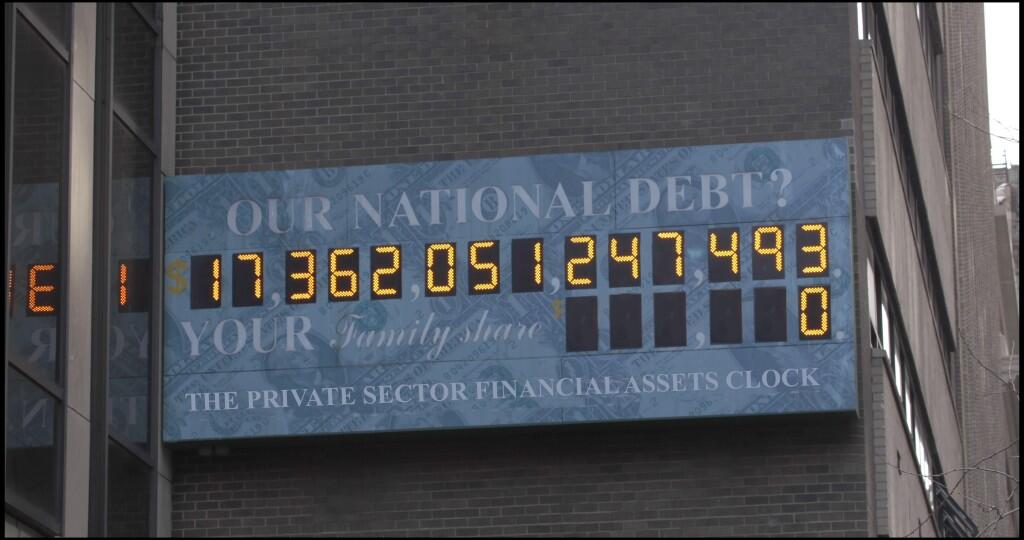 This is a continuation of my ongoing series of articles that deal with Modern Monetary Theory
Today we are going to boil down parts 1-4 into a super-easy to understand "elevator pitch" for MMT.  You may know what an elevator pitch/speech is, but for those that don't here is how it is defined by Wikipedia:
"An elevator pitch, elevator speech, or elevator statement is a short summary used to quickly and simply define a person, profession, product, service, organization or event and its value proposition.
The name "elevator pitch" reflects the idea that it should be possible to deliver the summary in the time span of an elevator ride, or approximately thirty seconds to two minutes and is widely credited to Ilene Rosenzweig and Michael Caruso (while he was Editor for Vanity Fair) for its origin. The term itself comes from a scenario of an accidental meeting with someone important in the elevator. If the conversation inside the elevator in those few seconds is interesting and value adding, the conversation will continue after the elevator ride or end in exchange of business card or a scheduled meeting."
My goal with this particular post is pique your interest and add value to your understanding of money, economics and political policy.  Hopefully you will be interested to keep reading my posts about MMT as well as strike off on your own to learn more about it.
Perhaps you can even use this info to craft your own elevator pitch about MMT.
The following is an actual postcard that Lambert Strether of the blogsite Corrente created for public use.  He encouraged everyone to use it and send it to your Congressperson to stimulate the conversation about MMT and thereby the policies that should come from understanding of MMT.  I couldn't have picked a better way to boil MMT down to its essence:
1)
1. Does the government need to receive tax revenue before it can spend? – No
2. Does the central bank need to receive reserve deposits before it can lend? – No
3. Do private banks need to receive demand deposits before they can lend? – No
Banks simply keystroke money into your checking account.
The government simply keystrokes money into the bank's accounts.
For money to exist, the government must first create it and then let it flow into the private sector.
The government must SPEND first, THEN tax
2)
The US federal government can never go broke.  Ever.  EVER.
If it is the sole creator and issuer of money, and that money is keystroked into existence on Treasury computer, then how can it ever "run out"?
Greece is actually broke because it no longer controls its own currency.  It's debts are in someone else's money and they want to make sure they get paid.
The amount of money that the government has pumped into the private sector minus the taxes it has collected = The National Debt.
3)
This does not mean the Government SHOULD spend as much as it wants, simply that it CAN.
If Congress passed a bill to re-build every highway, bridge and public school in the US starting next year, it can AFFORD to do so. However, that would take an enormous amount of resources that may be needed elsewhere and could cause damage to the private sector.  It could cause shortages in several key areas and lead to inflation and labor shortages.  Real resources constrain government spending, not affordability.
4)
This also means that Social Security and Medicare are not going broke and never will unless the political decision to starve them is made.
5)
There are 12 million people looking for work for every 4 million job openings.  If the private sector cannot or will not employ them (and why should they be forced to?) then the government must step in to fill the gap.  The deficit needs to rise until full employment has been reached.
6)
The Jobs Guarantee Program is an example of policy that can be crafted once the basics of MMT are understood and implemented.  The details of the plan are discussed in part 4.
If the private sector cannot or will not employ enough of our citizens, then the government must provide a job to everyone that wants one.  Boom and busts will come and go in a capitalist economy, but why not simply eliminate the joblessness that comes along with it?
What can we do with this information?
A) When you see a liberal, moderate, progressive, Democrat regurgitate the well-honed wive's tale about the US going broke, or bankrupt or the deficit or debt being a "critical concern", tell them that that isn't the case.  Start a conversation and get them to think.  When a media person or your Congressperson says it, be a little firmer.  The more its repeated, the more people will start to believe it.
B) Start demanding from our public officials that the government start spending what we need to spend to move the US out of the frigging stone age.  It's time to fund the things we need to make our country move forward.
Thanks for your eyeballs!
Many thanks to Naked Capitalism, New Economic Perspectives, Lambert Strether, and L. Randall Wray
CREATIONISM VERSUS REDEMPTIONISM: HOW A MONEY-ISSUER REALLY LENDS AND SPENDS