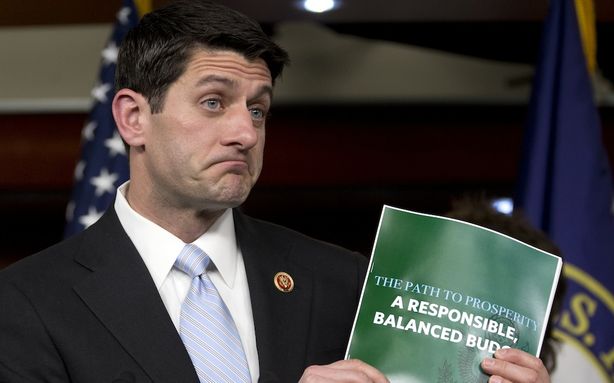 The Republican Party has clung to its unpopular policies that were defeated in last year's election with the pride of someone who kept their eyes closed at the end of a race…in their mind, they haven't lost because they didn't see it.
To fully dramatize to the public that the Republican policies from the last four years that display class warfare and prejudices, are anti-women, champion cruelty and neglect towards the poor and insist on showering even greater wealth upon the already wealthy, the man who was rejected by the nation to be their Vice President has regurgitated all of this into another similar iteration what he calls The Republican Budget.
The GOP budget is estimated to kill 2 million jobs, slash $700 billion from Medicare and block grant it to the states, allow states to kick the poor off of food stamps, privatize Medicare and keep 27 million people from getting health insurance. Or as Republicans would describe it, "Saving America."
What is most remarkable is that as cruel as this budget is and as much as its numbers are falsified and dishonest, it used to be even worse! PlanetPOV has uncovered the original Ryan Budget which included some items that one can only assume were so extreme that the House leadership insisted they be removed from the bill.
DELETED ITEMS FROM PAUL RYAN'S ORIGINAL BUDGET:
ONLY CORPORATIONS SHALL VOTE IN ELECTIONS

There is one truism about private enterprise…it's never wrong…it just needs a little taxpayer bailout once in a while. If a product is made that the people don't want, the company behind it goes out of business. If it makes a product people want, a company makes money. Why not put that kind of American ingenuity and infallibility behind our political process?

As we all know, the wealthier you are, the smarter you are and who's wealthier than corporations? Since the Supreme Court has affirmed that corporations are people, by passing this bill, our nation will have the smartest people in our nation electing our politicians so we can finally take America down the Right road, take it all the way down.

COMMERCIALLY LICENSE NATIONAL DISASTERS

Our hearts always go out to the victims of natural disasters but so does a lot of tax money that adds to our deficits which then makes us angry at them and pray for bad things to happen to them which helps bring about more natural disasters and the intentionally vicious circle continues.

There is a way to break this cycle so we can just provide our sympathy without having to actually pay to help the victims of natural disasters. This bill proposes that the US government license the rights to national disasters to the highest bidder and only money generated from those licensing sales would be used to aid those hit by that disaster. Whenever the news or other media refer to a disaster, they will be required to mention the sponsor's name.

All the publicity associated with the unforgettable names of disasters can now be harnessed, making future natural disasters a win-win for taxpayers and businesses! For example, the next time there is a drought, it could be named, "The Quench Your Thirst With Gatorade Drought!", the next massive snowstorm could be, "Dairy  Queen's Real Blizzard 2013" and so on!

PRIVATIZE WELFARE, FOOD STAMPS AND MEDICARE

One of the biggest drains on our nation are the takers who drive Ferraris, eat caviar and buy solid gold clothes, all paid for by the far too generous payments they receive from our Welfare and Medicare systems. This budget fixes that outrage and will help to keep tax loopholes for oil companies and yacht manufacturers safe from government interference.

Instead of receiving Welfare payments, food stamps and Medicare, those seeking such benefits would need to choose from a list of prospective companies and agree to provide labor to them in exchange for a room, meals and emergency medical care. They would reside on the property of the business owner, best efforts would be made to keep families together and chains would not need to be worn on birthdays or anniversaries.

This new approach will convert Takers into Wage Slavers who dedicate their lives to the American Dream of working hard in a futile attempt to escape servitude to the powerful and wealthy. Instead of being metaphorically locked into a cycle of poverty, these people will be physically locked into a job that can last and minimally provide for them for a lifetime…as long as they're not shot trying to escape.
The thrust of the Republican Party since its defeat in 2012 and further broadcast by CPAC is that there is no problem with their message, only a problem with the way they're communicating their message. Perhaps these lost sections of the Ryan Budget could be added back into it and if all of it was presented in a more appetizing way, perhaps as the wrapper on a Big Mac, it would get the respect and lengthy consideration it deserves.