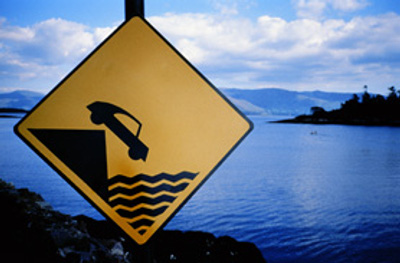 Be afraid…be very afraid…it's coming! No, it's not the zombie apocalypse or an image repair PR tour by Mitt Romney and his entire family (if there's a difference)…it's…The Fiscal Cliff! A disaster of epic nature that has Irwin Allen trying to claw his way out of his grave to direct it!
Taxes will skyrocket! Medicare will be devastated! The economy will be in ruins! Twinkies will cease to exist! It's the end of the world as we know it…and all of the cynics were wrong, the end of the world is indeed being televised (and just imagine how much they're charging for commercials during it)!
We only have thirty-four days left until America will be obliterated! At the stroke of midnight, New Year's Day, they won't be celebrating in Times Square, they will be screaming in panic and rioting…which may actually be difficult to discern from the usual response to the ball dropping except for the increased number of people pulling their own heads off.
What's so terrible is that we can see it coming, we know we're speeding towards the edge of the cliff and when we reach it, the two inch drop could kill us! If it gave us a heart attack. Which is what the wealthy and the media out there are trying to give us.
They are pointing at a pit bull puppy and screaming at us to fear for our lives because it's a pit bull and it could tear us apart. However, the truth is, it isn't a big dangerous thing at this point in time, it would take a lot of time to pass before it grew into a legitimate threat…but don't let that stand in the way of a good manipulation.
The propaganda around this "Fiscal Cliff" hogwash is amazing but was predictable. The media needs an urgent story to replace the election in order to keep viewership up and the wealthy need a scarecrow to instill fear into the masses to hopefully trick them into supporting a greater shift of wealth from them to the wealthiest 1%.
The reality of what literally happens on January 1, 2013 is absolutely nothing like falling off a cliff or a zeppelin bursting into fire, in fact, it will have no profound immediate impact on most Americans (though one might expect the wealthiest to use it as an excuse to tank Wall Street to hit the accelerator on the Fear Bus in an attempt to panic Americans into urging their politicians to give up on taxing the wealthy just to save their own nest eggs).
It's no different from the Bizarro Cassandra role the MSM took during the election, "Maybe all the polls are wrong and Romney is ahead!" "It's very possible for Romney to win the popular vote while Obama wins the Electoral College!" "What if Obama is actually a pinata and filled with delicious candy?"
This lousy corporate-driven excuse for journalism that we take for granted now, that speculation is equal to fact (and in some cases, greater than fact) should be seen as outrageous. Instead, many are lured into the false reality that's constructed…even if they know better.
So why are Republicans and the corporate media so intent in portraying 1/1/2013 as Doomsday? Could it be because that is the day the Bush tax cuts cease to exist and the primary issue that they care about and have spent hundreds of millions in an election trying to win is lost? It seems clear that their greatest concern is that their taxes might go up 4%…which would be disastrous for someone making $100 million a year…after deductions, they may have to pay an additional amount that could have instead gone to installing a second car elevator…it's an outrage!
There would be an impact on the 99%, they would have a bit less money in their paychecks which for many could make life more difficult. Though, it's nothing that's permanent.
The wealthy and corporations know what the real truth is. If a deal isn't reached before the end of the year, the leverage shifts hugely against them and into the hands of President Obama and the Democrats. Then, the position Obama is in is that of proposing tax cuts! And if the top 2% aren't included, do Republicans break their Grover Norquist pledge and vote against tax cuts?
Of course there will be a deal and even if it is after the beginning of the year, it won't be more than a few months at most until it's done. It is absolutely untenable for Republicans to stonewall  tax cuts for the 99%. The obvious problem is that Americans will all be upset as their take home pay shrinks suddenly and all polls show that they will blame Republicans…the grass roots anger that will grow against them will make any position blocking tax cuts for 99% of Americans impossible to sustain.
This is what the wealthy and corporations recognize, the best deal they can get on minimizing their tax increases and preserving loopholes is before the Bush tax cuts expire. Thus, the need to inflate the Fiscal Cliff "catastrophe" in an attempt to whip up popular opinion and pressure to make Obama and the Dems agree to a more compromised deal now.
It certainly would seem worth the short term Wall Street tantrums to allow the Bush tax cuts to die a well "earned" death first before finalizing any deal. Yes, there would be short term impact on the 99% but the extra tax money paid will be returned, a small price to pay over a short period of time for long term economic fairness and security in this country.