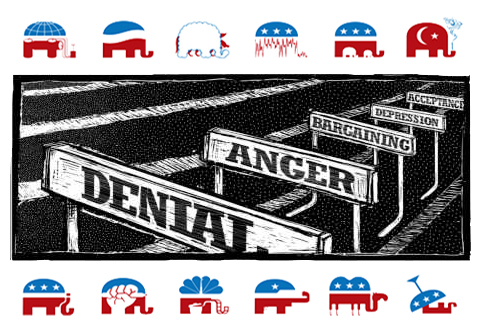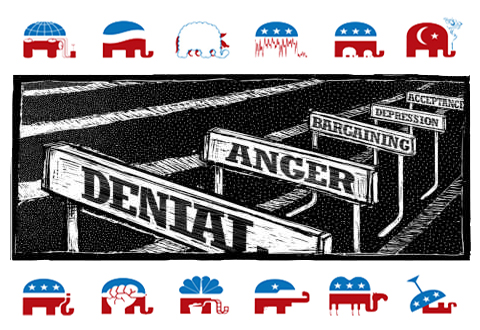 You'll have to excuse the Republican Party for being a bit emotional right now, they're still processing their grief over having lost their nomination to a man they never loved. A year ago, the GOP was so happy. The economy was dragging, unemployment was high, people were being buried in debt and losing their homes…who wouldn't be happy? It looked like their plan to stonewall President Obama on repairing the economy had borne its rotten fruit and in 2012, they would be celebrating all of this by taking back the power of the Presidency.
It was a simpler time, the GOP was so blissfully unaware of anything that could come between their dream and it becoming reality. Until "he" came along. While the GOP was delighted about marrying a right wing conservative, Mitt Romney showed up as a wedding crasher and knocked over the punchbowl at what should have been one of the best times in the GOP's life.
It's hard to accept loss (which is why you pass Voter ID laws), especially when you lose someone or something that you were very close to. And the GOP was so close to having a slam dunk win of the White House this year. Sure, some people feel they're being supportive by saying, "Well, you're still in it! Romney could surge ahead if people buy into the SuperPAC-funded lies or Romney's vague promises!" but it wasn't supposed to be like this.
Obama was supposed to be trailing badly and all the Republican Presidential nominee was going to have to let the public know was that they should blame Obama for the bad economy. The Republican nom wasn't supposed to be constantly trailing and pushed by the media to give details about his secret plans for the economy (psst…don't tell anyone but it's to make the wealthiest 1% wealthier and the 99% poorer).
It was supposed to be a referendum election on Obama, not a "choice" election. No one was supposed to even think about the GOP nom, they were just supposed to elect him to throw Obama out. Doesn't anyone remember the GOP's affair with the American public back in 2010? When it didn't matter if you were a witch, a racist or an elitist millionaire, you were voting against the Democrats so any Republican could run competitively for office.
Instead…the Republicans' nominee…is actually being looked at by Americans and assessed based on his honesty, character and experience. It's just not fair.
They worked so hard in their primary to hold onto their dream, pushing anyone but Romney to the top of the polls at one time or another. It didn't matter if you were a racist multimillionaire with a ridiculous comb-over, an intellectually challenged pizza company with Tourette's Syndrome when it came to the number "9", a disgraced and censured adulterer that also was proudly racist or a religious fanatic who wants to oppress women, gays, Latinos and black people…as long as you weren't that awful dream killer Mitt Romney, there was nothing too low to stoop to as long as it meant avoiding Mitt Romney being nominated.
But it didn't work and to the GOP's dismay, they lost their soulmates and are now wedded to a man they don't love.
What we've been seeing since then from Republicans is a much broader sweeping expression of the five stages of grief, as reflected in the Kubler-Ross model.
Stage 1: Denial
After Mitt Romney won the GOP Primary, many of those Republicans who saw him as a weak candidate swallowed hard and spouted out that they now believe in him and that he will beat Obama. When polls keep contradicting this as a probability, they deny the validity of polls. When facts undermine Romney's veracity or campaign, they deny the facts. When Romney says something that's self-destructive, they deny he said it or that it was a negative. But deep down, they fear facing the reality that looms over them. They are so deeply in denial, that they will deny they are denying anything and if the irony of this is pointed out to them, they will deny there's any irony about them denying that they are denying their denials.
Stage 2: Anger
Is it any wonder that Rush Limbaugh, Republican politicians, the Fox News rodents, etc. have become so vicious lately? This anger comes out of an intense frustration. They need to be able to vent and blame someone for what's happened with their nomination going to Mitt Romney and he and Ryan sabotaging their hopes and dreams. So they lash out and try to attack anyone they can for their situation, beginning with Obama. Some Republicans never make it out of this stage and the previous one, they go along their whole lives in a kind of Stage 1 and 2 purgatory, just denying reality and being angry…the clinical term for this is Tea Party Member.
Stage 3: Bargaining
The Republicans decided to use the occasion of their national convention to go through this stage…on a stage. They bargained with themselves, with women, with Latinos and black people. They promised they'd do anything and everything if only Romney won't lose. They'll be on the side of women if only they'll vote for a man who wants to take their rights away. They'll be on the side of Latinos if only they'll vote for a man who wants to self-deport 12 million of them. They'll be on the side of their right wing base if only they'll let them pretend they won't be. They will make a deal with God that if he will only make their candidate win, they will follow His word to the letter…except for the parts that have to do with Jesus.
Stage 4: Depression
You can already hear the depressed voices starting to grow in the GOP when it comes to Romney. Many well known Republican pundits have been criticizing him and warning of a coming loss in November. It's depressing just being a Republican unless you're in the top 1%. Imagine, having to wake up every morning and listen to Rush and watch Fox News to know who you're supposed to hate today and why. Voting against your own interests, having to endure people who rudely bring up facts and worshiping prejudices and lies like Scripture. Republicans have enough depression to go through that's voluntary, it's tough when you have to be forced to go through more. With Mitt Romney trailing Obama the whole way and falling behind with less than two months to go, it's hard not to want to cry a little. Which is why no one has ever questioned John Boehner's credentials as a Republican whose new motto is "Cry freedom…and for our party's nomination process!"
Stage 5: Acceptance
This is one stage with which Republicans have a hard time. Often, they just loop back to Denial in Stage 1. A basic requirement of being a Republican is refusing to accept things. Climate Change, evolution, the Earth revolves around the Sun, pizza is not a vegetable, arithmetic, etc. For those rogue Republicans who do accept things, it can be lonely and scary but ultimately, a positive thing. For most however, they take pride and print on their t-shirts, "Insanity is doing the same thing over and over again but expecting different results. And we're cuckoo for cuckoo pols!"
Granted, the election is far from over and will require the energy and donations of Obama's supporters to clinch a victory but if that occurs, it will indeed be mourning in America for the GOP.