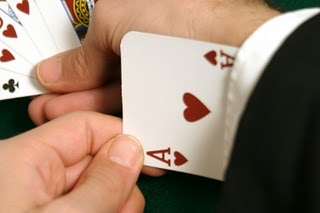 After the 2010 elections, with many governorships back in their hands, the GOP (a subsidiary of Koch Industries) got right to work on solving the economic and unemployment emergencies that they campaigned on so single-mindedly.
They did this by passing laws  to undermine the finances and power of unions, slashing assistance for the poor and handicapped and instituting Voter ID provisions that would disenfranchise hundreds of thousands if not millions of Americans from exercising their right to vote.
It shouldn't be a mystery any longer. For the GOP, democracy is an obstacle and the game that elections are to them is finding the best way around democracy.
For Republicans, it's never about competing on a level playing field because, frankly, they know they can't win that way and that's all that matters to them. The numbers are indisputable, the amount of young people and minorities out there, many of whom don't vote, would create a permanent Democratic majority if they did vote. So, without enough eligible voters in America who would vote Republican on a national basis to elect a Republican president, the only way to win a democratic election is to cut the legs out from under democracy.That is, prevent millions of people from voting. This is accomplished through voter intimidation, reducing polling places and times and now, voter ID laws.
Just to be clear, despite all the Republican howling about voter fraud, this is a wholly manufactured issue. There are NO facts or statistics to support claims that this is a problem anywhere in the nation. It is a big lie, like WMDs, used to justify the immorality of their actions.
Voter suppression is an ongoing and necessary tool for Republicans in any election but now it is becoming more and more institutionalized. To begin in Wisconsin:
SB 6 is set to become the most restrictive voter ID bill in the country for its special crackdowns on students. Under the bill, in 2012 voters will need to produce a drivers license, a state ID, a passport or naturalization papers, a military ID or Native American tribal ID in order to vote. A student ID would not be an acceptable form of identification.

But Wisconsin is not alone. There's a long lineup of other states that are moving voter ID bills through their legislatures. On Thursday, Kansas' Senate Ethics and Elections Committee passed a weakened version of Attorney General Kris Kobach's SB 2067, Kansas' voter ID bill.

On Wednesday, North Carolina lawmakers convened a hearing to consider voter fraud and a voter ID bill that might address it. The Missouri Senate approved a bill that would update the state constitution to require photo ID at the polls. Last week a Texas House committee approved a voter ID bill that's expected to pass easily. (In a telling twist, people over 70 and anyone who who can show a concealed handgun license would be allowed to vote without showing photo ID.)

A new report from ThinkProgress found that 22 states in total are considering bills to restrict people's voting rights. All of these bills would have a disproportionate impact on poor people, the elderly, the young, and people of color. A Brennan Center report found that a quarter of black voters and 16 percent of low-income voters don't have photo ID.

Not only are poor people and people of color less likely to have the forms of government ID required to vote, but they're also more likely to be harassed for identification at the polls. The felicitous coincidence, for Republicans at least, is that many of these groups of people are also the ones more likely to vote Democratic.
http://colorlines.com/archives/2011/05/wisconsin_voter_ids.html
Why are they banning student IDs, which their government's schools accept as proof of ID, from being proof of ID for voting? With absolutely no proof that student IDs have been used to fraudulently vote, why ban them? Because the majority of the youth vote is Progressive. Who would have a student ID but not a driver's license? Someone who can't afford a car…and how do such people vote in elections? Since when is it a requirement to be licensed to drive a car if one doesn't have a car or doesn't have any need for one. Hey…wasn't it Republicans who keep saying something about how horrible it is to have an individual mandate forced on citizens by government? Except when it helps suppress the right to vote of course, that's the American Way.
Yes, this is your America in action, applauding the growth of democracy elsewhere in the world while smothering it with a pillow at home. Oppressing the poor and meanwhile taking away their right to vote and do something to stop it. Meanwhile, the influence and power that the minority of wealthy white people at the top have in America is only skyrocketing.
This is the big picture of what's happening in our nation which is intentionally overlooked by the MSM. Just as the sexual abuse of children in the Catholic Church was well known for decades by the public and the MSM (I remember stand up comics and comedy shows making jokes about it since I was a teen), the various charades of "stopping voter fraud" and "protecting the integrity of our democracy" are presented with a vague indifference by the MSM. The truth of what's going on is blatant and yet the status quo stubbornly looks away in denial, as if it's better to SEEM fair by accepting the validity of GOP lies about protecting democracy by disenfranchising Americans from voting than it would be to pull back the curtain on a plutocratic America.
Those who have wealth, power and influence, even if they aren't militant about oppressing the other 99% of the nation, certainly know that the way things are is good. Rocking the boat, allowing the public to begin rejecting and revolting against the status quo could endanger the way things are and they could lose some of what they have. So, they don't want such change…or any change that doesn't enrich them. As we've seen, they will anxiously support "uprisings" that further enhance and protect their position, as the media-created Teabagger "movement" has but they will ignore and undermine true uprisings by the people against the staus quo.
Consider the enormous coverage the Teabaggers got when they gathered on tax day in 2009 and protested at town halls over HCR. With Fox leading the way but all other "news" networks stampeding after them, the manufactured Teabagger movement was raised up and made "formidable". However, in light of big protests in WI, OH, MI and other states (even nationally) against the attacks on public employees, unions, killing Medicare, etc. and town halls this spring consistently filled with real people confronting their GOP reps on trying to kill Medicare…there has been no description of this as a "movement".
The MSM blew up the Teabaggers into ridiculous proportions but presents the far more populist and populated movement of people rising up against corporate, anti-worker and anti-safety-net agendas as piecemeal. It's just people in WI doing this and people in OH doing that and people in MI doing something else.
What's the difference between the Baggers and all of these folks? Why is one a movement and the other just a series of independent incidents? To begin, the Baggers were a fully funded construct presented as a movement by their corporate founders, Freedomworks/Koch Industries. There is no such "ownership" of true populist movements that can provide such focused press releases and national agendas. Secondly, the Baggers served and protected corporate interests. The real populist movement going on right now threatens them and the best way to deal with that and tamp down momentum is to obscure that it's a movement.
So here we are, our nation's wealth has been and continues to be sucked up by the already wealthy while our incomes, homes, retirement and safety nets are all under assault. And to address that the public is growing more and more upset about the oppression and inequity of what's going on, the GOP response is to take away the public's ability to do anything about it.
If this trend of taking away voting from the viable reach of millions of Americans is permitted to continue, it can only creep on to exclude more and more people and make democracy into the permanent sham the GOP seeks to make of it.
It's being said a lot lately but this is indeed such a critical time in the course of our history. Corporations have tightened their grip on the nation's economic and political system. Their minions, the GOP are hard at work prying our fingers off of our democracy and our safety nets.  Reversing their gains seems difficult so it becomes incumbent upon us to fight their attempts before they become cemented in.
This truly is a battle for our nation and democracy, a civil war of a kind where wealthy Americans are in a siege against all other Americans on all fronts to vanquish them and take their wealth and power.  No wonder their instant Orwellian response to any attempts to fend off their siege is attacked as, "Class Warfare!". It is the Rovian way to accuse your opponent of that which  you are most guilty. Call the NAACP racist. Call Obama unAmerican and fascist.
We are in a late stage of the Class Warfare battle that the wealthy and corporations have thrust upon us so we don't have as much room for error or apathy. At this point, the gains they could make grow exponentially in how rooted, profound and destructive they will be. Unless we want to watch the corporate coup from our recliners, the time for being spectators is over. We can come together to fight what's going on, create a true and national movement by banding together with those fighting the good fight in other states and cities.
We don't have a corporate sponsor for this as the Teabaggers did, we only have our shared conscience and principles as Americans. We can do this if we choose to.